Safari Africa: Safari Activ­i­ties
From game drives to bush walks, from horseback safaris to balloon rides – discover the African wilderness with all your senses
Safari in Southern Africa: Explore and experience the marvellous landscapes and the unique biodiversity of Africa in manifold ways.
The wind rushes, the branches crackle, water splashes, horses neigh and your pulse rate races – the safari activities offered by Natucate promise adventure and diversity and let you perceive and discover Southern Africa in many different ways.
While walking safaris offer a particularly dense experience of the unique flora and fauna, classic game drives and fast quad bike tours allow large areas to be explored within a short time. During a hot-air balloon ride, on idyllic boat trips or on horseback, you will get to know the beautiful wilderness from completely new perspectives and approach the abundance of species gently and almost silently. Bush walks with the San, the indigenous people of Southern Africa, provide additional impressions of a fascinating, old culture.
What all activities have in common: professional guides accompany you and your group, show you the most beautiful places and share their expert knowledge about the overwhelming nature with you.
No matter what type of safari you go on, you can specialize in one type of exploration or enjoy a combination of different elements. Get an overview of the diverse ways to discover the wilderness of Africa:
Game drives
The first rays of sunshine are still gently pushing themselves over the treetops. Equipped with a warm jacket, your camera and binoculars, you feel the cool wind in your face. While immersing yourself deeper into the vastness of the African savannah, you eagerly wonder which animal might be hiding behind the next bush…
On a game drive, a private or mixed group of guests heads out into the wilderness in an open but covered off-road vehicle to explore the exotic flora and fauna. The vehicle is operated by an experienced guide who takes the guests to the most beautiful places and tries to give them the best animal sightings. The early morning hours but also the late afternoon is the best time for a game drive, as the majority of animals are most active at dusk.
During the drive, there are occasional coffee and toilet breaks. An evening game drive is rounded off with a traditional sundowner. Those who also want to get on the track of the nocturnal species of the bush can also participate in a night drive that is offered by many lodges and camps.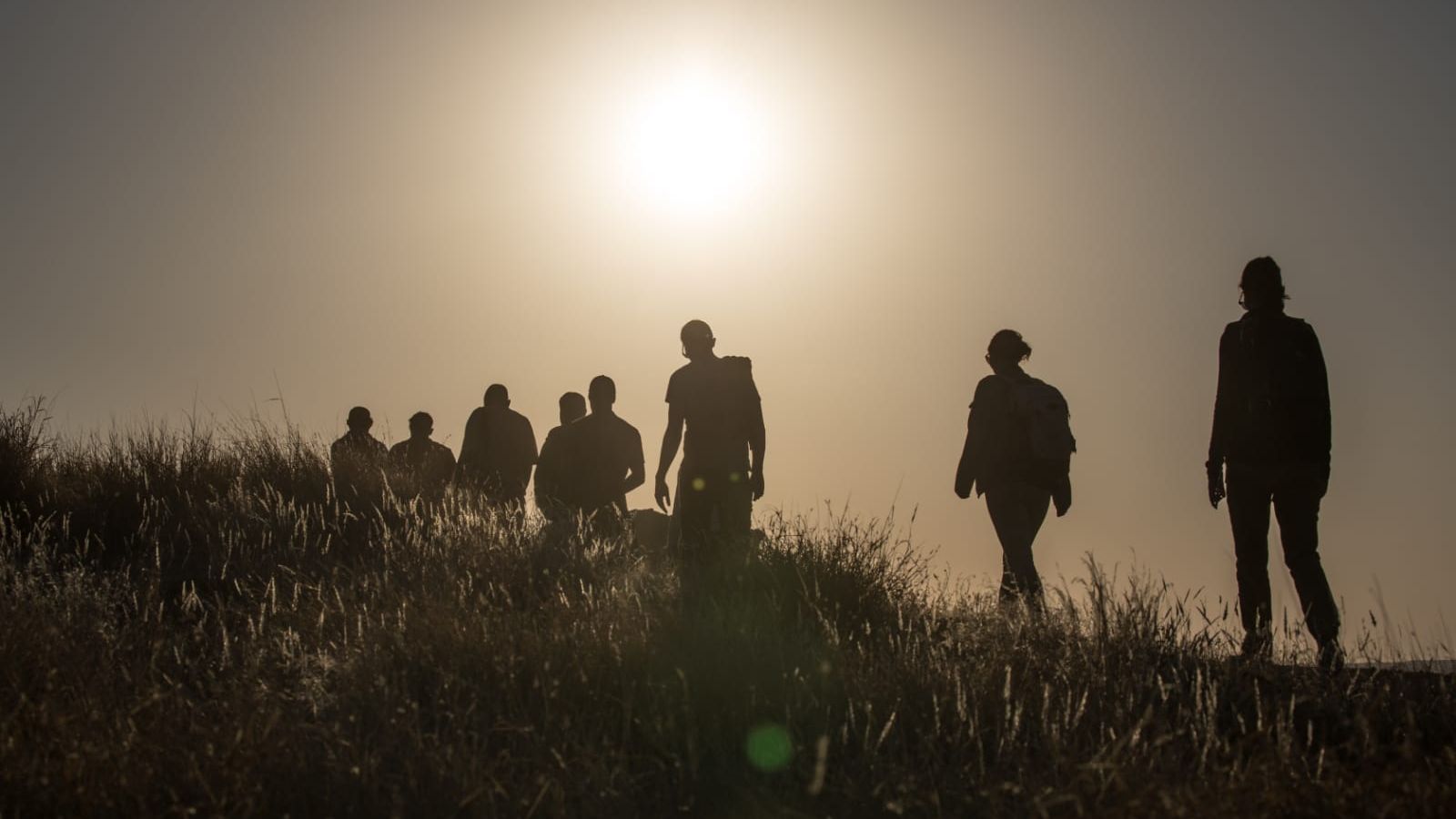 Walking Safaris
Rustling leaves, cracking branches. As your group moves forward in single file, ears and eyes are wide open. Suddenly a noise. Was it a lion? Or an elephant? Your pulse is racing, your stomach is tingling – you are right in the middle of it.
A foot safari lets you experience Africa with all your senses. You can now focus on the smaller things such as the exotic flora, the world of insects and amphibians or the tracks and calls of different animals. But beware, encounters with larger animals are also possible!
Elephants, lions or buffalos can suddenly cross your path. The knowledgeable guide and his back-up are always at your side, watch out for your safety and provide you with essential instructions which must always be followed. Interpreting sounds and signals correctly and possibly even deciding to back out - a walking safari lets you perceive your surroundings in the most intensive way and grounds you in the truest sense.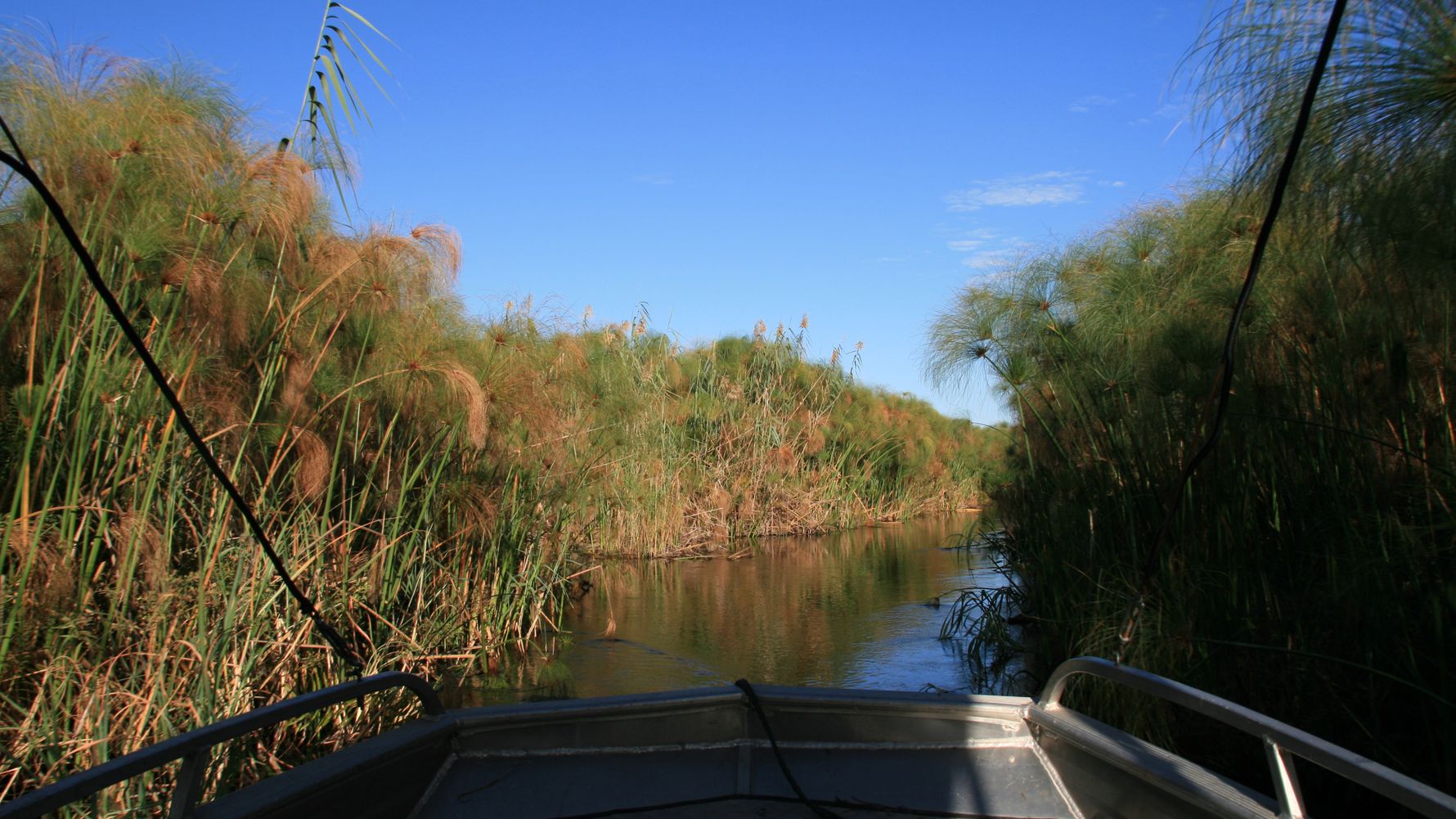 Motorboat tours
In Southern Africa, rugged desert areas and dry bush savannahs meet impressive, species-rich water worlds as they reveal themselves to safari guests in Botswana's Okavango Delta or on the picturesque Chobe Riverfront.
On our safari trips you can go for an exciting motorboat ride, depending on the area and water levels, exploring wide stretches of picturesque rivers, canals and lagoons. It is not uncommon to spot a variety of birds, hippos and crocodiles, as well as elephants, buffalo and antelopes coming to the shore to drink.
Your guide, navigating the boat and providing you with valuable background knowledge, often makes a stop directly on the water or on a small island to enjoy the traditional sundowner. In the light of the setting evening sun, you then make your way back to your accommodation.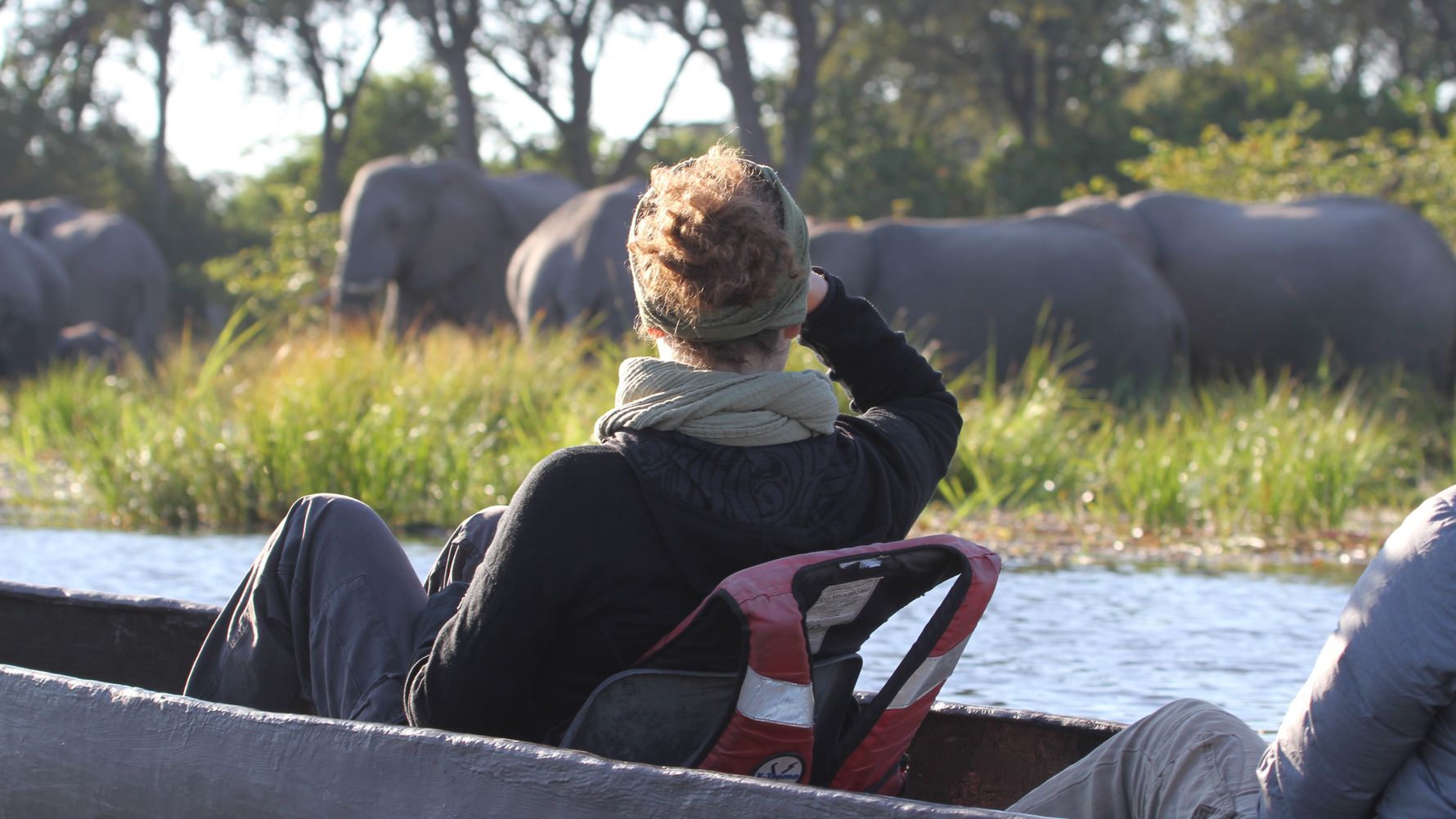 Mokoro tours
With a soft splash, the long wooden stick dips into the crystal clear water. The water-proof vehicle glides almost silently along the winding canals. Only a few centimetres above the water surface, with bent legs, you pass reed grass, papyrus and picturesque water lilies. Lush green, chirping birds and croaking frogs surround you – and all of a sudden a herd of elephants approaches the shore and completes the impressive scenery.
A tour with the mokoro, the traditional dugout canoe, is considered to be one of the most beautiful safari experiences. Trained polers stake this fantastic means of transport gently through the calm waters, allowing canals, lagoons and rivers to be explored in a special way. A mokoro ride is characterised by tranquility and peace, but also by a bumping heart when the silence is suddenly broken by the great representatives of the African fauna.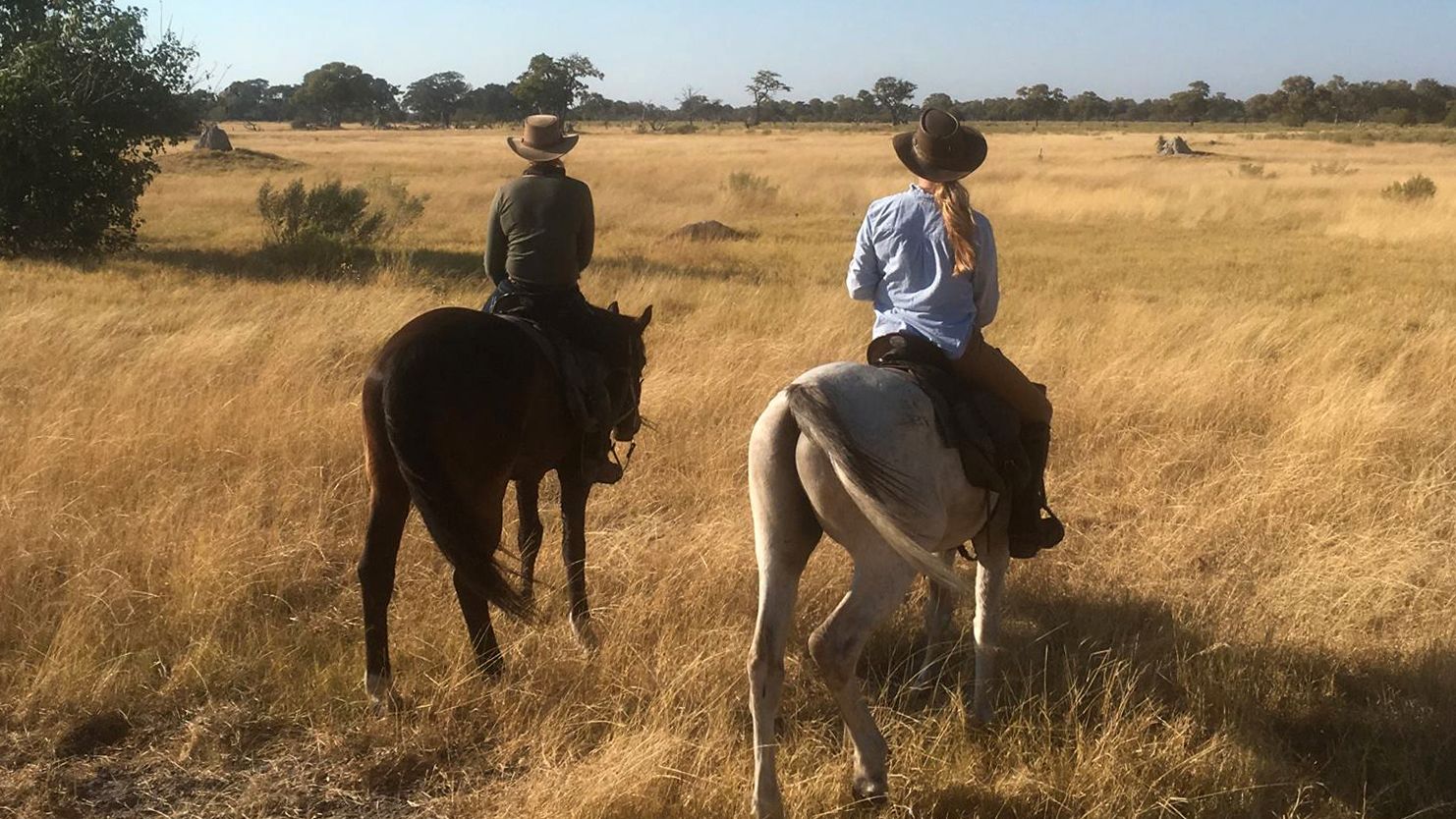 Horseback safaris
A horseback safari out into the African savannah goes with an unmatched feeling of freedom and is therefore an experience that you will certainly never forget. On the back of your horse, you immerse yourself into overwhelming natural landscapes and get close to a multitude of impressive animals.
Both beginners and experienced riders can enjoy a tour on horseback through the African wilderness. Accompanied by an experienced guide, you and your well-trained horse can venture out to even remote places and follow huge herds of buffalo or a cheetah on its prowl. Experience an unparalleled feeling of freedom, lightness and liveliness – vigorously galloping through endless savannah.
Experi­ence adventure and diversity
Perceive the African wilder­ness with all your senses
Discover the flora and fauna from different perspec­tives
Get exciting cultural impres­sions
Bushwalk with the San
To live and survive in the desert means to know surroundings well and to live at nature's pace. On a bush walk with the San, the indigenous people of Southern Africa, you will learn how their ancestors perfected this life in harmony with nature in an impressive way.
Oftentimes, one or two San families, including their children, lead these walks in order to pass on the old culture to the younger generation – as nowadays only few San descendants live in this way. Enjoy insights into the ancient traditions and rituals of this fascinating hunter-gatherer people and learn more about the sophisticated survival arts and the wondrous effects of exotic plants.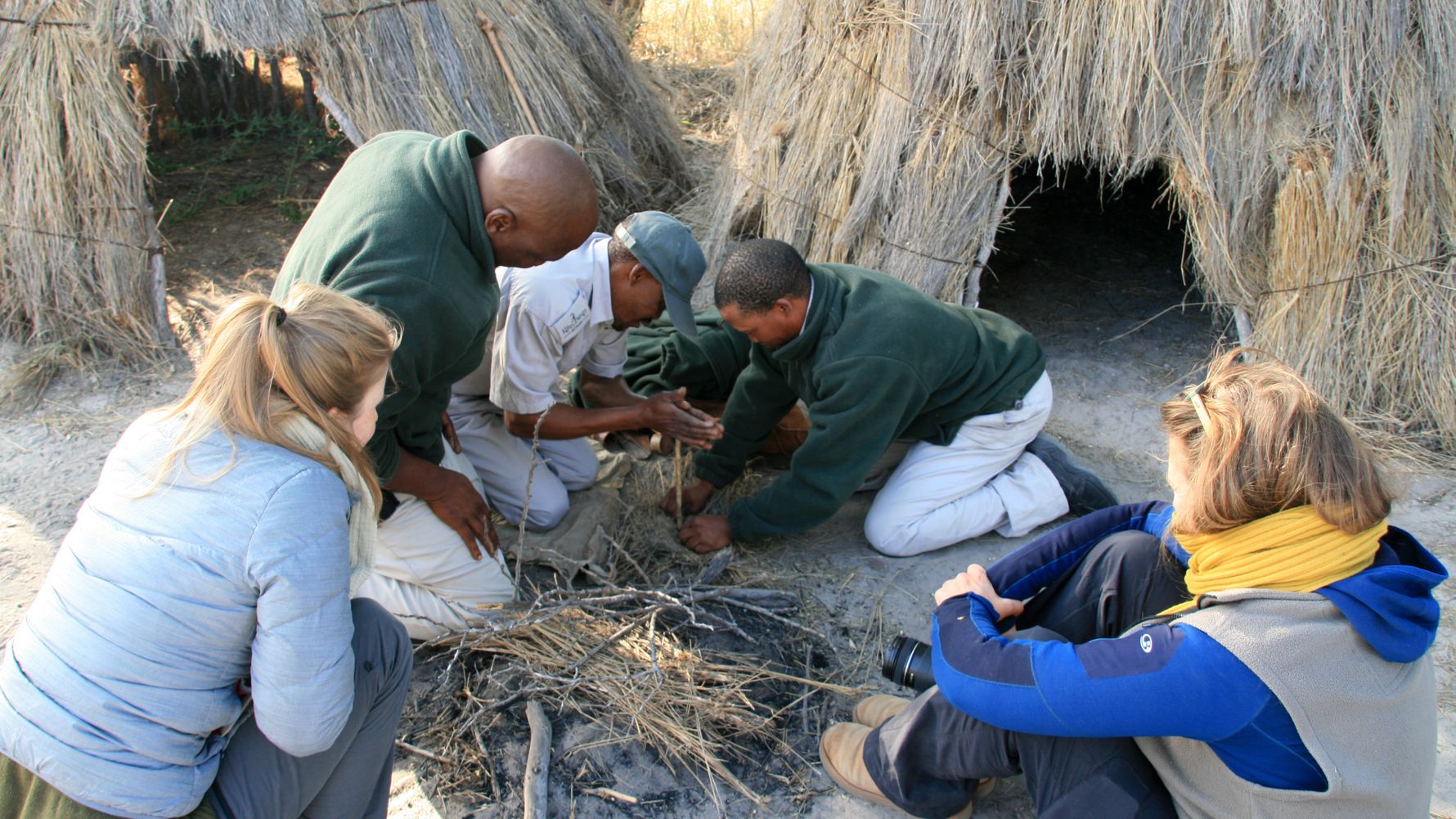 Quad bike rides
A quad bike ride over Botswana's Makgadikgadi Salt Pans is a great way to discover large parts of the vast salt desert in a short time.
One or two people sit on the small motor vehicle. Thanks to its soft tyres, it leaves almost no marks on the surface and thus does not place excessive strain on the sensitive surface of the pans. In single file, you and your group rush after your guide, who makes several stops to familiarize you with the little secrets of this infinite world, teeming with aridity and dryness.
As soon as you stop and pause your engine, you will literally hear the silence of the endless expanses. If you wish, you can also combine your visit with an overnight stay under the stars right on the fascinating pans.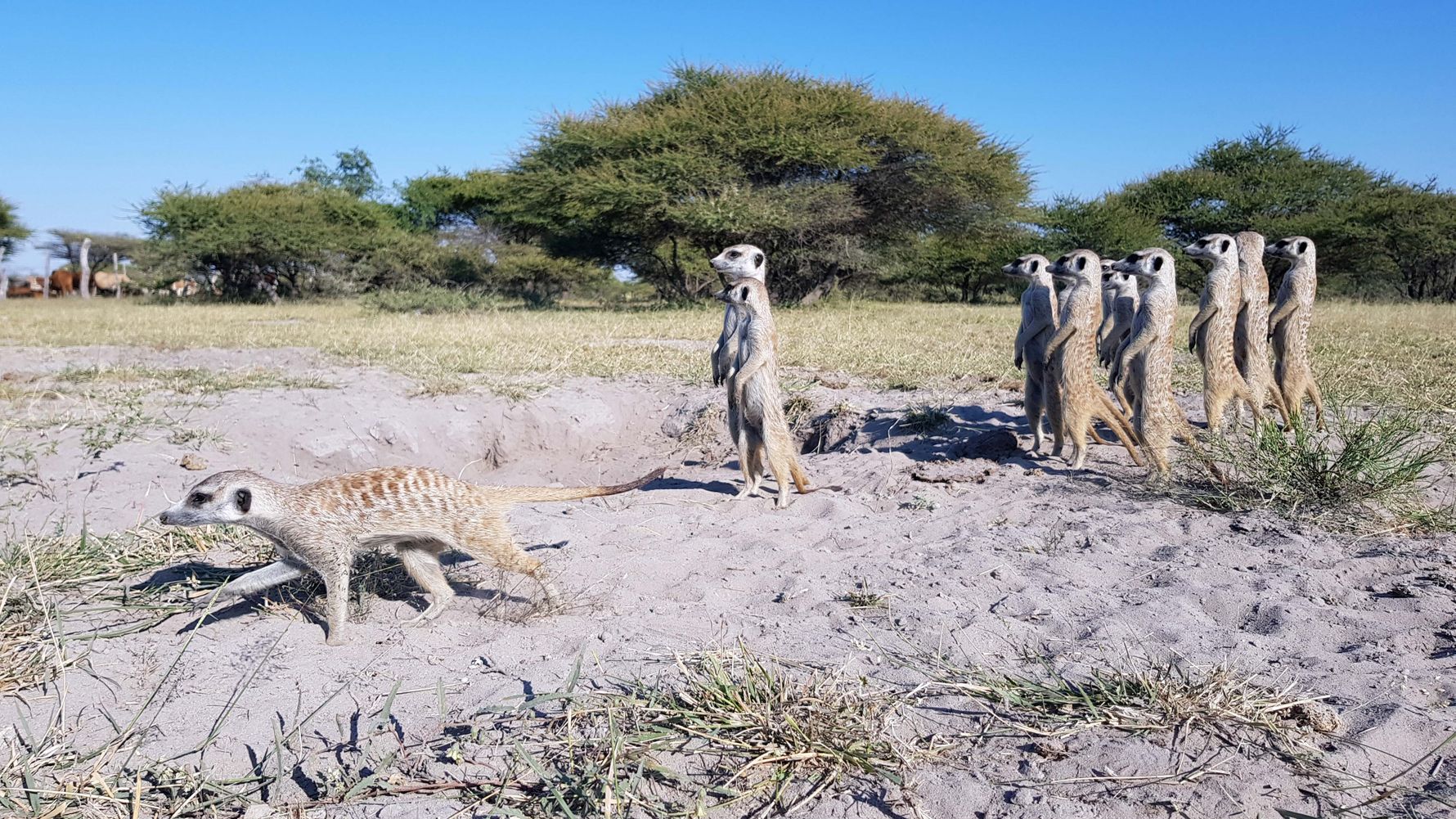 Visiting the meerkats
They are many, but they are shy. In general, Meerkats rarely give safari guests the chance to capture them in a picture. But on the edge of the Makgadikgadi Salt Pans in Botswana there is a a colony of the small mongooses which are quite unimpressed by the presence of humans.
Meerkats whose habitat extends over large parts of Southern Africa live in underground cave systems and come out of their dens at sunrise. Various safari tours allow you to observe the suricates at close range – and with a bit of luck you might even be chosen as a "high seat" by one of them. Approach the animals up to about two meters and fill your camera with wonderful wildlife shots!
Hot-air balloon rides
A hot-air balloon ride above the African savanna is without doubt one of the most unforgettable safari experiences. Only a few lodges offer this safari activity which takes you up into the sky.
Balloon safaris take place from April to September, are designed for two to eight people and usually depart in the early morning hours. After you are picked up from your accommodation and taken to the starting point of the trip, the balloon is slowly brought to life. You climb into the basket and now, together with the captain, you go higher and higher into the air. Floating silently over the awakening savannah and the heads of wild animals, you experience the richness of Africa's species from a completely new perspective.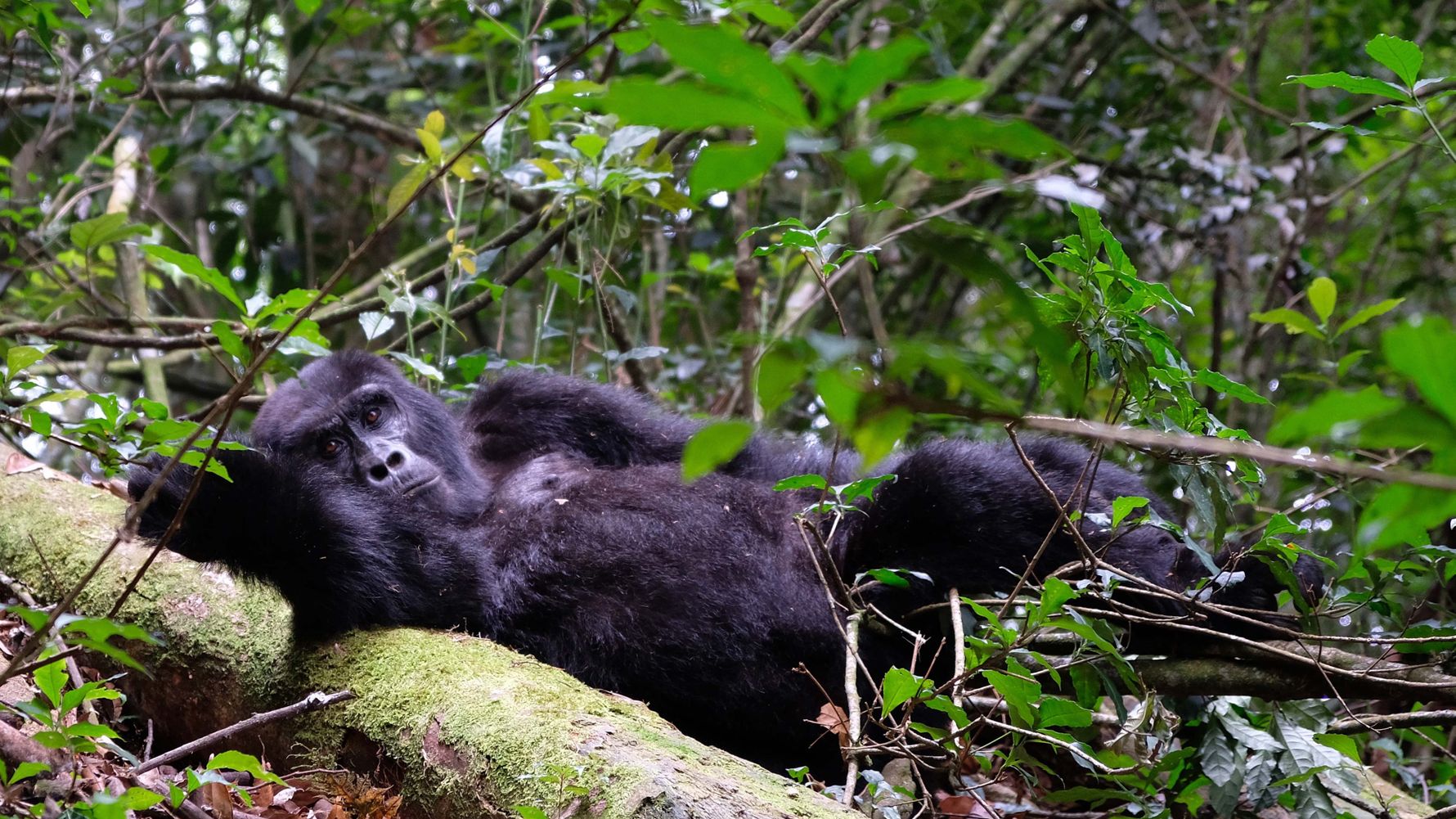 Gorilla trekking
The dense, foggy rainforests and mountains of the eastern and western regions in Central Africa are home to the largest living primates on the planet.
If you want to experience the gentle giants in an incomparable way and observe them in their natural habitat, you should not miss out on a gorilla trekking tour. An experienced guide will set off with you and your group in the early morning hours leading you deep into the tropical wilderness, through dense green and along muddy paths.
Grunting and rustling noises in the thicket finally reveal: You found them! Encountering a silverback and his family will undoubtedly cause awe-inspiring amazement and will definitely remain in your memory for a lifetime.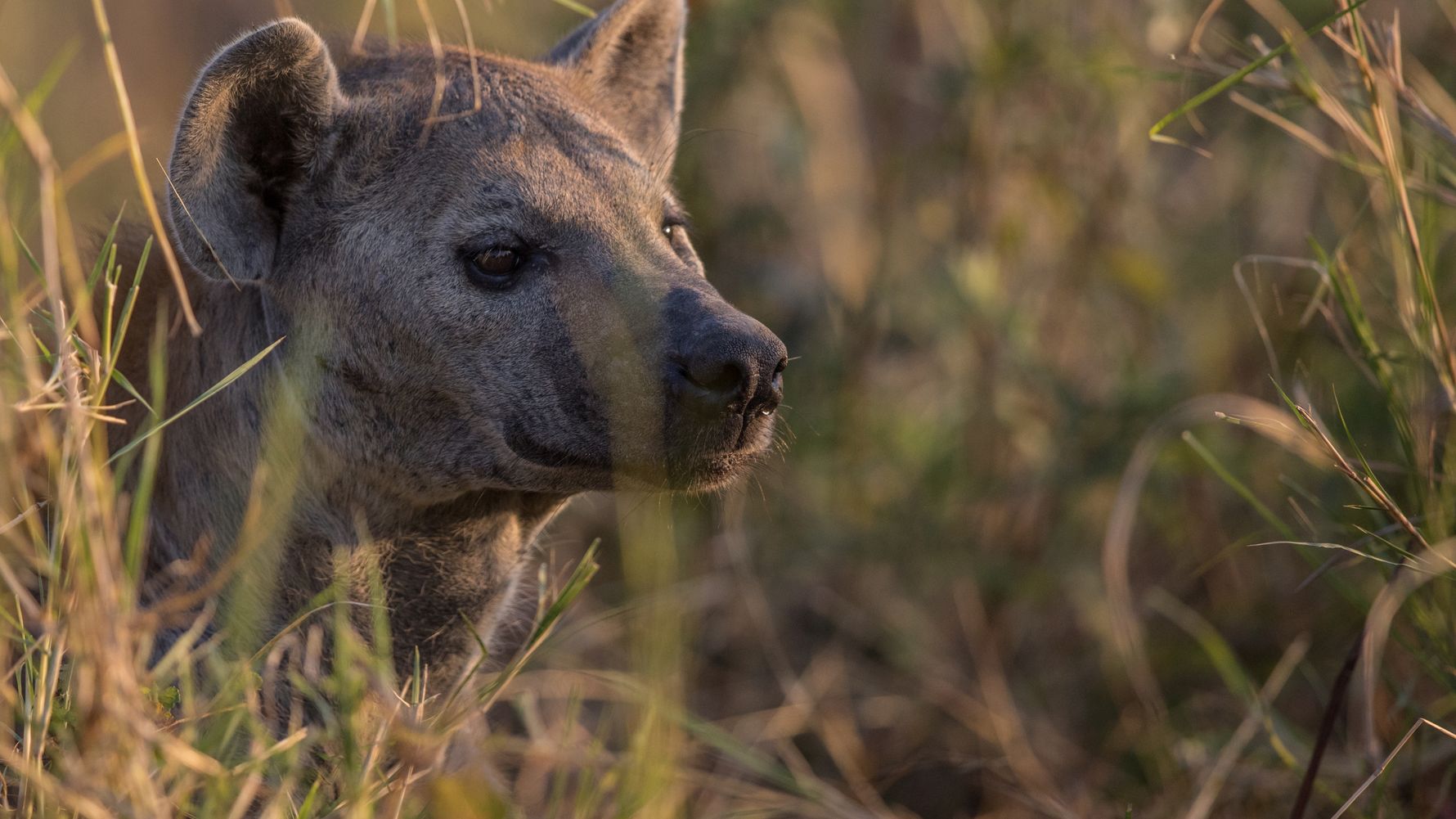 You are fascinated by the African animal and plant world and would like to learn more about the different species and ecosystems? With Natucate, Africa lovers who are eager to learn can focus on further education and expand their basic knowledge of the flora, fauna and ecosystems of southern Africa under the guidance of experienced guides.
As a participant in our field and guide courses offered by EcoTraining and other professional training providers, you can gain insights into the work of a safari guide, study the art of tracking or even train as a field guide yourself. After successful completion of your nature training you will receive a certificate and, depending on the course, will also have the chance to take a final exam recognised by the Field Guides Association of Southern Africa (FGASA).