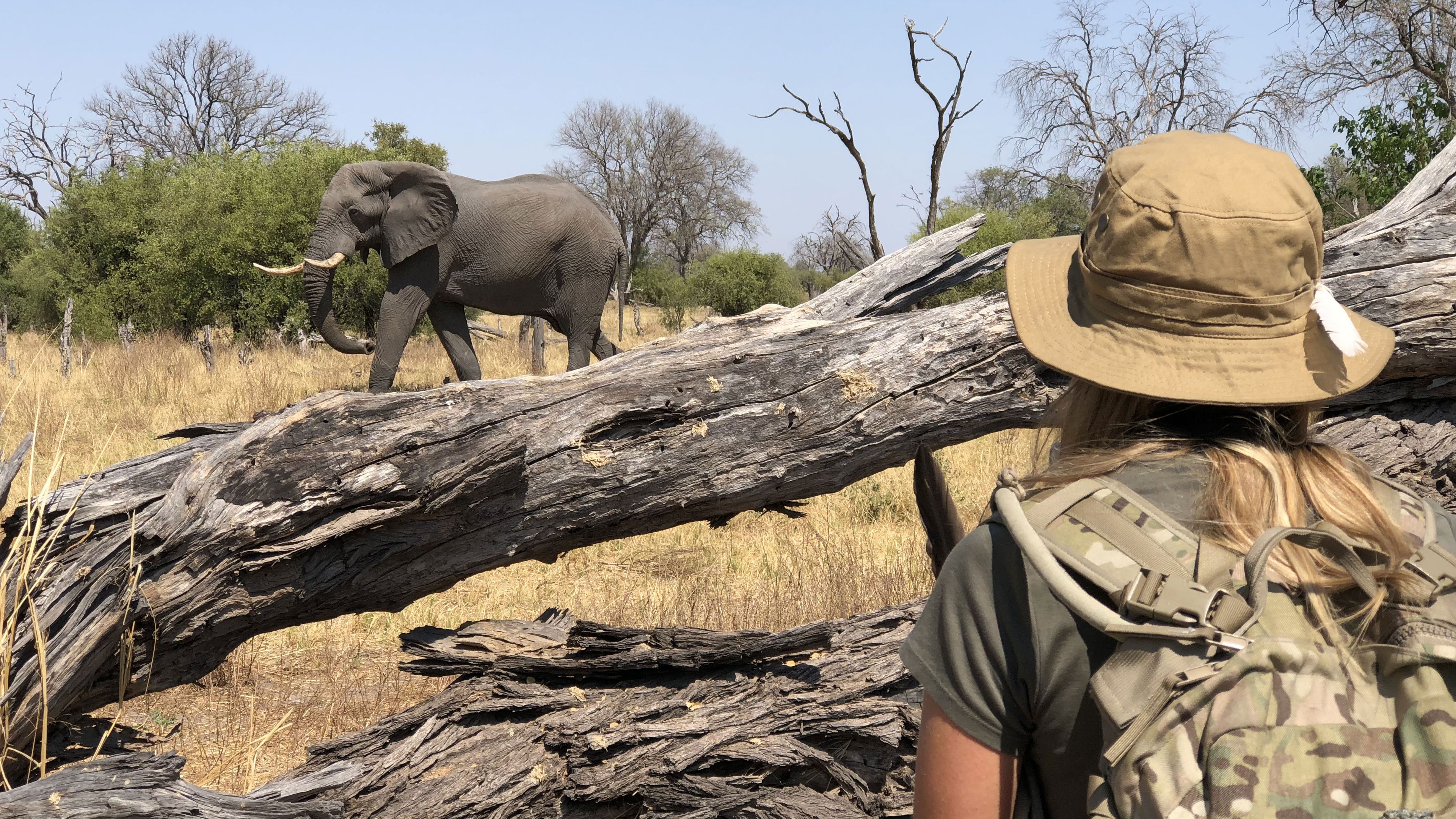 Nature Travel Southern Africa: African Bush Experi­ence
Explore the African wild! You are a true nature lover, eager to dive into the African wilderness and curious about living the life of a safari guide? Then join our introductory bush adventure and be more than a mere spectator in Southern Africa's unspoilt nature!
During your 7- to 14-day bush experience in either South Africa or Botswana, nature will turn into your classroom: An highly experienced guide will lead you and your team through the wild landscapes of KwaZulu-Natal or the awe-inspiring Okavango Delta, teaching you fundamental field guide knowledge about animal behaviour, wildlife tracking and intricate ecosystems. At least one night will be spent under Africa's breathtaking night sky, under the stars in your sleeping bag and surrounded by the sounds of the bush.
Take the chance to experience Southern Africa's nature in an in-depth way, witness stunning Big Five encounters and enjoy an educational and unforgettable wilderness adventure.
Highlights
Experi­ence the life of a safari guide

Immerse yourself into Southern Africa's incom­pa­rable wilder­ness

Get to know beautiful KwaZulu-Natal or the breath­taking Okavango Delta

Roam the depths of a Big Five game reserve

Observe wild animals in their natural habitat

Acquire knowledge about the African flora and fauna

Learn from highly experi­enced guides and safari guide trainers

Enjoy an unfor­get­table wilder­ness sleep-out
Locations

KwaZulu-Natal
Okavango Delta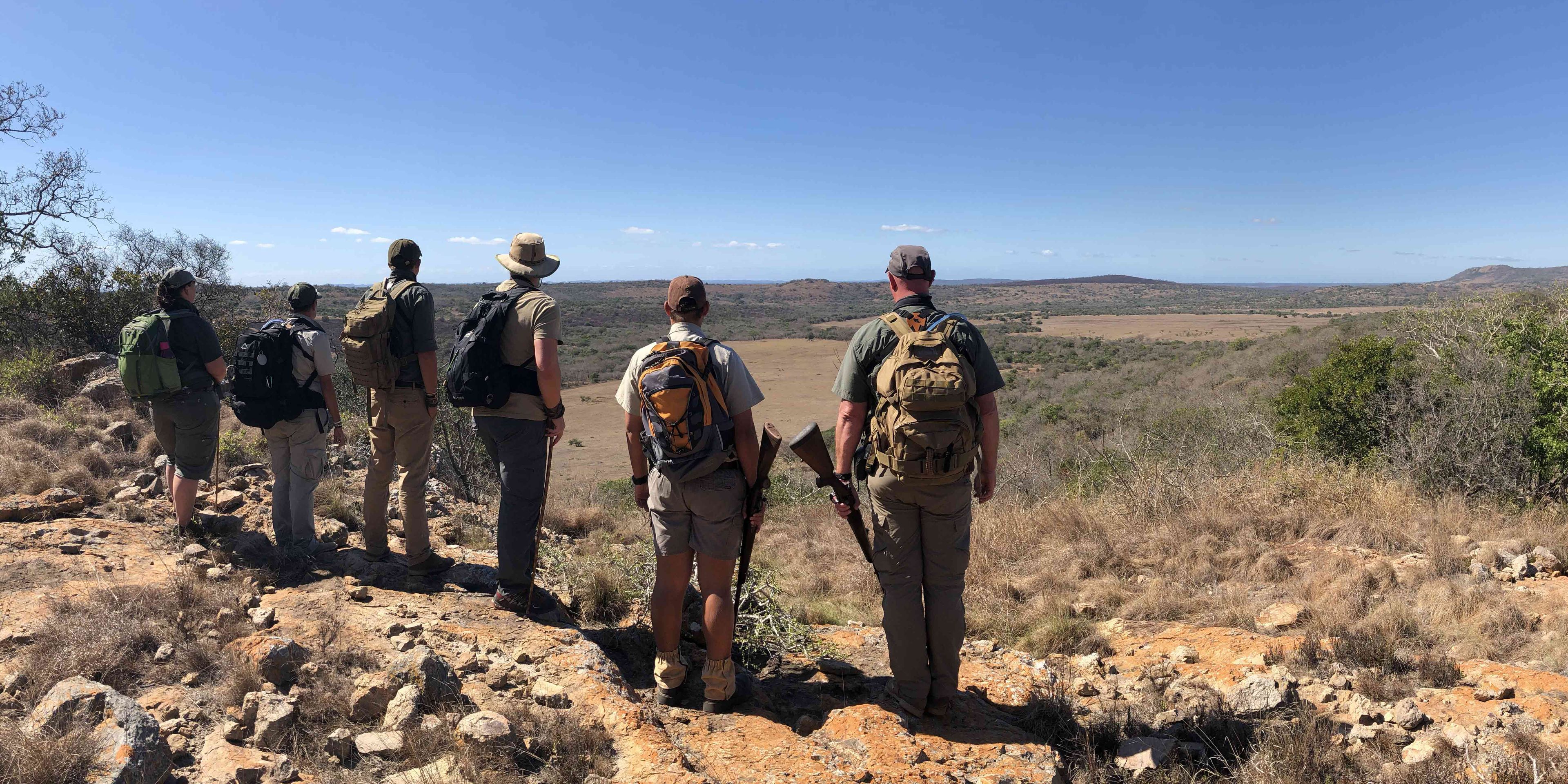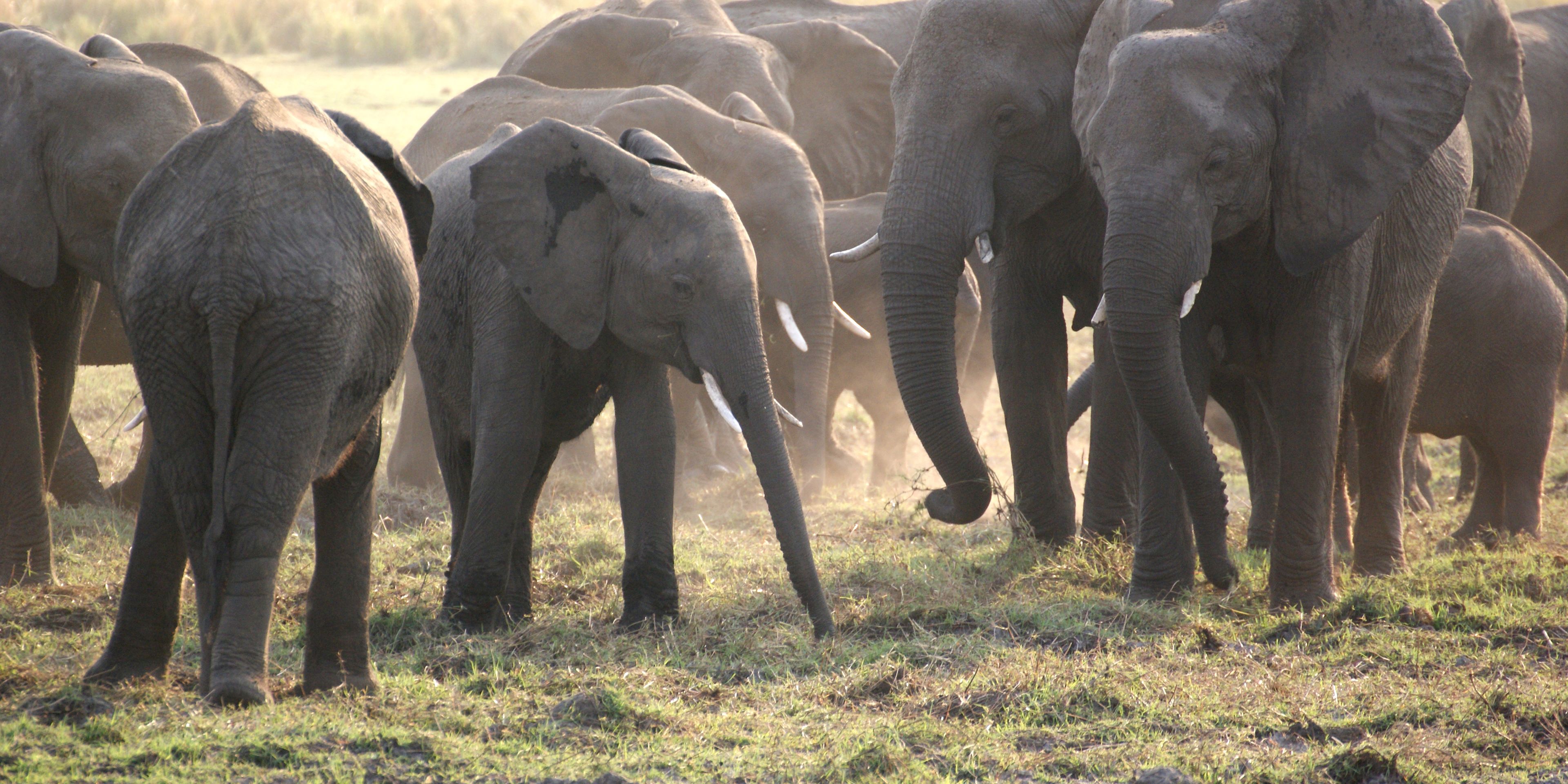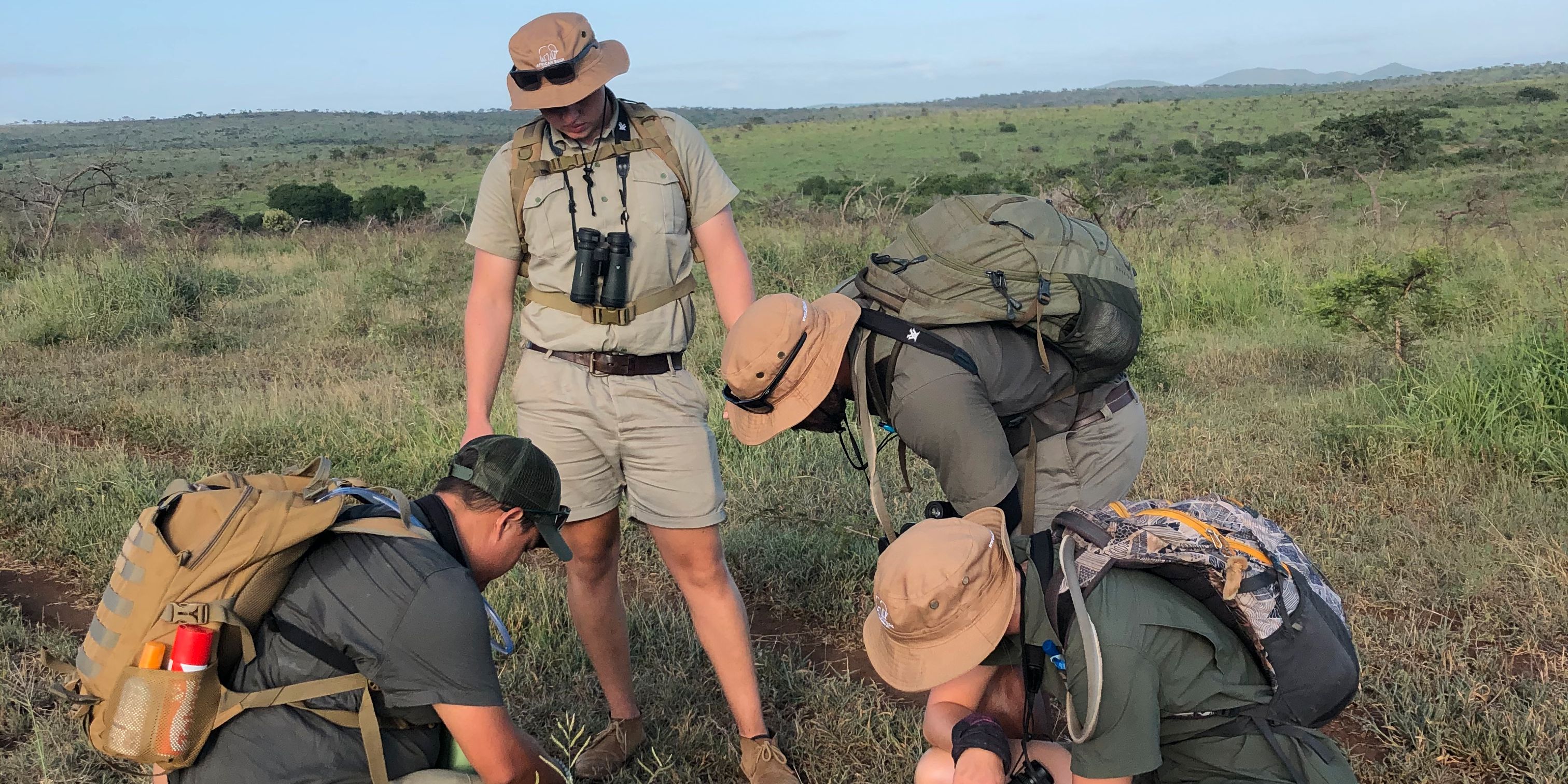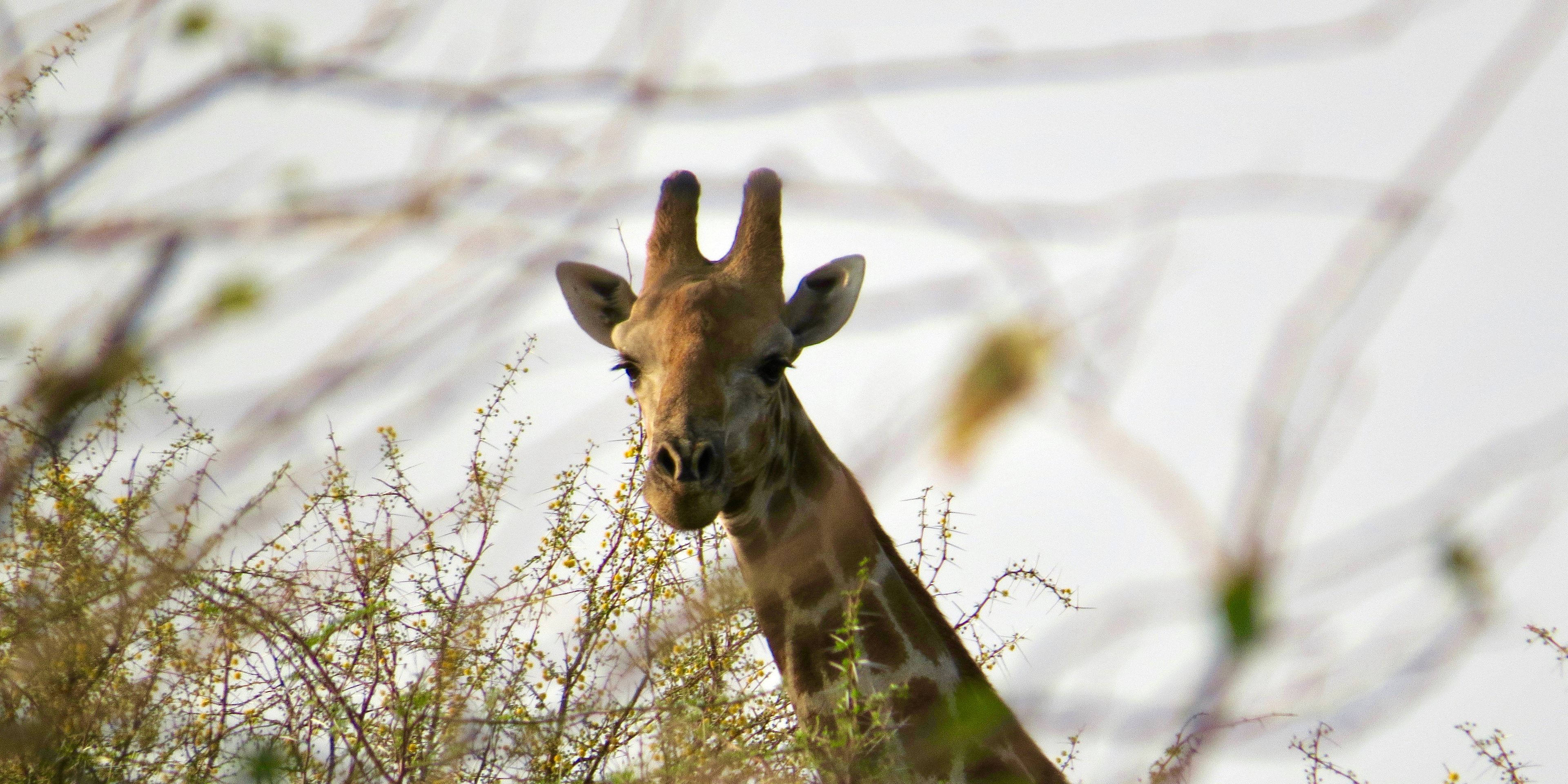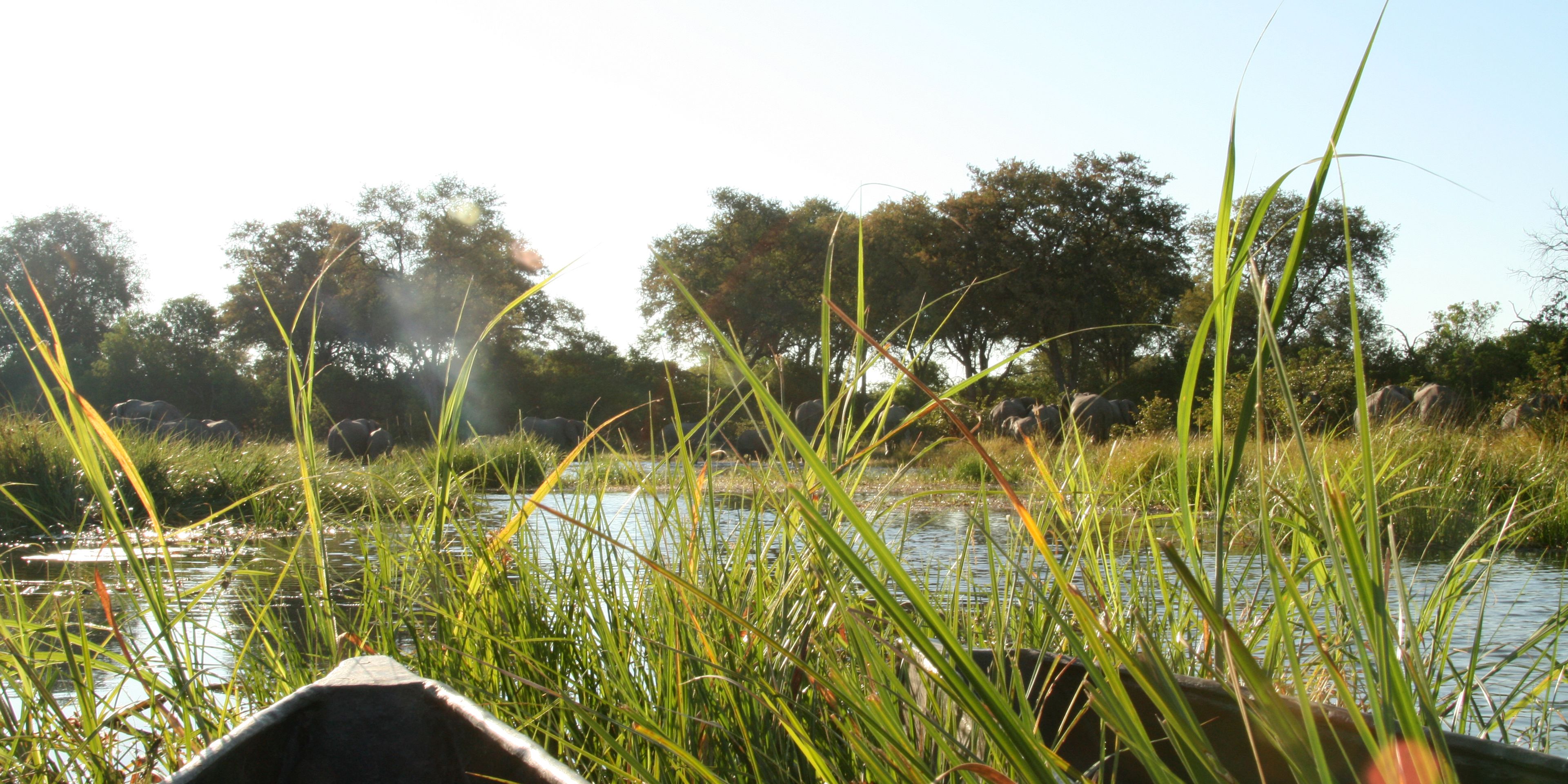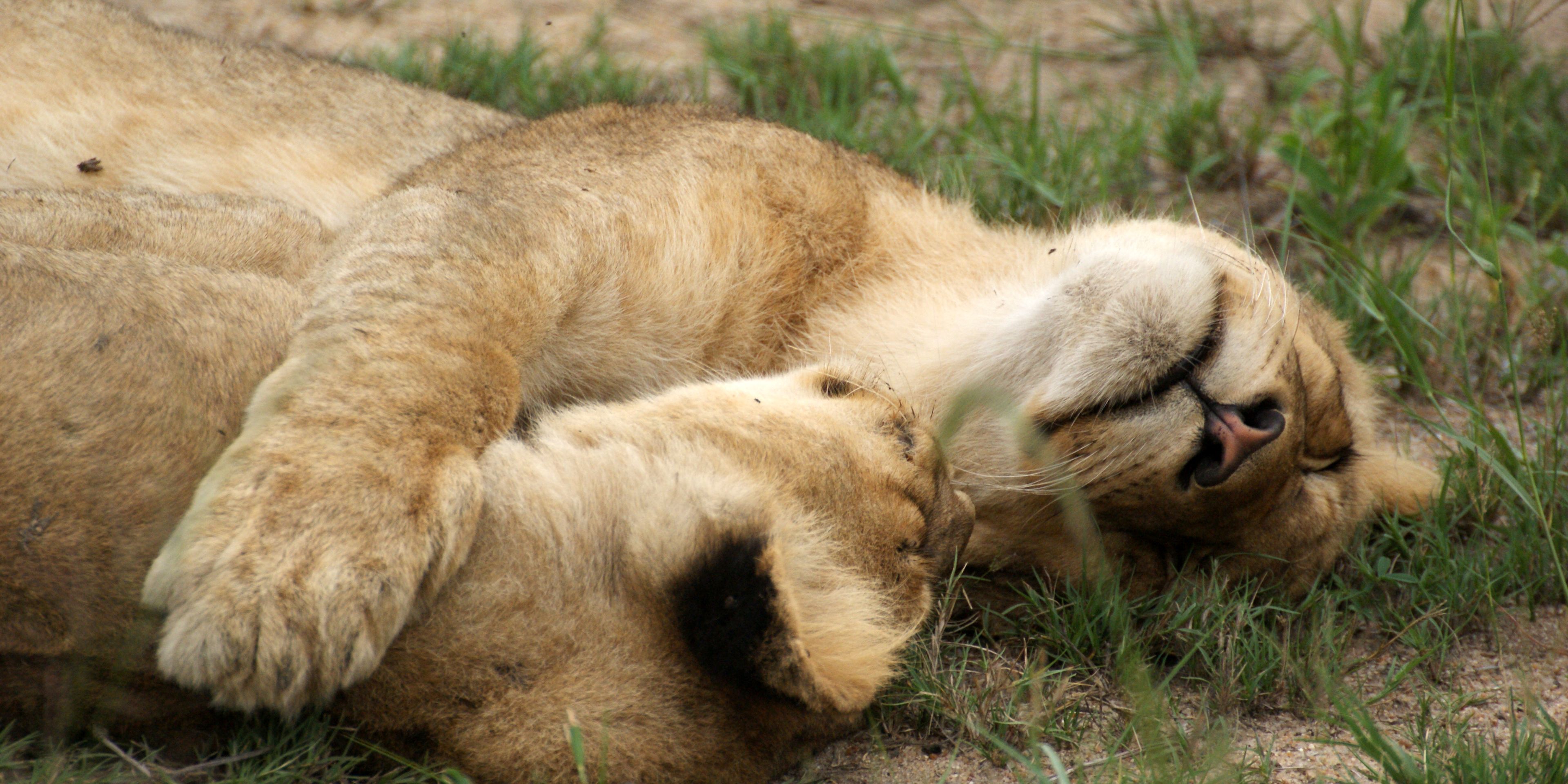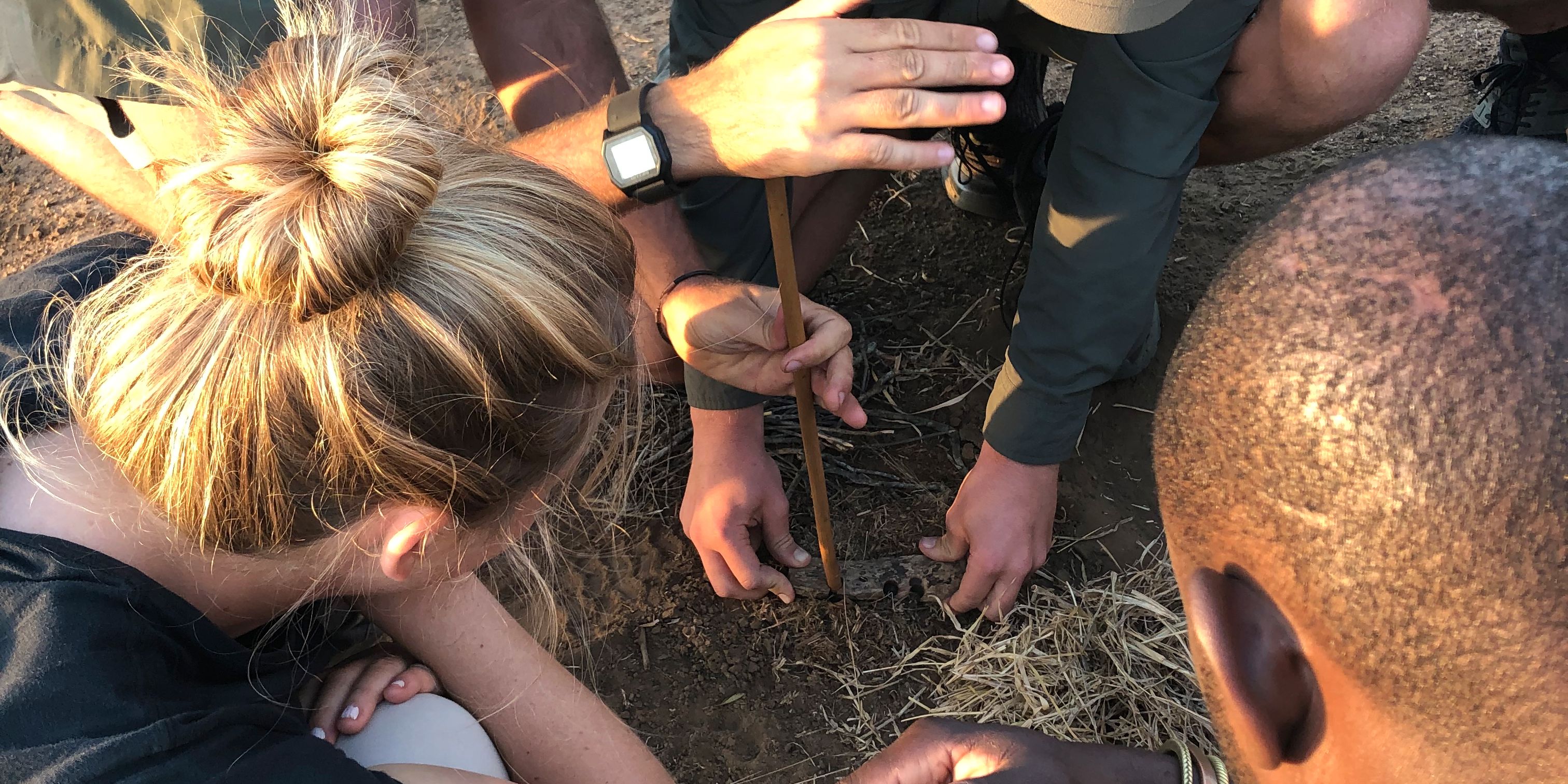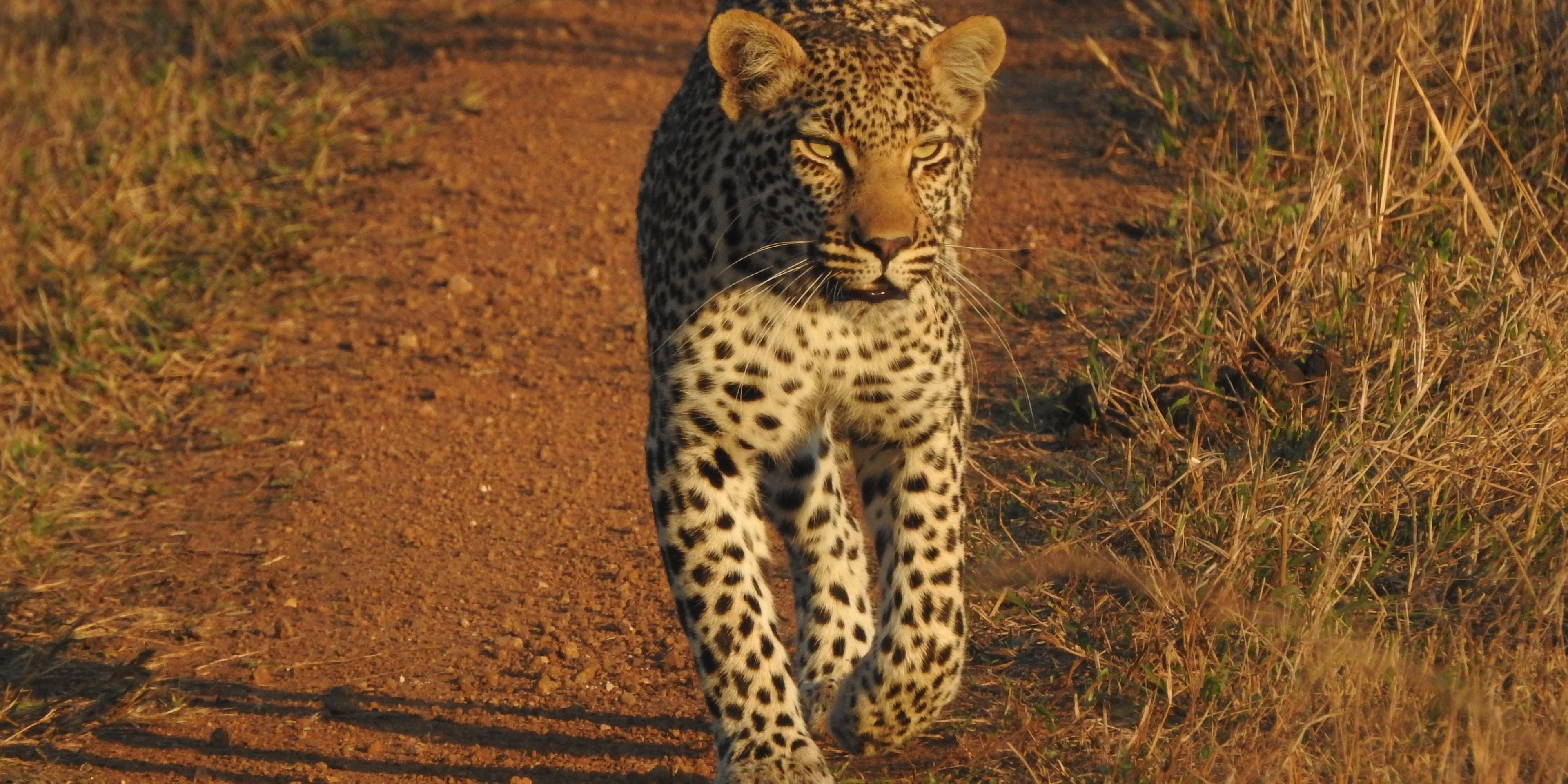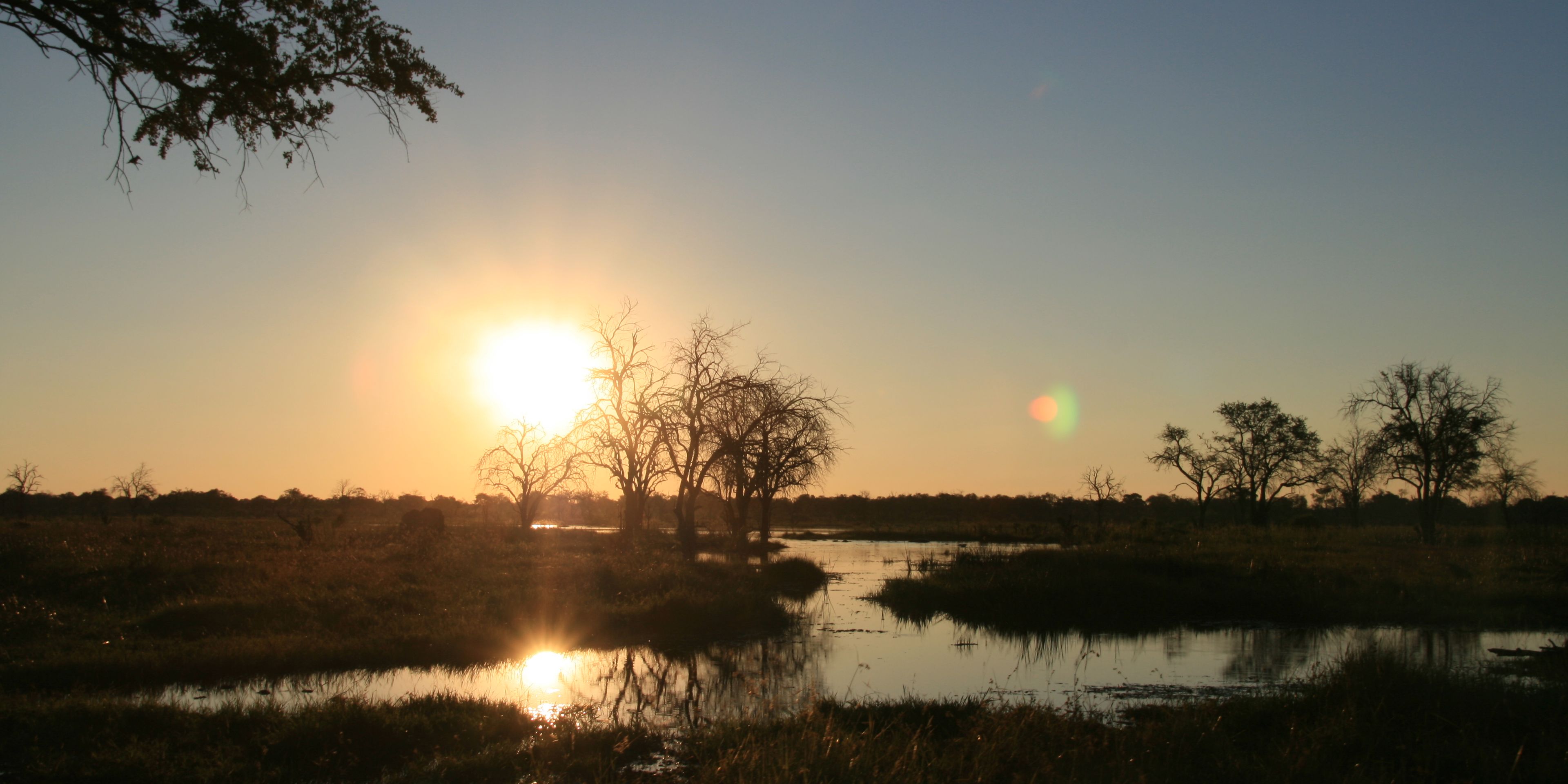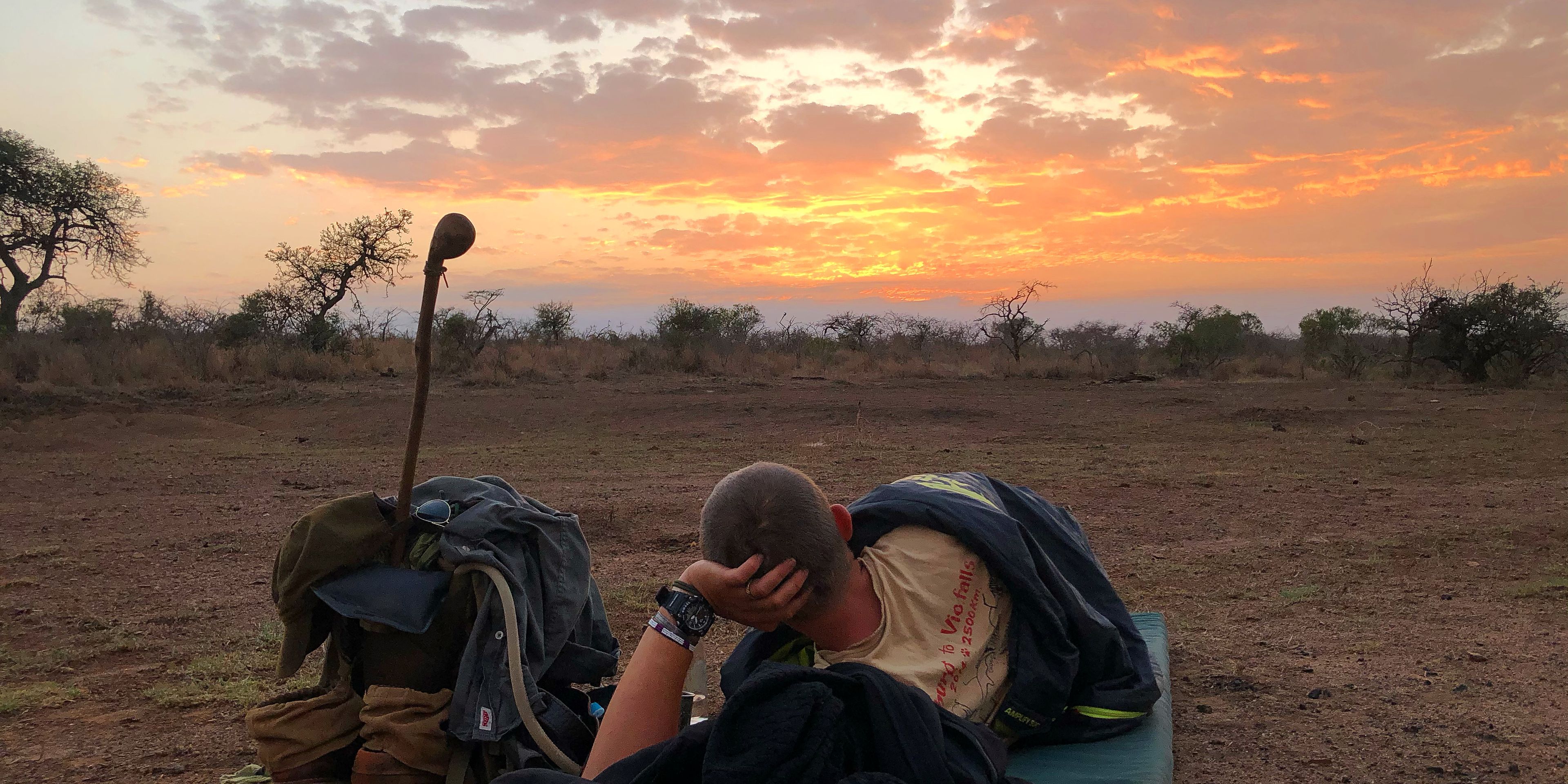 Introductory field guide course in Africa
Join this 7- or 14-day bush adventure course in South Africa or Botswana, enjoy daily game walks and drives together with our experienced field and trails guides and get a taste of Southern Africa's fascinating wildlife and ecosystems.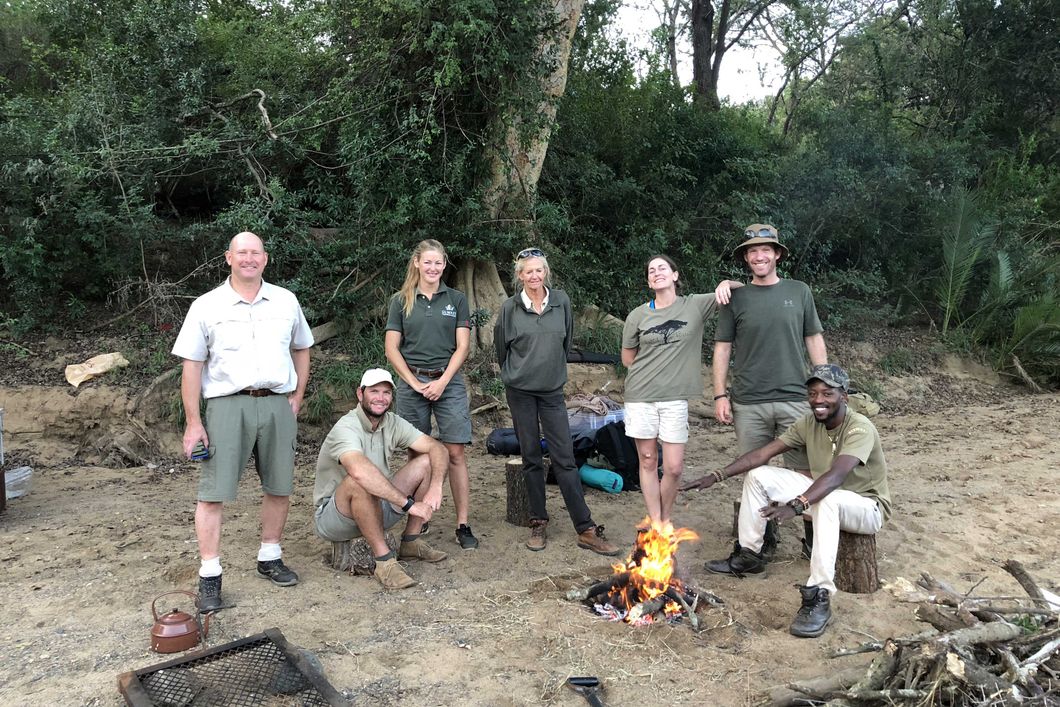 Arrival and orien­ta­tion in Southern Africa
Depending on your course destination, you should book a flight to Richards Bay Airport (South Africa) or Maun Airport (Botswana) which arrives on the day the course starts. Before your departure to Southern Africa we help you organise a transfer service that will pick you up from the airport and take you to your base, a private lodge in KwaZulu-Natal or a camp in the Okavango Delta. Here you can settle in, get to know your team members and learn more about the course and important safety rules.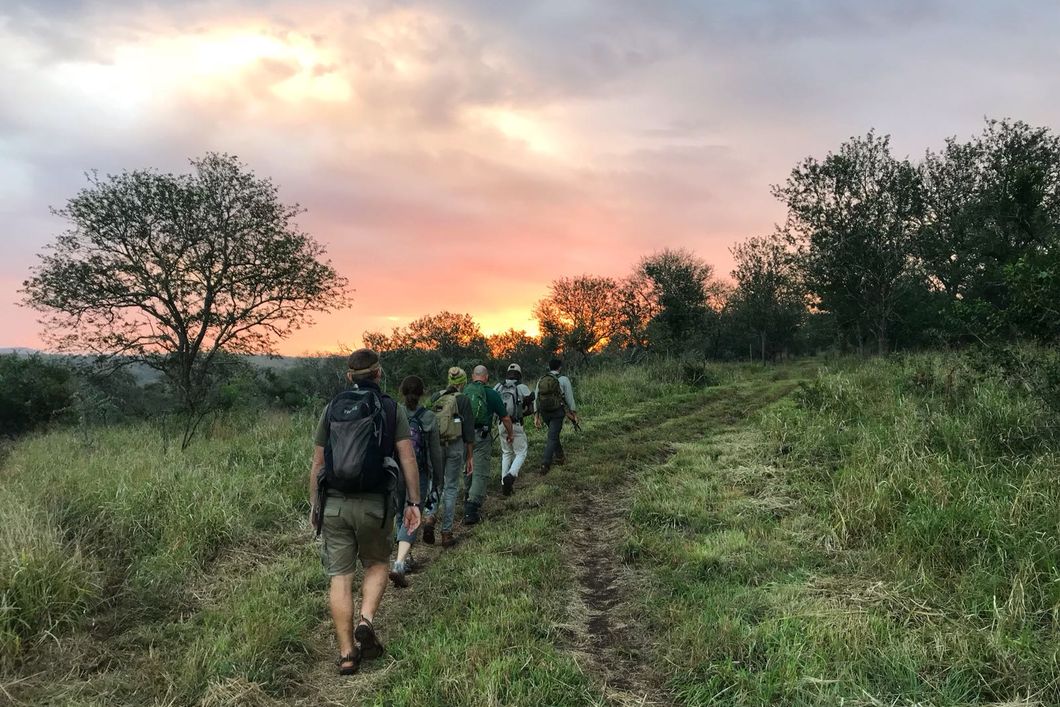 Activ­i­ties as a course partic­i­pant
The course aims at familiarising you with Southern Africa's ecosystems in manifold ways and enriching you with essential bush knowledge.
Usually, you will get up early in the morning on your first game drive or walk of the day. Together with your international group and your excellent guide you will head out into the wilderness of KwaZulu-Natal or the Okavango Delta.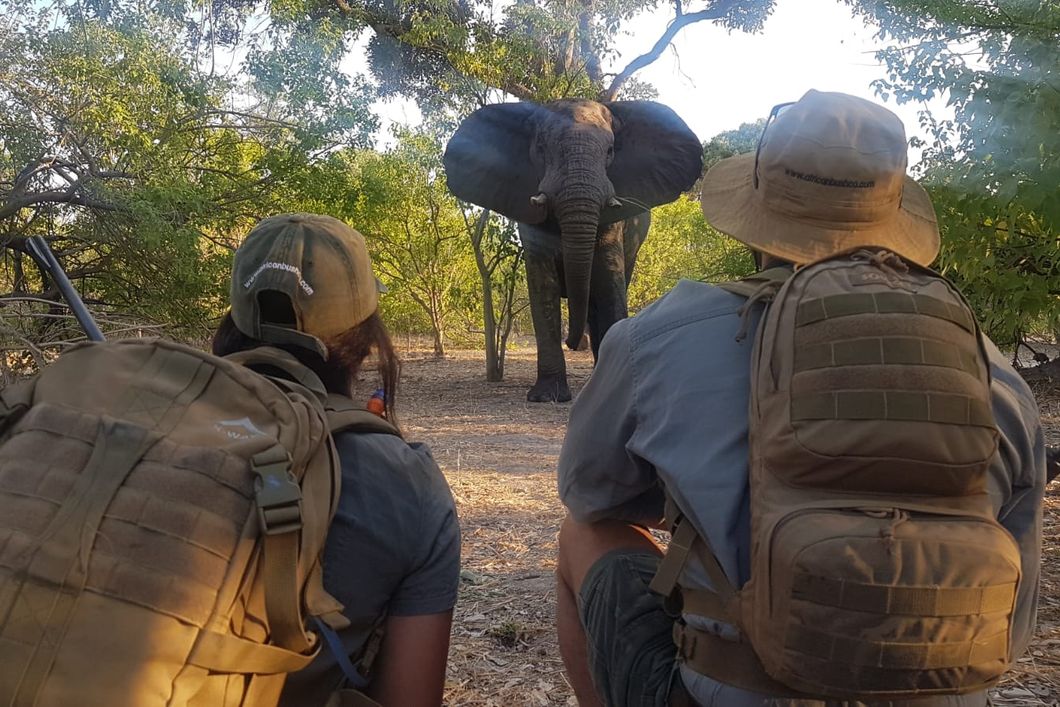 In Botswana, you will also be able to enjoy a mokoro trip on the delta's countless waterways. In the field as well as during short lectures you will learn about the environment. At the end of your bush adventure, you will be equipped with in-depth knowledge about tracking, birding, mammals, plants and animal behaviour. In order to enhance your overall experience, topics that are discussed can be customised to the interests of your group.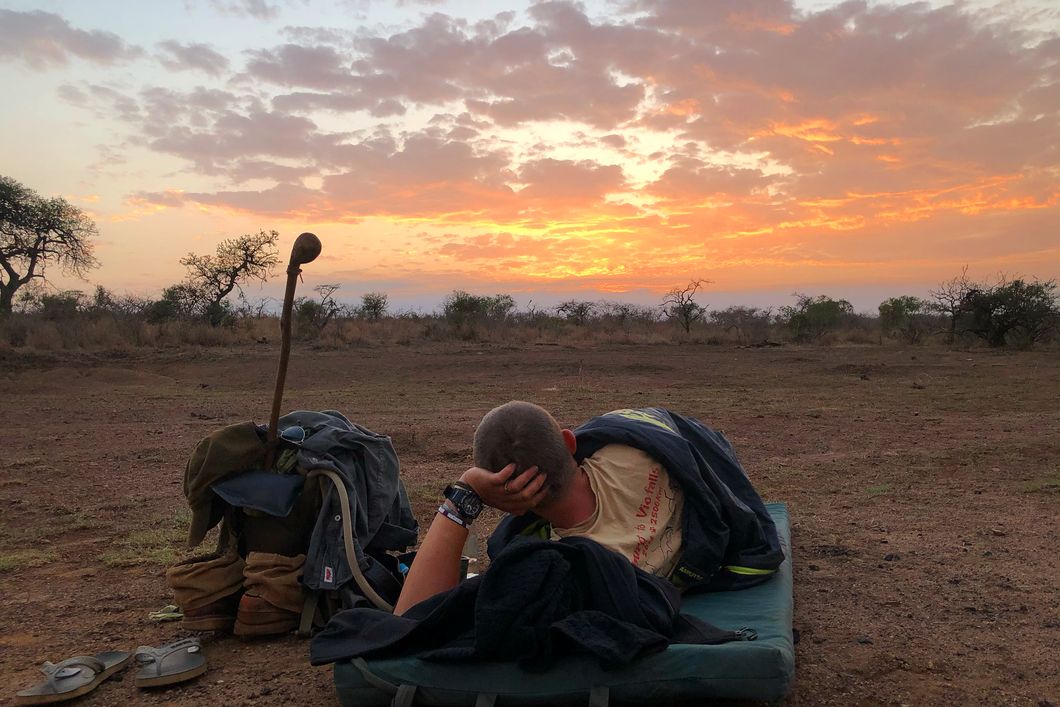 During your time in the course, you will take part in a wilderness sleep-out. This means: sleeping in the open, no tents, just you, the star-struck sky and the captivating sounds of the African bush.
Dive into the life of a Safari Guide and experience the untamed nature of Southern Africa!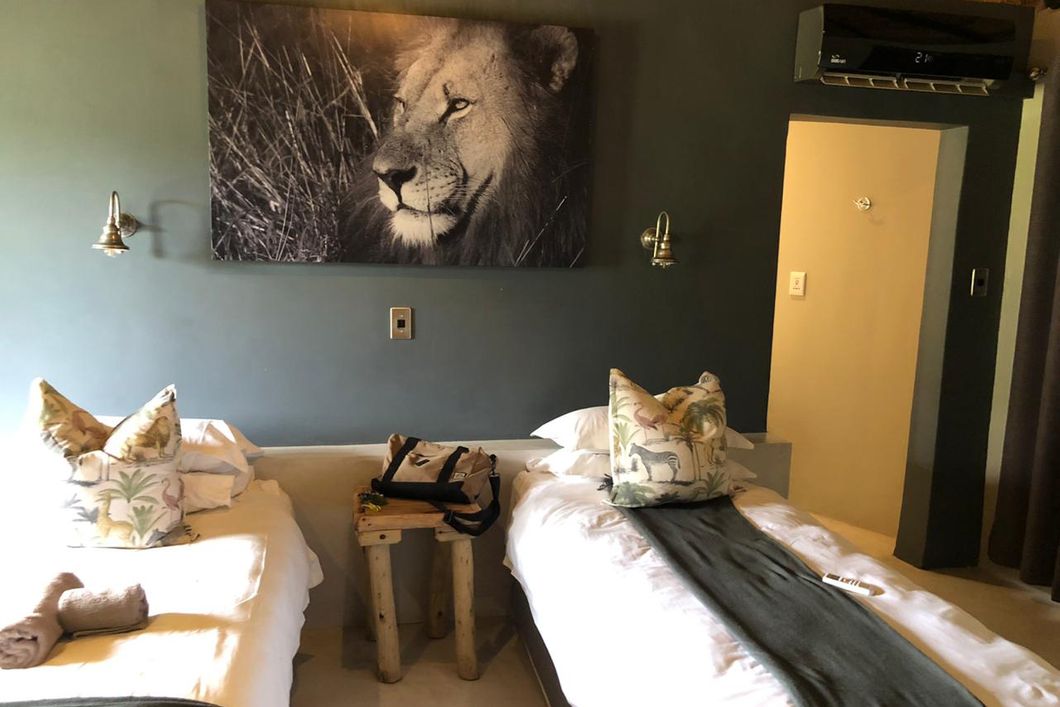 Accom­mo­da­tion in Southern Africa
During your wilderness adventure in KwaZulu-Natal, you will be accommodated in a beautiful lodge, situated in a Big Five private conservancy of almost 30,000 ha. Here, you will sleep in a shared bedroom, equipped with towels, linen, electricity and with access to a modern bathroom. In the lodge you can also find a lounge, a bar, a swimming pool as well as an inside and outside dining area. Free WiFi and phone signal are available in communal areas. You will be provided with three daily meals, drinking water, coffee and tea.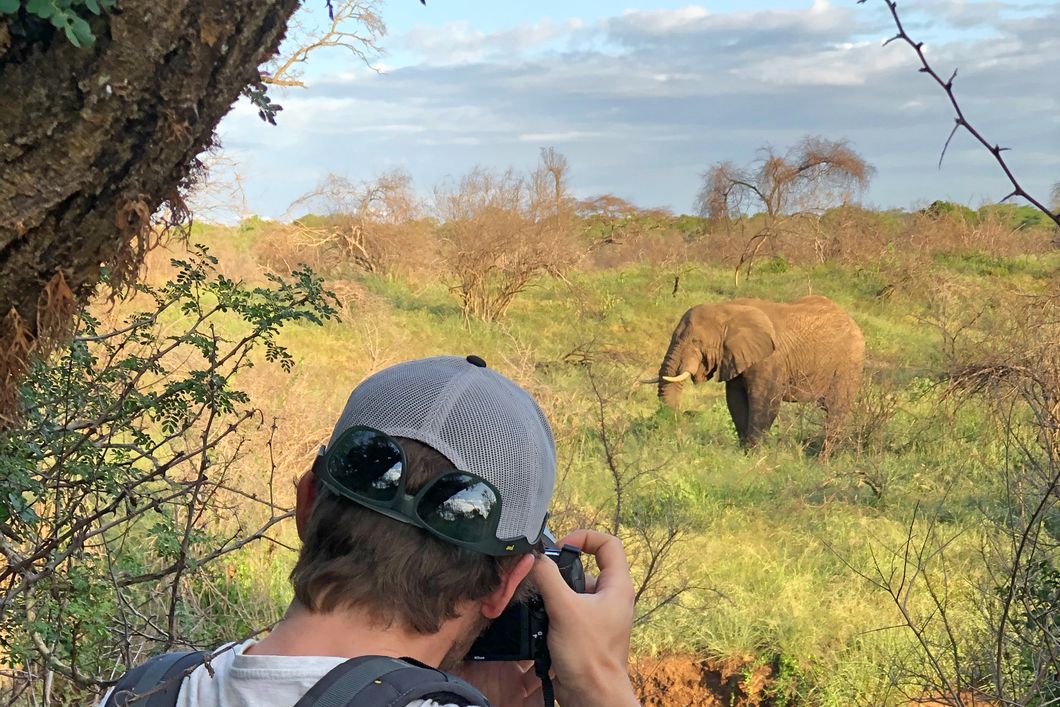 When joining the Botswana course, you will be accommodated in a tented camp in the southern part of the Okavango Delta. Located at the banks of a river, it overlooks a beautiful lagoon which is regularly visited by elephants or hippos. You will sleep in a shared 3x3m dome tent, situated on wooden decks and equipped with twin beds, mattresses and solar lights. You will also have access to a shower, a hand basin and a chemical toilet. Furthermore, the camp consists of a dining area, a classroom and a braai area. Phone signal is extremely weak, and sometimes unavailable. You will be provided with three daily meals, drinking water, coffee and tea.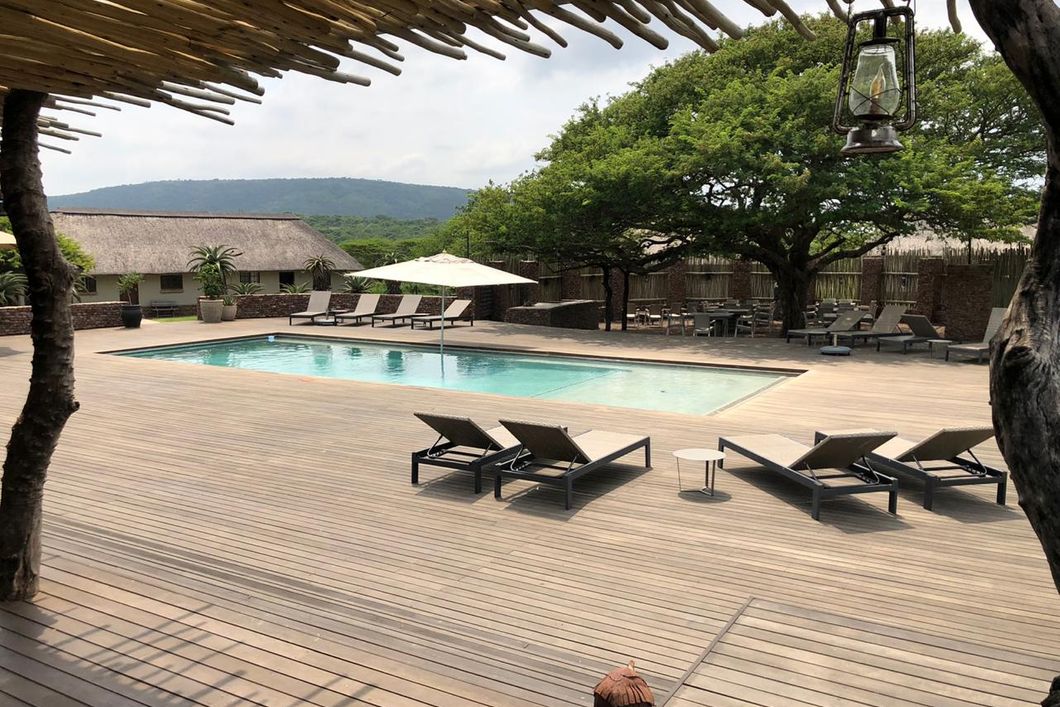 Leisure time during the wilder­ness course
In general, you will have free time after lunch and in the evening after dinner. You can take a nap, read a book, jump in the pool (South Africa) or simply spend time with the other participants. The evenings will usually be spent around the campfire before going to sleep.
Arrival in Southern Africa and transfer to your base

Typical day during the bush adventure

End of course and departure
Learn what others say about their Natucate adventure.
1. KwaZulu-Natal

KwaZulu-Natal is a province in the northeast of South Africa. From the megacity of Durban, situated on the Indian Ocean, to the picturesque Drakensberg Mountains – KwaZulu-Natal is home to many of South Africa's most fascinating sights. Last but not least, there are countless national parks and protected areas in KwaZulu-Natal, all of which are characterized by a diverse flora, a species-rich fauna and varied landscapes.

During your stay in KwaZulu-Natal, you will get a fascinating insight to the wilderness and wildlife of beautiful South Africa.

2. Okavango Delta

The Okavango Delta in Botswana is without doubt one of the most spectacular natural sites in Southern Africa, if not in the entire world. Covering more than 20,000 km², the fertile oasis in the northwestern part of the country is the largest inland delta of our planet. The mighty UNESCO World Heritage Site is fed by the Okavango River, which once a year floods down from the highlands of Angola into an endless labyrinth of river courses, islands and lagoons. With a visit to the Delta, one of the last natural paradises on earth awaits you, whose awe-inspiring biodiversity will amaze every visitor.
Background of the bush adventure course
This adventurous wilderness course is suitable for all nature and wildlife lovers who would like to get a first glimpse of the life of a real safari guide. But also those who simply want to break away from the daily routine and reconnect with nature will find what they've been looking for.
From game drives and bush walks to knowledge transfer and sleep-outs in the wild – this course combines a traditional safari experience with educational elements and pure excitement. Featuring stunning landscapes and all representatives of the Big Five, our wilderness short course will surely be the experience of a lifetime, and maybe the beginning of even further bush adventures in the African wilderness.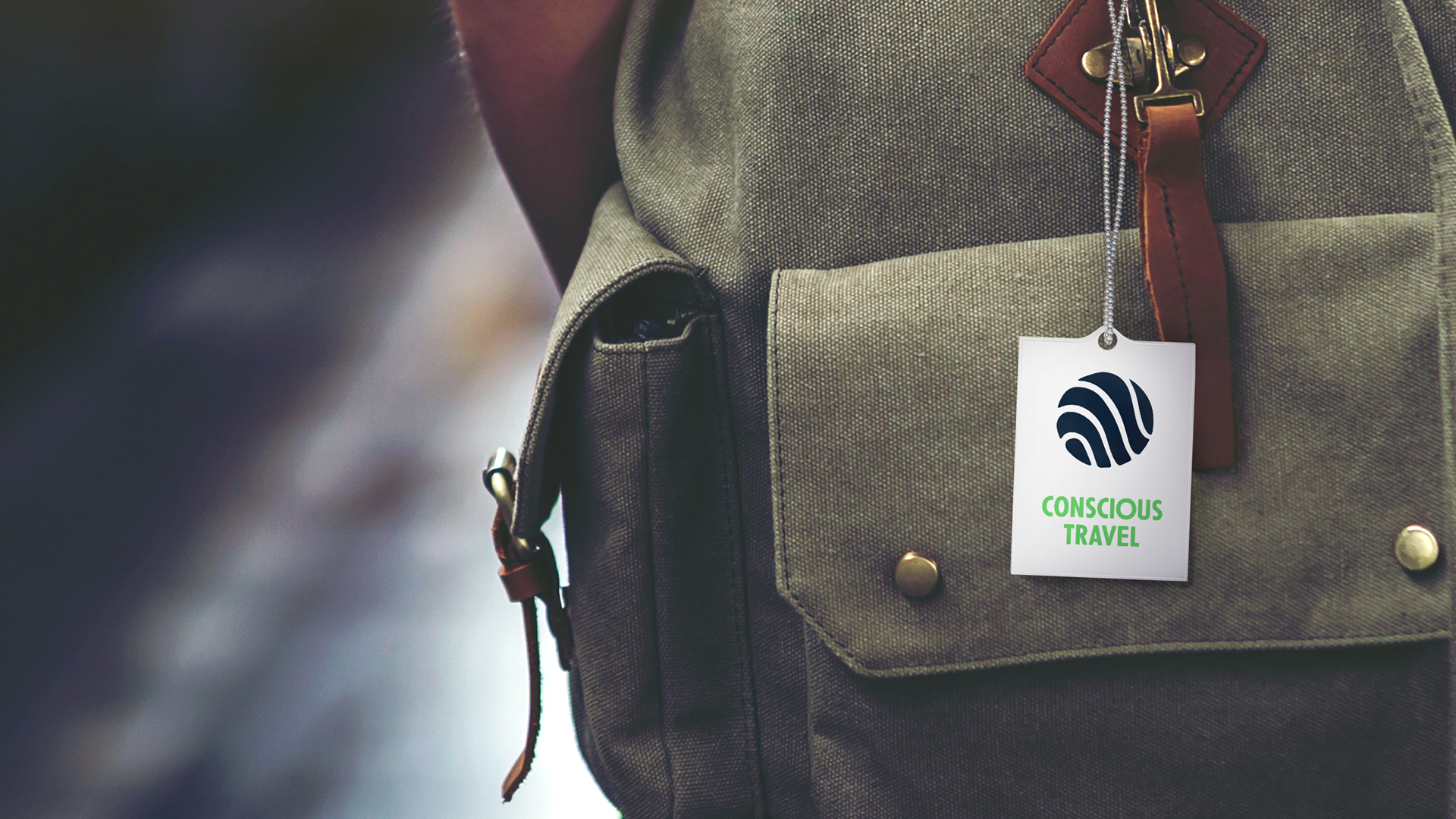 Conscious Travel
with Natucate
Supporting real conservation projects worldwide through individual wilderness adventures – our ambitions, our values, our service.