Natucate
Field Guide Level 1 South Africa - Martina
Enthusiasm for African wildlife: Find out all about her training as a Field Guide Level 1 in the African wilderness in Martina's report.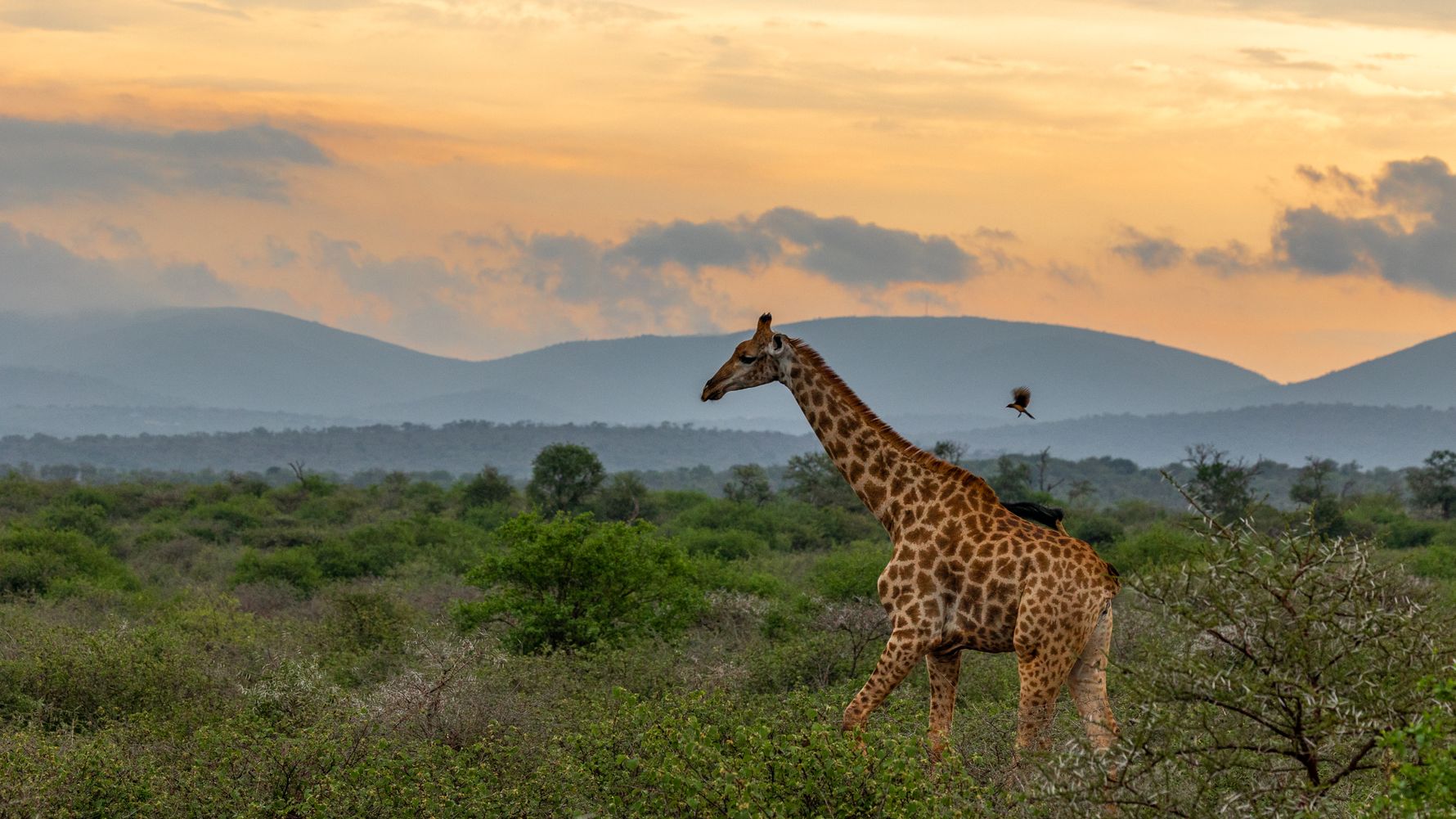 Profile
Name: Martina
Age: 26
Course: Field Guide Level 1
Location: Pongola, Karongwe, Pridelands
Duration: October - December
Field Guide Level 1 - Martina's Adventures in South Africa
As someone who loves nature, it has always been my dream to experience the fascinating wildlife of Africa up-close. Having travelled to the southern part of Africa several times, I knew that I wanted to combine my passion for photography and my love for nature with a field guide training.
Preparation and support by Natucate
Preparing for my training was a straightforward process thanks to the outstanding support of Natucate. The preparation for my training was an uncomplicated and pleasant process. I was able to contact them at any time with questions and received extensive information, packing lists, book suggestions and even audio files with animal voices. Particularly noteworthy was the support provided by Daniel, who was always available and regularly inquired about my well-being before and during the course.
In the middle of the wilderness
The training took place in three different camps: Pongola, Karongwe and Pridelands. Each camp had its own charm and was uniquely situated in the middle of nature. The first camp in Pongola was well equipped and comfortable. It was ideal for the start, as it was the only fenced camp, giving a sense of security. The camp was close to Lake Jozini which allowed for multiple animal sightings. Endless expansions of beautiful greenery and immensely diverse wildlife are characteristic for this region.
The beautiful camp in Karongwe was located along a riverbed. Here there was even a volleyball court where we played in our free time. The spacious tents and the proximity to nature created a unique atmosphere. The camp was not fenced, which gave us the opportunity to experience wildlife up-close. Visitors to the camp included a small spotted genet, buffalo, and elephants.
My absolute highlight was the camp at Pridelands. It was the most rustic camp; everything was in tents - from the kitchen to the learning space to the showers and toilets. The camp was right next to a waterhole and gave us the opportunity to see elephants, buffalo, leopards, white rhinos, spotted hyenas, lions, various antelope, and countless bird species. For hours one could sit there and experience the wildlife in their natural environment. Daily visitors, not only at the waterhole, but also around our tents, included spotted hyenas, elephants and warthogs. It was simply fantastic.
In harmony with nature
The daily schedule was tightly organized to get the most out of our training. The alarm clock rang as early as 4:30 a.m. and was usually accompanied by the call of the Woodland Kingfisher. At 5.30 a.m. we started our game drive or bushwalk. After an exciting morning activity, we returned to the camp for brunch at 10:00 a.m. back at camp. Lectures were held at noon where we expanded our knowledge. Lunch was served at 2:00 p.m. and then at 3:00 p.m. we went back to work on game drives or bushwalks. At 7:00 p.m. we met for dinner and ended the evening around the campfire. Each day was filled with new and exciting learning experiences.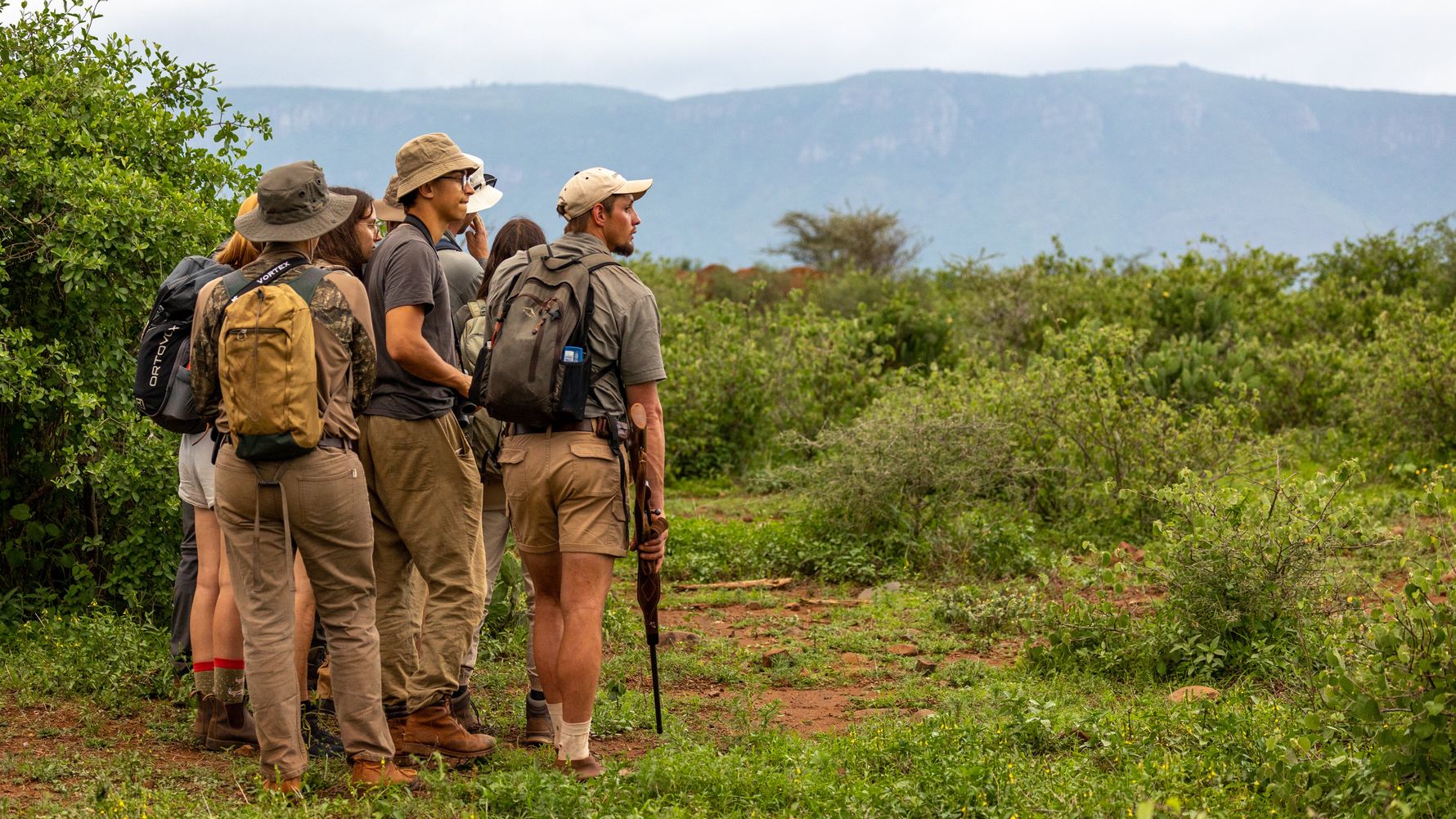 Mastering challenges and overcoming limits
The training to become a Field Guide Level 1 was an intense time, which was accompanied by plenty of challenges. At the beginning it was overwhelming to take in so many different impressions. The structured daily routine demanded discipline and stamina. Driving a Land Rover Defender for the first time and gaining my first guiding experience was exciting and instructive at the same time.
It took courage to acquire extensive knowledge in such a short period of time and to prepare for all of the theoretical and practical assessments and exams. At first, I could hardly imagine how I could successfully pass the final tests. But the guides from Ecotraining were always there to help and support us individually.
Our days were a successful mixture of theoretical lessons and practical experience. In the mornings and afternoons, we went on exciting bush walks or game drives, while at noon we deepened our knowledge on theoretical basics. Due to the rotation principle, we took turns guiding each day, which helped me to continuously feel more confident, all the way to the final exam.
Another challenging task was to master the changing of tires on a 4x4 All-Terrain Vehicle. As a field guide, it is essential to know the vehicle inside and out in order to be able to work in the field and to be able to react appropriately in dangerous situations. Changing a 20-kg tire was a physical challenge, but the feeling was great when you finally managed it.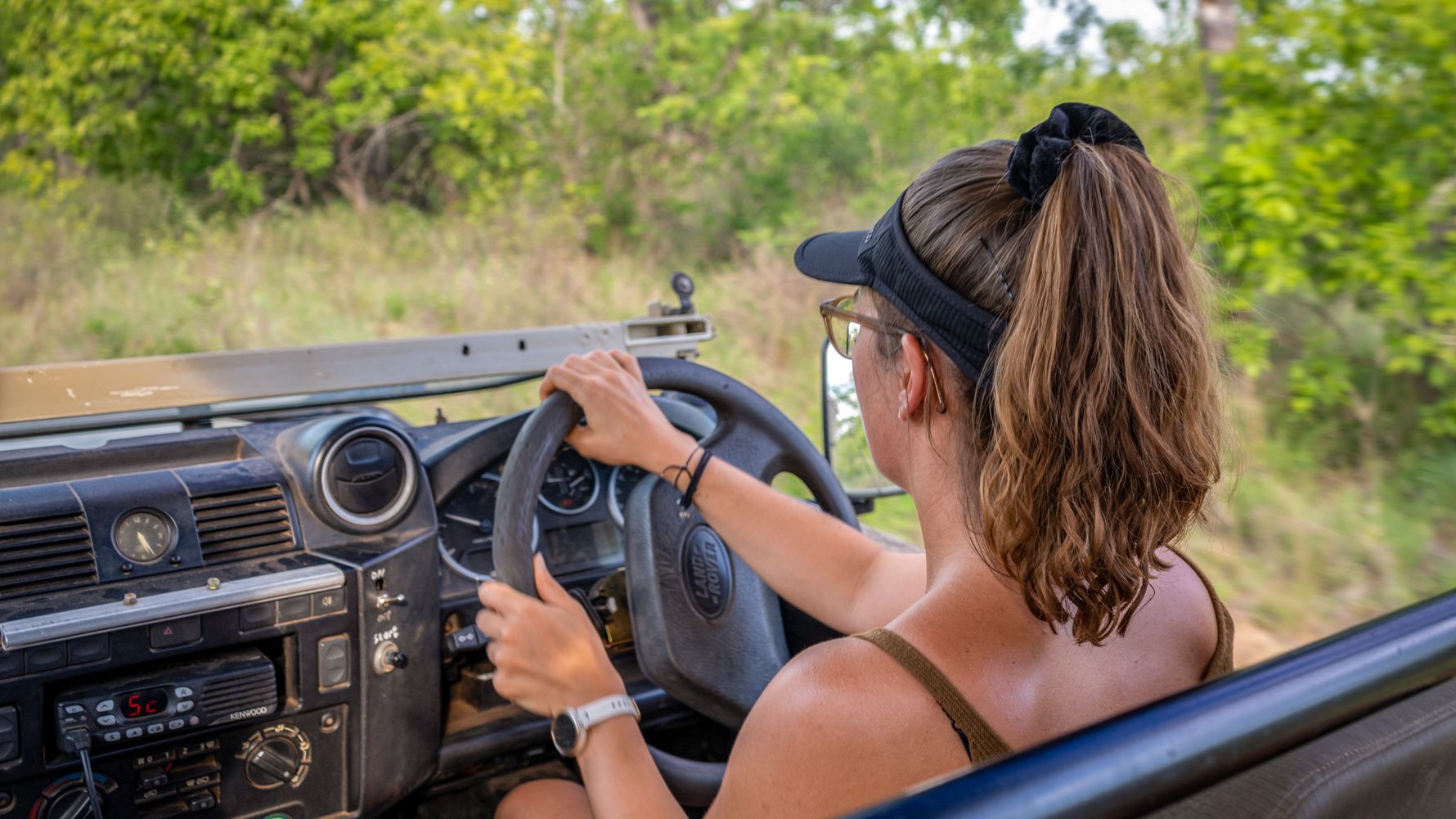 Unforgettable moments in the wilderness
The safari experiences during my training were unforgettable. At the beginning, I could hardly imagine just how many unique moments would await me. During the game drives, bushwalks and even in the camps, we got closer to the animals than I ever thought possible. A special experience in Pongola was our first encounter with two black rhinos during one of our first bushwalks. Seeing these admirable animals up-close was overwhelming and the adrenaline flowed through my body.
In Karongwe, we had an unforgettable experience on our last night. As we made our way to Sundowner, a large bull elephant suddenly ran straight out of the bush towards us. He stopped three meters in front of us and looked us directly in the eyes. In that moment I felt small and humble. It was an indescribable encounter.
At the Pridelands camp, we were constantly surprised by the diversity and beauty of the bush. Spotted hyenas visited at night and raided our coolers, huge herds of elephants enjoyed themselves at the waterhole and surprised us between the tents, we witnessed the birth of a buffalo calf, suddenly saw a leopard in a marula tree at night, watched African wild dogs playing around our car, and a pride of lions strolling together toward the sunset. These moments will stay in my memory forever.
I could go on for hours about my experiences and encounters in the bush. Even on days when we saw fewer animals, we learned to appreciate the little things and to understand why even the biggest elephant cannot survive without the smallest termite. I discovered more and more connections in nature and was fascinated by the small creatures, such as dung beetles.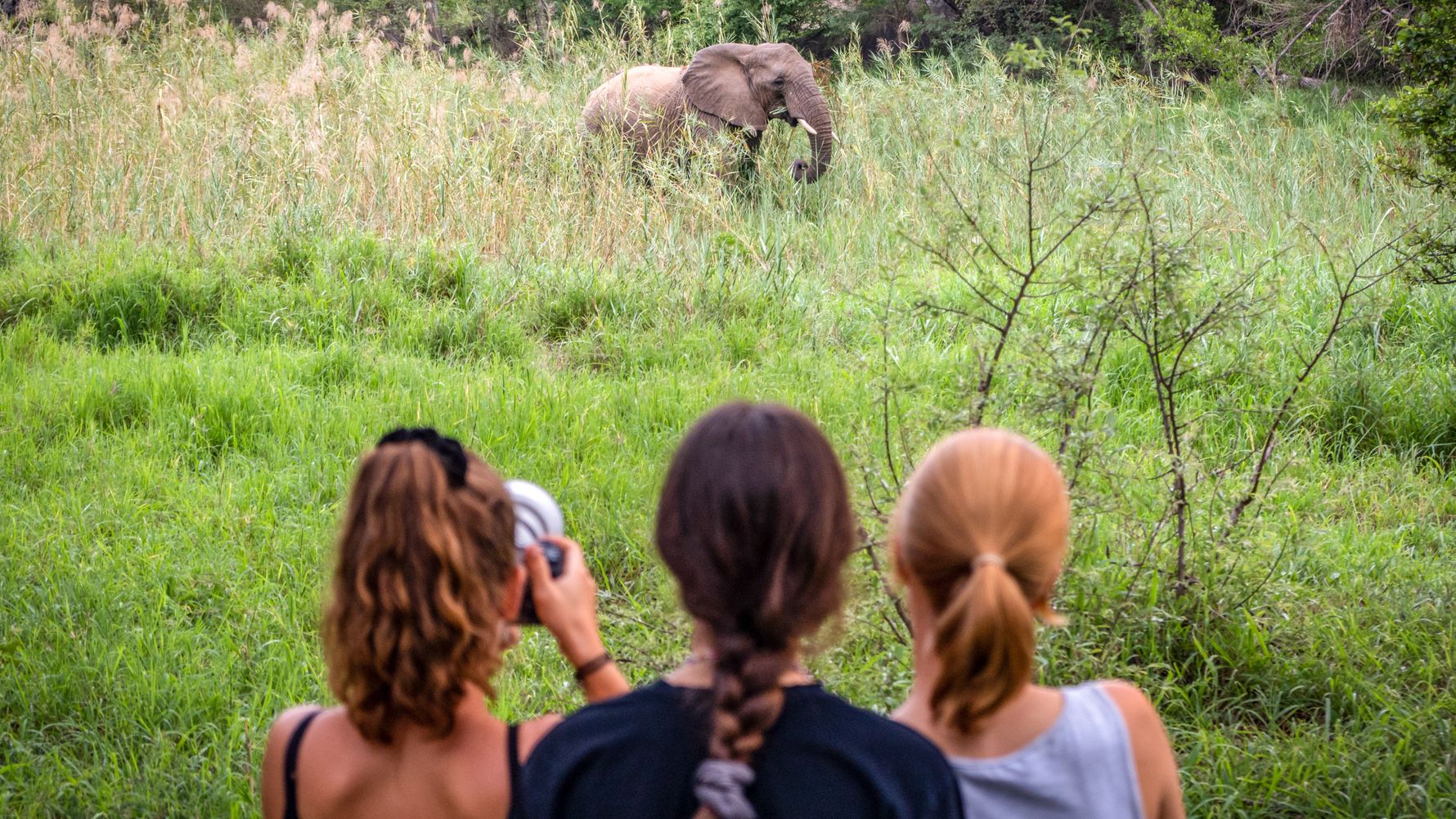 Adventures in the bush of South Africa
The Field Guide Level 1 training was undoubtedly a great adventure. I have not only deepened my passion for wildlife, nature, and photography, but I have also made friends for life. After two months our group had become a small family. It was great to meet like-minded people, with whom I could share my knowledge and experiences. The many bushwalks and game drives gave me unique experiences that I will never forget. I was allowed to gain a wide range of knowledge about geology, mammals, birds, amphibians, astronomy, biomes, history and much more. Not only has my knowledge about nature and wildlife expanded, but also my understanding of myself. I have learned to step out of my comfort zone, to overcome fears and to trust myself more than ever before.
For me, there is nothing more beautiful than being surrounded by African wildlife and nature. I am grateful for the unforgettable experiences I had during my training.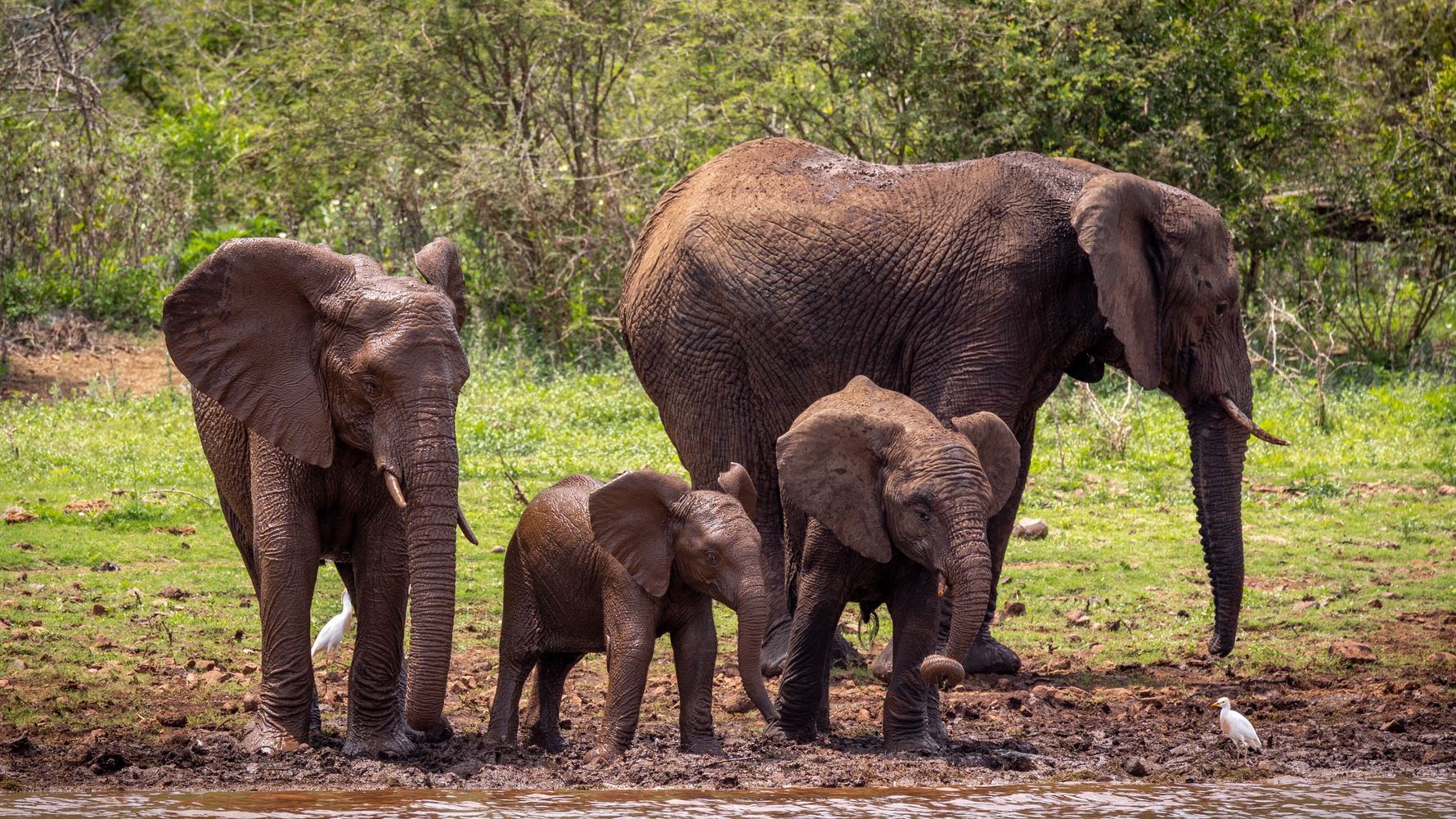 Gratitude and unforgettable memories
Finally, I would like to thank Natucate and Ecotraining from the bottom of my heart for the great time in South Africa. The training to become a Field Guide Level 1 was an extraordinary experience that has enriched my life in a lasting way. The organization on site, the support during the preparation and the training, the great camps and especially the encounters with African wildlife have given me unforgettable memories and experiences. It was a journey full of challenges, learning moments and indescribable beauty. I can fully recommend this training to anyone who is passionate about nature and wildlife. It is a journey to oneself and to the wonders of nature.