Natucate
Field Guide Level 1 Africa – Tobias
Tobias took part in our Field Guide Level 1 course in South Africa and Botswana. In this 'live' report he takes you on a journey – from travel preparations to wildlife encounters in the bush.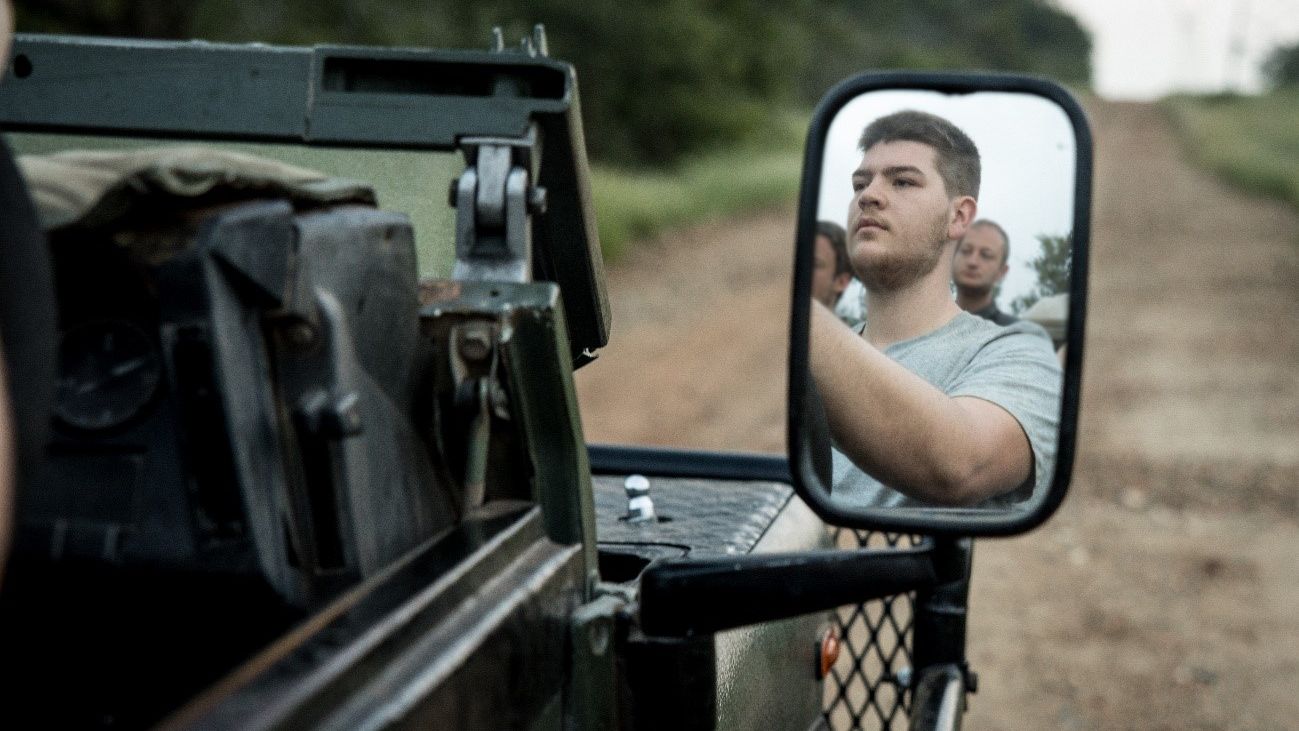 Field Guide Level 1 in Southern Africa – Tobias' experience
Preparations for my field guide adventure
My love for nature goes all the way back to my childhood. Already as a young boy I knew almost all birds in Switzerland. When I grew older I started to watch a lot of documentaries. I guess, they were crucial for my fascination for the African savannah.
One year ago, during our travel through Madagascar, my girlfriend read a book about a woman who did a field guide course in South Africa. She was so fascinated about the story and convinced me to read it as well. I was stroke from the first page. I knew that this is exactly what I wanted to do. Now, after I finished my master degree in civil engineering, it is the perfect moment to live this dream.
At this moment, while writing these lines, I'm just a few hours away from starting my adventure. But of course, the preparation started already several months ago. As there are so many birds, mammals, insects, trees etc. to learn, I started very early with learning with special focus on the different bird calls. In the beginning, this was really hard. But now I can recognize almost half of the most common birds in Southern Africa. Furthermore, I gained a lot more knowledge about the African savanna which hadn't learned yet from all the documentaries.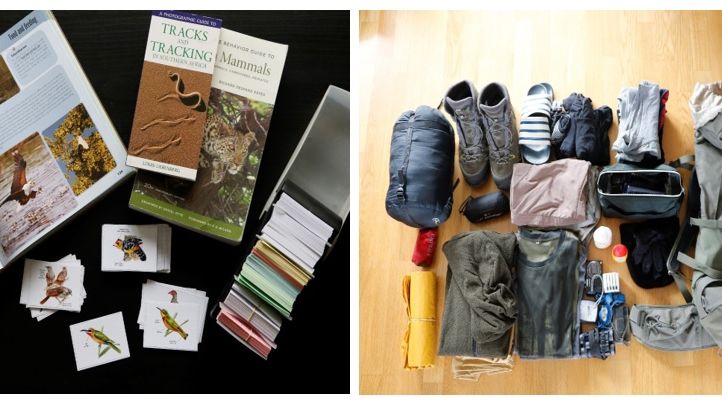 Due to the fact that I spend a lot of time outside in the mountains with my tent, I didn't need to buy that much new stuff – nevertheless, I spent a lot of time preparing all my gear and thinking about what equipment I would really need because I didn't want to carry too much weight with me. After some hours I gathered all my stuff: a sleeping bag and mat, some khaki coloured t-shirts, shorts and a hoody and a little more. I hope I didn't forget anything.
My first days in Camp Pridelands
After a long night flight I arrived at Johannesburg Airport in the morning. Welcome to Africa! It wasn't my first time in Africa. I already traveled to Madagascar two years ago. But I have never been on a safari and the landscape is totally different than on the island. After I got my backpack, the first thing I had to do was to get a South African SIM card so I could reach out to my friends and family at home to share my adventure with them. But this wasn't too easy, though. As I arrived in the mobile shop, they explained to me that it wouldn't be possible to buy a SIM card because their system was down. So I texted Daniel from Natucate. He is always available when you need help or any information, what I really appreciate. He told me that it is also possible to get SIM cards from a near-by mall. So I went there together with some other Natucate students. We had a funny afternoon in the mall, and I knew right from the beginning that I would have a great time with them.
The next day our adventure started. We got up early in the morning and a bus from the course training provider picked us up at the hotel. Five hours later we arrived in our first camp: Pridelands. During the ride I already spotted some wild animals and I got excited even more. The camp is really beautiful, situated right on the edge of big pond in the middle of a wildlife reserve and connected to Kruger National Park. After a very friendly welcome we put our backpacks in our tents. I share my tent with Pedro, a guy from Portugal. After a small meal we went on our first game drive. For me it was the very first time out in the African bush and I immediately fell in love with it.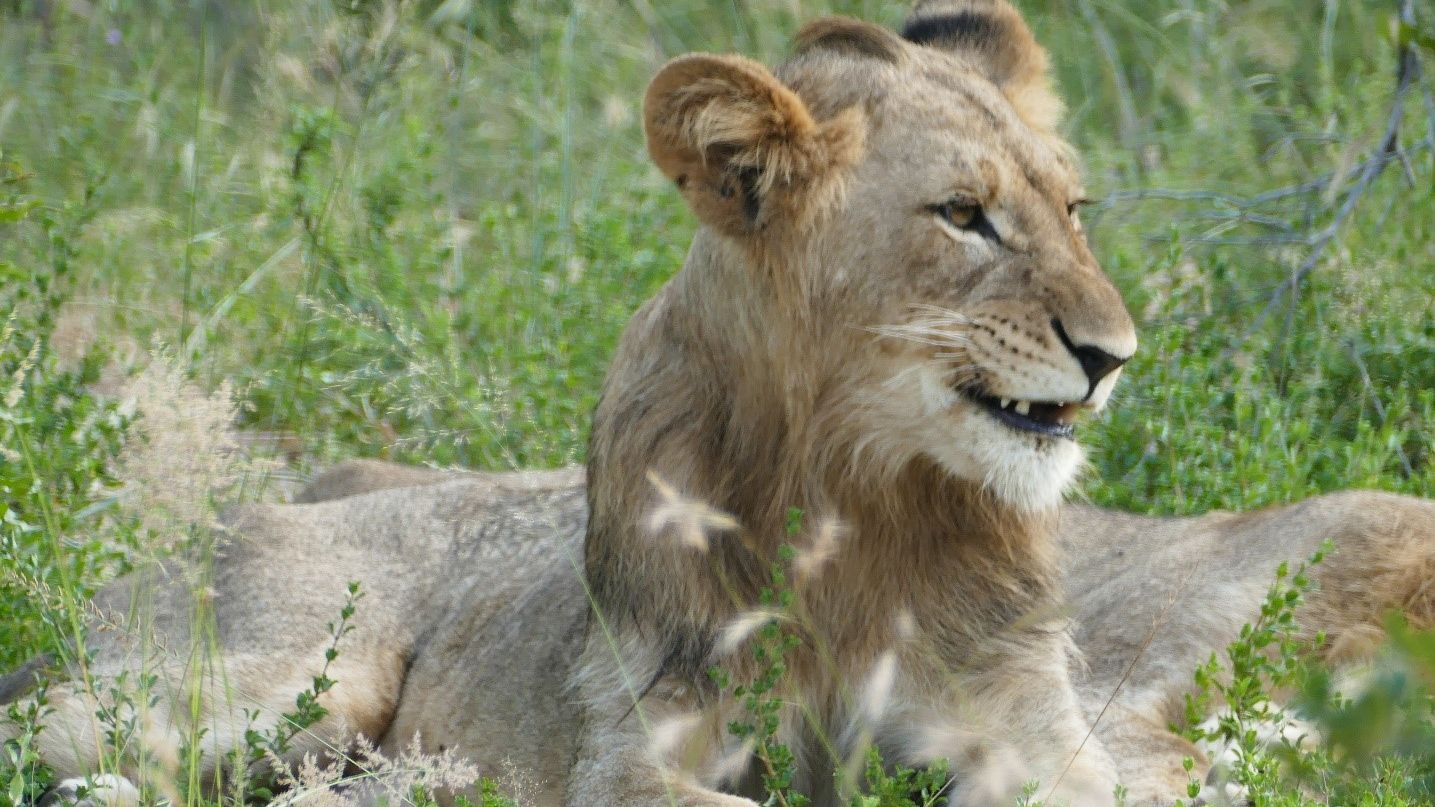 A typical course day normally starts at 5am for the students. We are divided into three smaller groups. Sometimes we go on game drives, sometimes we go on bush walks. We also have a lot of theory lessons in the camp which teach us more about animals and the ecosystem that surrounds us.
On our first bush walk we had a really fascinating experience. We walked straight out into the bush. As we were looking at some tracks of an impala someone shouted that there is an elephant. I looked up and was really happy to encounter an elephant on foot. But soon I realized that it was a huge male elephant in must. Our guide Pete immediately said that we should go off the street and into the bush. So we slowly moved away from the elephant. The huge guy decided to follow us. So we moved further away from it. But Pete soon realized that we had to do a standoff with this enormous animal. So we stopped at a Marula tree and let the elephant come straight at us. Pete and our backup guide Marc stood in front of us and pointed their gun against the elephant. He stopped some 12 m away from us and looked quite scary. After 2 or 3 minutes he decided to back off. At that point I realized how fast my heart was beating. The funny thing was that I felt safe during the whole encounter due to the professional guiding skills of Pete and Marc.
The second camp: Karongwe
After the first week in Pridelands it was already time to say goodbye to the elephants and head out to new adventures in our new camp. Karongwe, our new camp, is a large private game reserve which is located not too far away from Pridelands. The camp is just magical. The tents we sleep in are almost small houses and offer a straight view over the savannah.
We are 21 students in this group. Many of them come from Germany but there are also people from Australia, Portugal, Austria, Canada, South Africa and, of course, me from Switzerland. As bushwalks and game walks within such a large group are difficult to manage we were split up into three subgroups.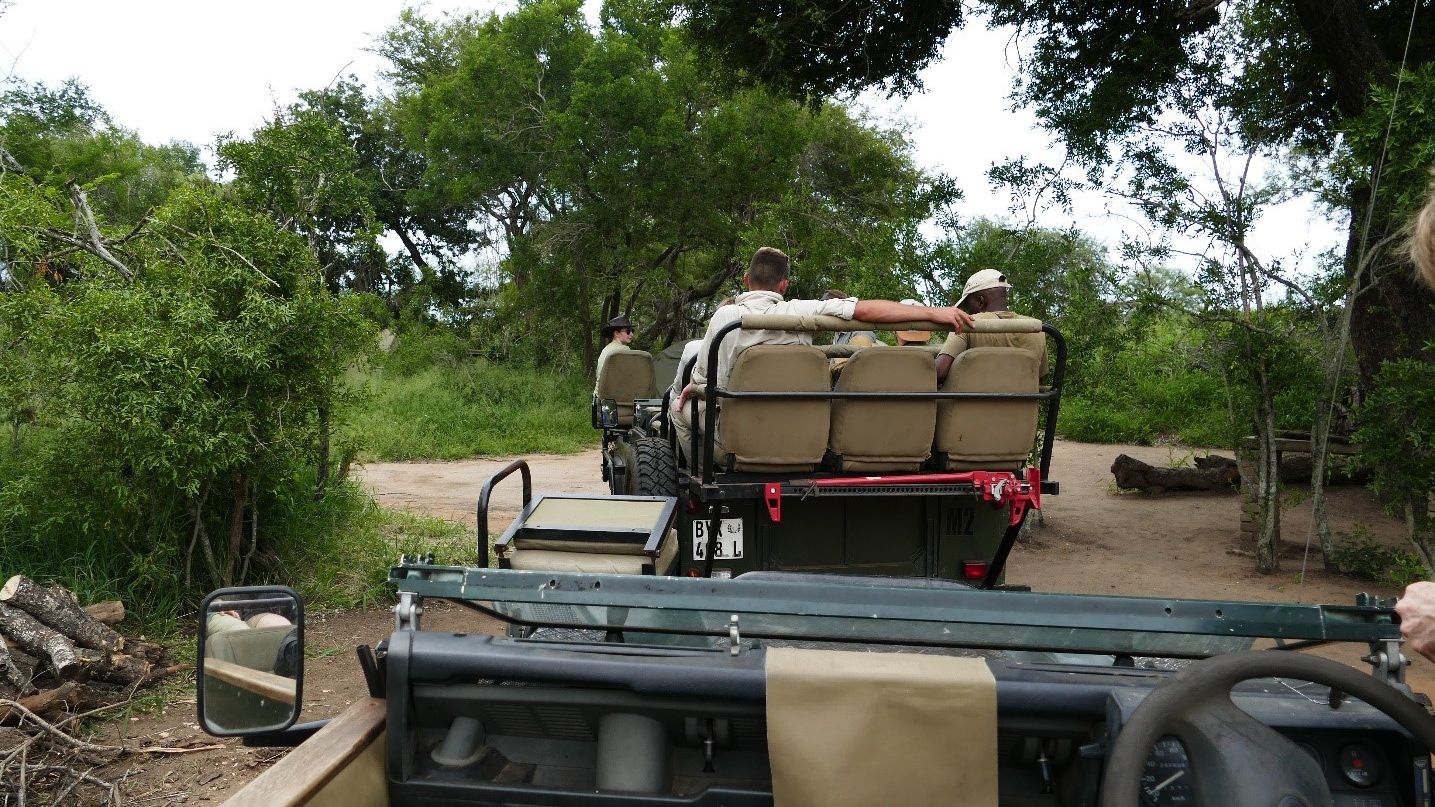 Normally, we get up really early in the morning at 05:00 AM. I am still not really used to it but its getting easier. At first, we get some coffee and a little bit to eat. After breakfast we have time till 06:00 AM to get prepared for the morning activity – a bushwalk or game drive, depending on the day. We have already learned so much that now we are the ones who are responsible for the game drives. It is way harder than the guides made it look like. But we are getting better and better. We come back to the camp at around 10:00 AM where a big breakfast awaits us. Straight after breakfast it's already time to go to lecture to acquire further knowledge about topics like geology, astronomy, birds, fish, animal behaviour and much more. After lecture we have time to study the topics until 03:00 PM before having lunch and taking part in another game drive or bushwalk.
The afternoon game drives are quiet cool because we stop for a nice sundowner, which means having a beer and simply enjoying the beauty of the South African savannah. After the sunset we drive back to camp using a spotlight to spot animals in the dark which are hard to see during the day. Back in Camp Karongwe we enjoy dinner. After that we sometimes gather around the fire – but oftentimes the activities of the day got us too tired so we go straight to bed.
Camp Karongwe – Part II
During our last week in Karongwe we had the chance to participate in a wilderness sleep-out. I had been looking forward to this day for the entire week! On the day we left for the sleep-out we packed our sleeping bags, mats, food and all the other small things we needed. We drove to a rock outcrop in the middle of the savanna. The first thing to do: gathering firewood so we could stay warm at night and were able to boil water for coffee. Since not all of us could stay up the whole night we split up into subgroups of two persons.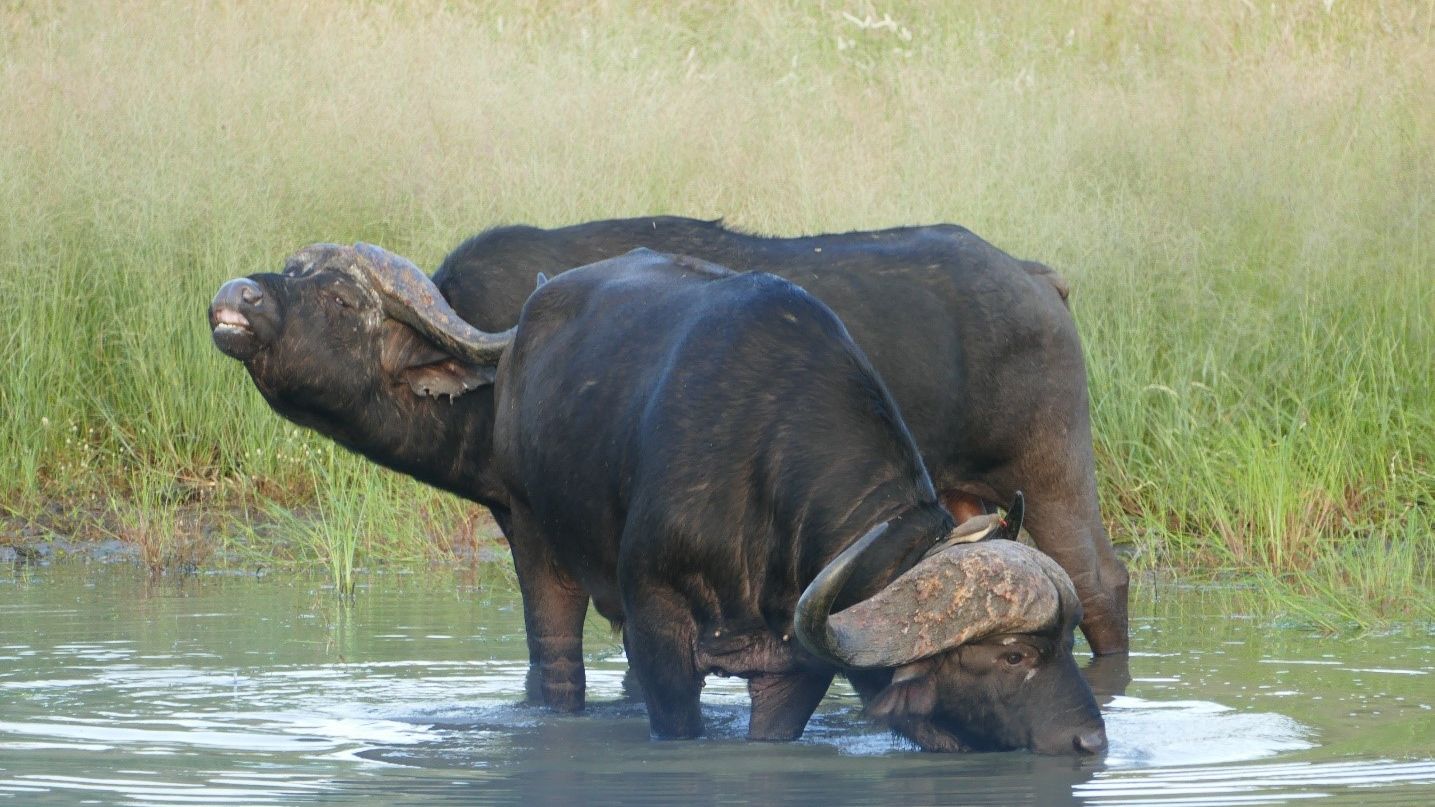 My shift was from 2-3 o'clock in the morning. Before I even went to sleep, I already heard the first hyena. When I woke up to start my shift it was perfectly silent and I didn't spot anything near our little sleep-out camp. So I decided to sit next to a small pond on the rock from where I could watch little terrapins feeding on insect larvae. The next day I was still a bit tired because it was not the most comfortable place but one of the most beautiful.
The evening before we left our camp we were told that we were going to have a sundowner all together. They also announced that we should take clothes with us that could get a bit dirty. Of course, everybody was wondering what was going to happen. We finally arrived at a big muddy pool in the middle of the game reserve. As soon we arrived, we realized that there is going to be a huge mud fight. It lasted about an hour. After that every bit of my body was dirty and my feet were covered with many small cuts because I was barefoot all the time. Nonetheless it was just unforgettable.
The next day we packed all our stuff and left Karongwe for our next camp: Mashatu. This camp is situated in Botswana next to the Limpopo River which builds a natural barrier between South Africa and Botswana. I cannot wait to see which adventures Mashatu has in store for us.
Camp Mashatu
I love Mashatu – it's one of the most wonderful places I have seen so far in Southern Africa. The landscape looks almost the same as it does in The Lion King. Our camp is situated next to a river called Motloutse where we have already spotted lots of elephants, wildebeest and zebras coming down to drink. It is also located next to a ridge where we found a leopard with its cub at a den site as well as a brown hyaena. A really cool feature of this camp is the volleyball court where we play almost every day.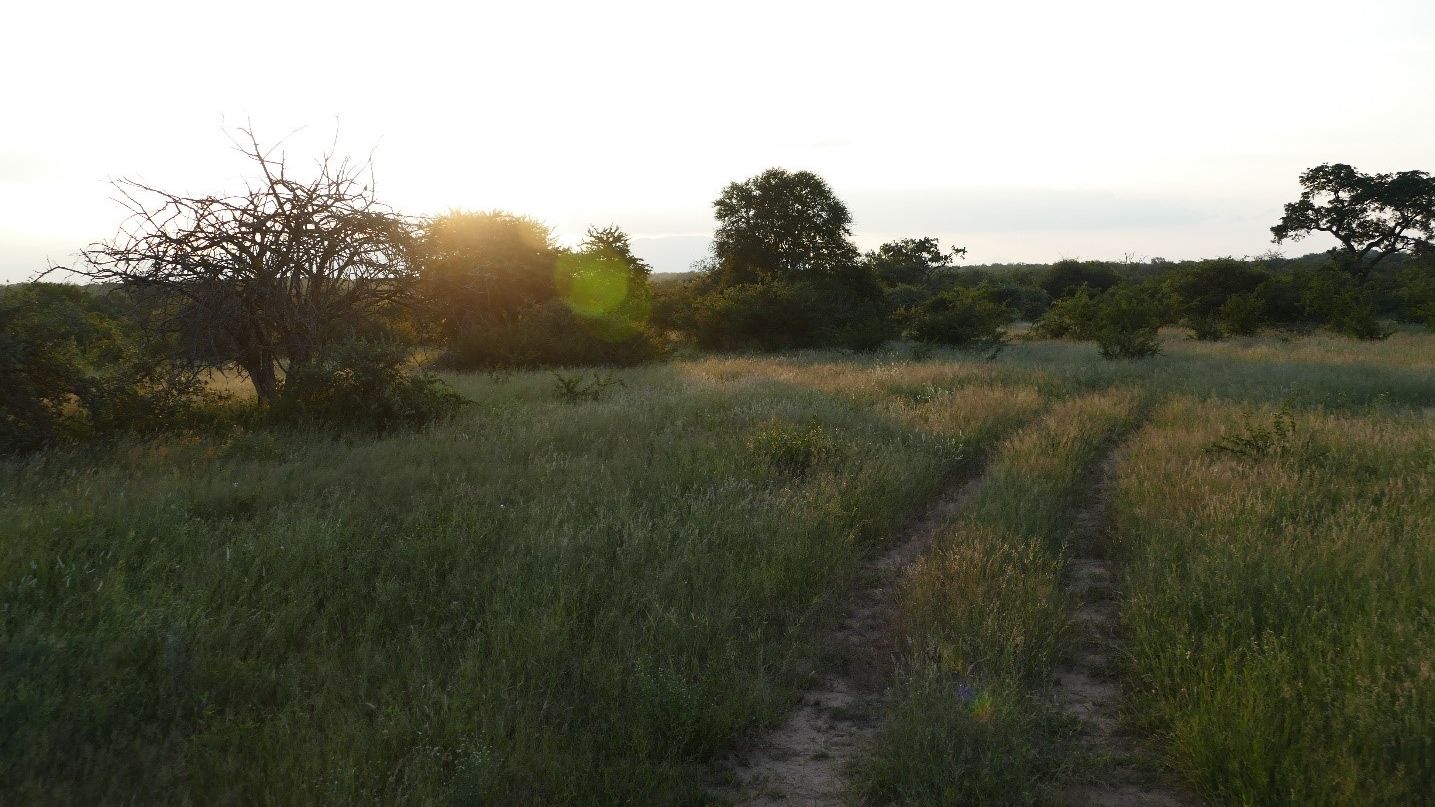 It's a real pleasure to do game drives in this reserve. You see so many animals and can immerse yourself into the beautiful landscape while enjoying sundowners or coffee breaks. But thinking of the assessment drive each of us need to do soon, we slowly but surely become more nervous.
Before doing this assessment drive we also get tested on our theoretical knowledge. The theoretical tests included birds calls, reptiles, amphibians and arthropods as well as an official theory exam. What "scared" me the most was getting tested on the 105 different bird calls. So I tried to learn all of them as good as possible. But due to the frequent game drives and the volleyball court next to the lecture hall it was much harder than I expected.
During the last few days before the exam everybody got much more serious and the lecture hall was filled with students almost all the time. After we finally finished the first tests everybody was happy and relieved. But the studying continued the next day as the official theory test was about to come. The subjects we were asked about included astronomy, geology, human history, arthropods, mammals and many more. Thankfully the intense studying paid off and everybody passed.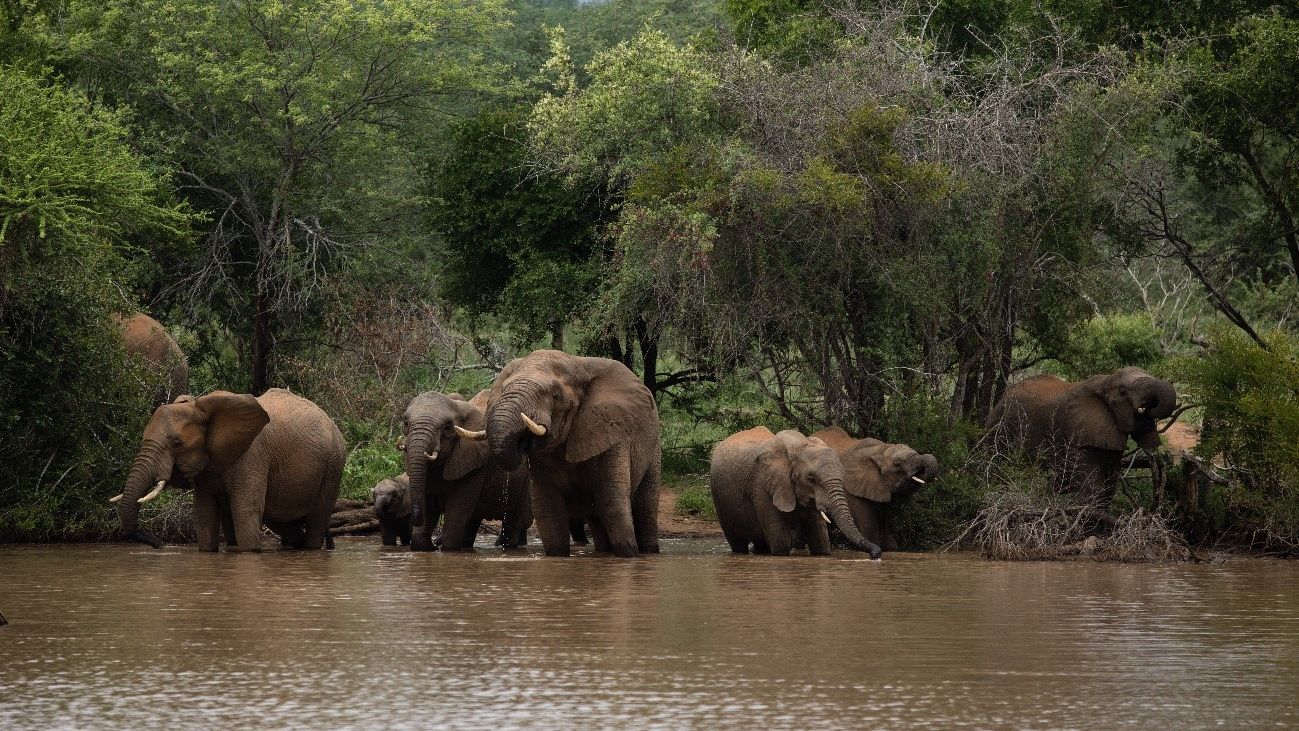 The most important part of our course was yet to come: We had to proof our driving and hosting skills as well as our bush knowledge as part of a 3-hour game drive. The following days we focused on planning the route and learning facts about animals, plants and geology. Two days before the first assessment drives were scheduled the assessors arrived. They were much younger than I had expected but were very experienced and relaxed.
The day before my assessment drive I had to do a guest briefing. I was really nervous because I knew I'm not the best entertainer. But nonetheless I successfully managed it. During the next night I woke up many times because I was so nervous. When I finally had to get up I prepared and checked the car. Shortly after, it was already time to "welcome my guests" which consisted of my fellow training mates. Finally, I started my drive. I was super nervous during the first 5 minutes of the drive but afterwards I became more relaxed was able to share lots of bush knowledge with my guests. After almost 1 ½ hours we took a break for some coffee and tea as well as some rusks. Right after the break we heard lion roaring in the distance and I decided to change my route back to camp and tried to find the lions. Unfortunately, I couldn't find them. But nonetheless I was pretty happy about my performance – so was the assessor…and I passed the course!