Natucate
Field Guide Level 1 South Africa – Babett
In her wonderful review you can learn more about Babett's time in Southern Africa's wild nature where successfully took part in our Field Guide Level 1 course.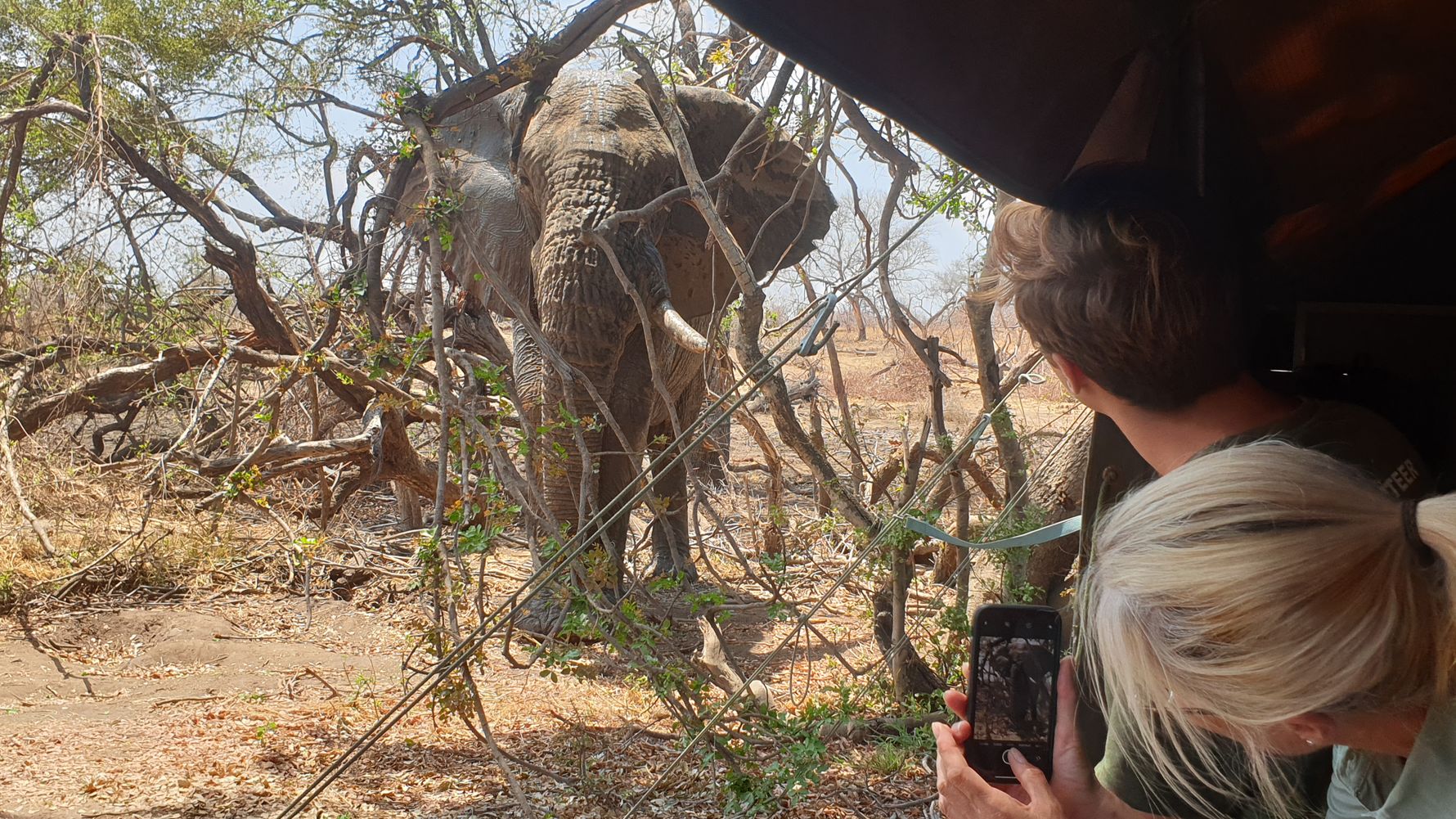 Out of the office – right into the bush
Field Guide Level 1 training in South Africa
55-day training course for Field Guide Level 1 // 11th October – 4th December 2019 // Camps: Karongwe, Pridelands, Makuleke
In 2017, I was in Africa for the first time. On a road trip from Zambia to Zimbabwe, Botswana and Namibia to South Africa. It was amazing and I know it sounds a bit like a cliché, but the impressions of this trip have changed me. Endless vastness, landscapes that simply take your breath away, true wilderness and, of course, the animals – wild elephants, lions, zebras, giraffes, rhinos, hippos ... watching these impressive, beautiful animals in their natural habitat is just incredible.
Longing for Africa
Back in everyday life, everything was as usual and yet somehow different. Sitting in the office eight hours a day in front of the flickering screen somehow no longer made sense to me. I missed being outside, getting up with the sun and going to sleep when it sets, the sand between my toes. So I started to look for a project that would allow me to go back. For more than three weeks. And I wanted to dive deeper into the world down there in the south, meet the locals, get to know more, understand more.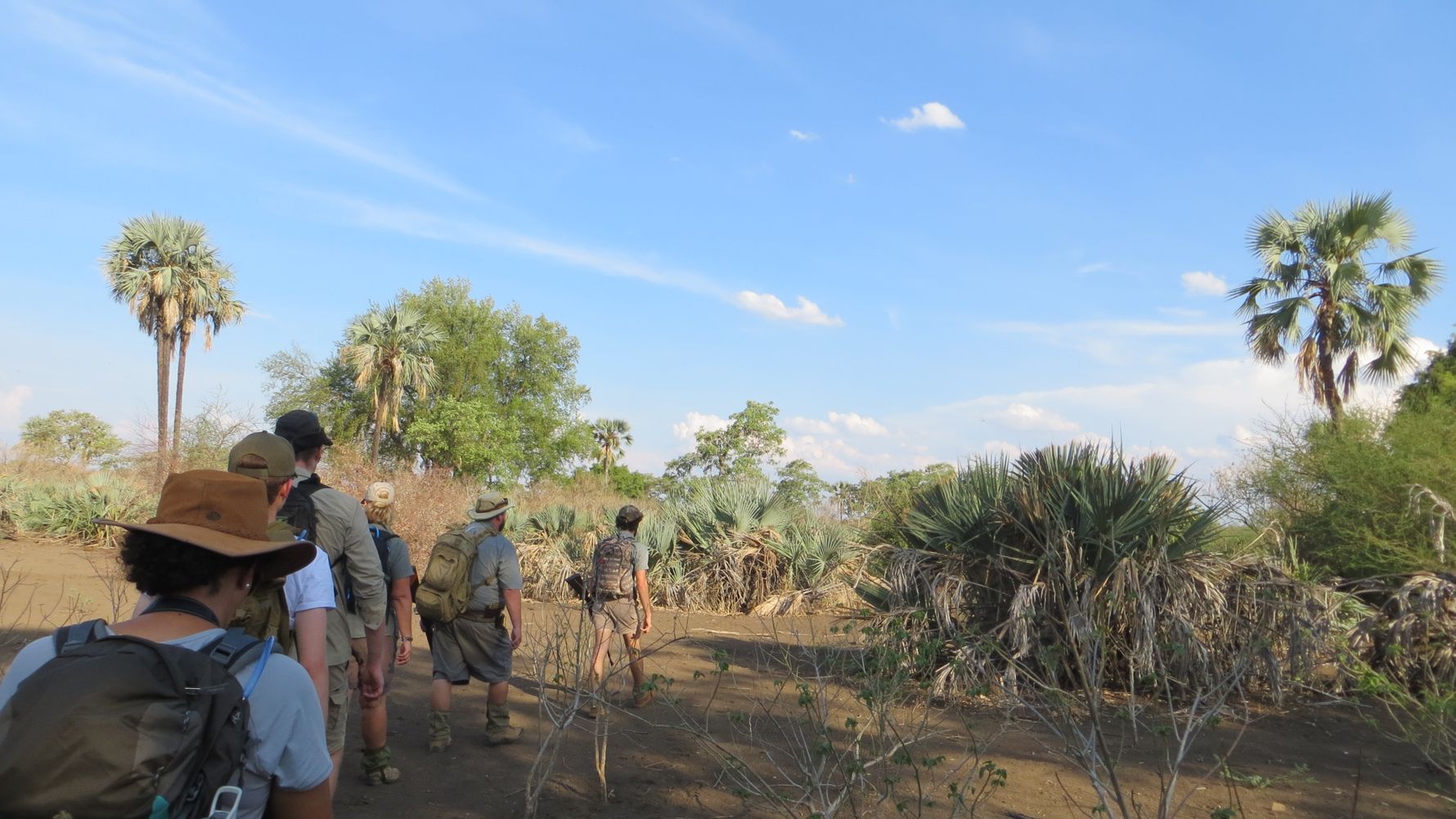 I'm going to be a ranger.
After some research on the internet I came across Natucate. Bam – that's it! I'm going to be a ranger! 55 days in nature, animal spotting, camping, campfire, back to the roots. To learn everything about the origin of the landscape, about the fauna and flora, about astronomy and the cultural past of the area on site and to be able to simply be back in the bush. I think I took one more night to think about it, but I actually knew it right from the start: I am going to book this adventure.
Africa, here I come!
Ten months before I started, I registered for the EcoTraining course via Natucate. Lots of time left for many questions that came up little by little and which the team patiently answered. As this is a field guide training recognised and certified by the South African state, there is some paperwork to be done before leaving for Africa but the Natucate team is there to support and assist you.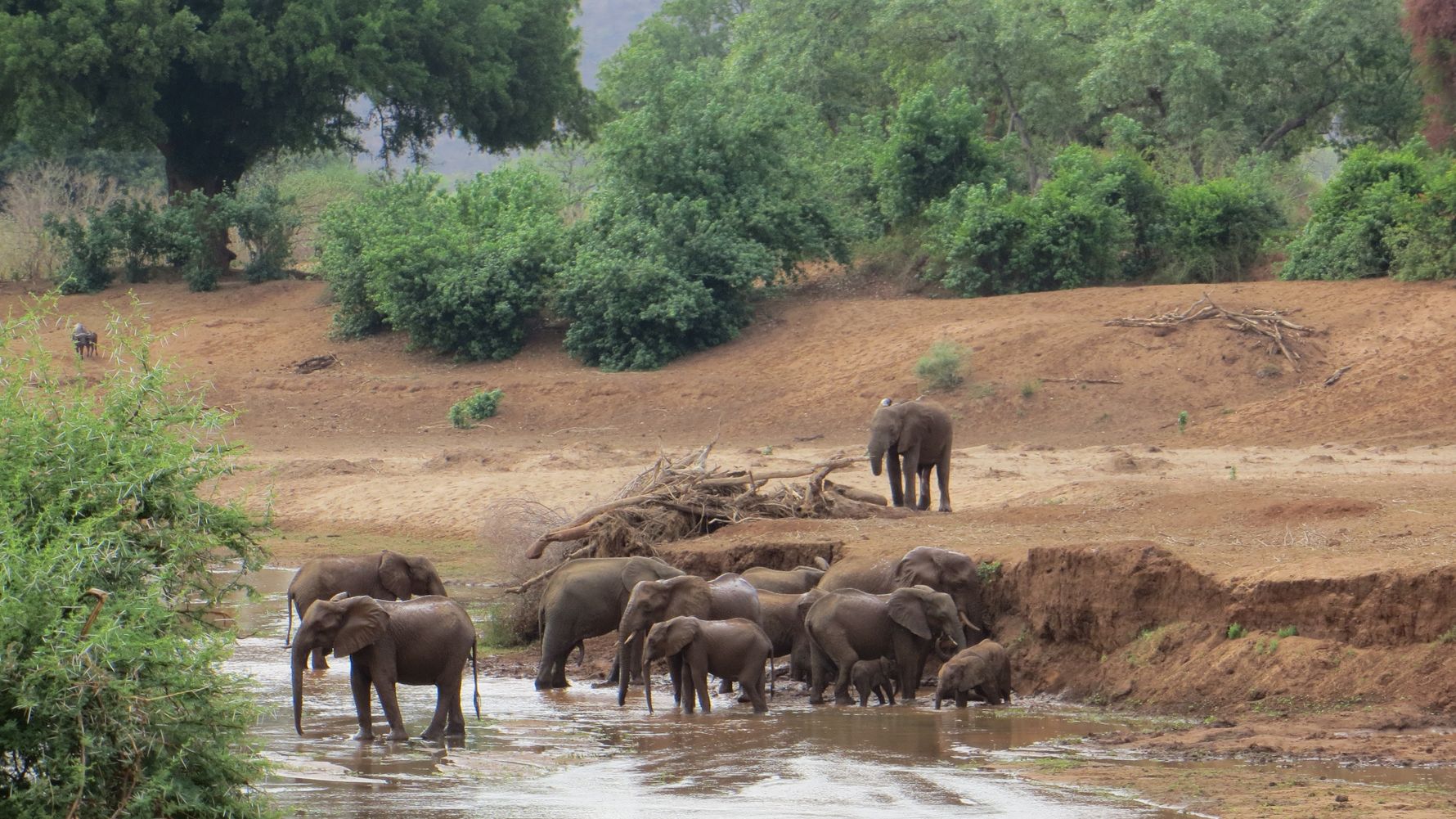 Final preparations
Suddenly there it was, the day I left. Out of a sudden I had to pack my backpack and head off into the South African bush. And I almost forgot the binoculars (tip: don't forget the binoculars!). Everything else you need, such as hiking boots, a drinking bladder and neutral clothing for the bush walks, a headlamp, a sun hat and so on, can be found on a smart list to help you pack. You do not need professional equipment, but some things are quite useful. In order to get prepared for the course, there is also a list of learning contents including recommended reading and great apps for identifying birds, amphibians, trees etc.
Into the wild
Meeting point for all course participants is a guesthouse in Johannesburg. The journey from Germany went quite well. Many students arrive a day in advance, as the first day starts very early in the morning. My course starts at EcoTraining Camp Karongwe, about five hours by minibus northeast of Johannesburg. At this time of the year, before the first rainfalls come down, everything looks very sparse, the trees have no leaves – which is ideal for animal spotting. After 23 days we will move on to Camp Pridelands, a little further north. This camp is located directly at a waterhole. After another ten days we will move to Makuleke for the rest of our stay.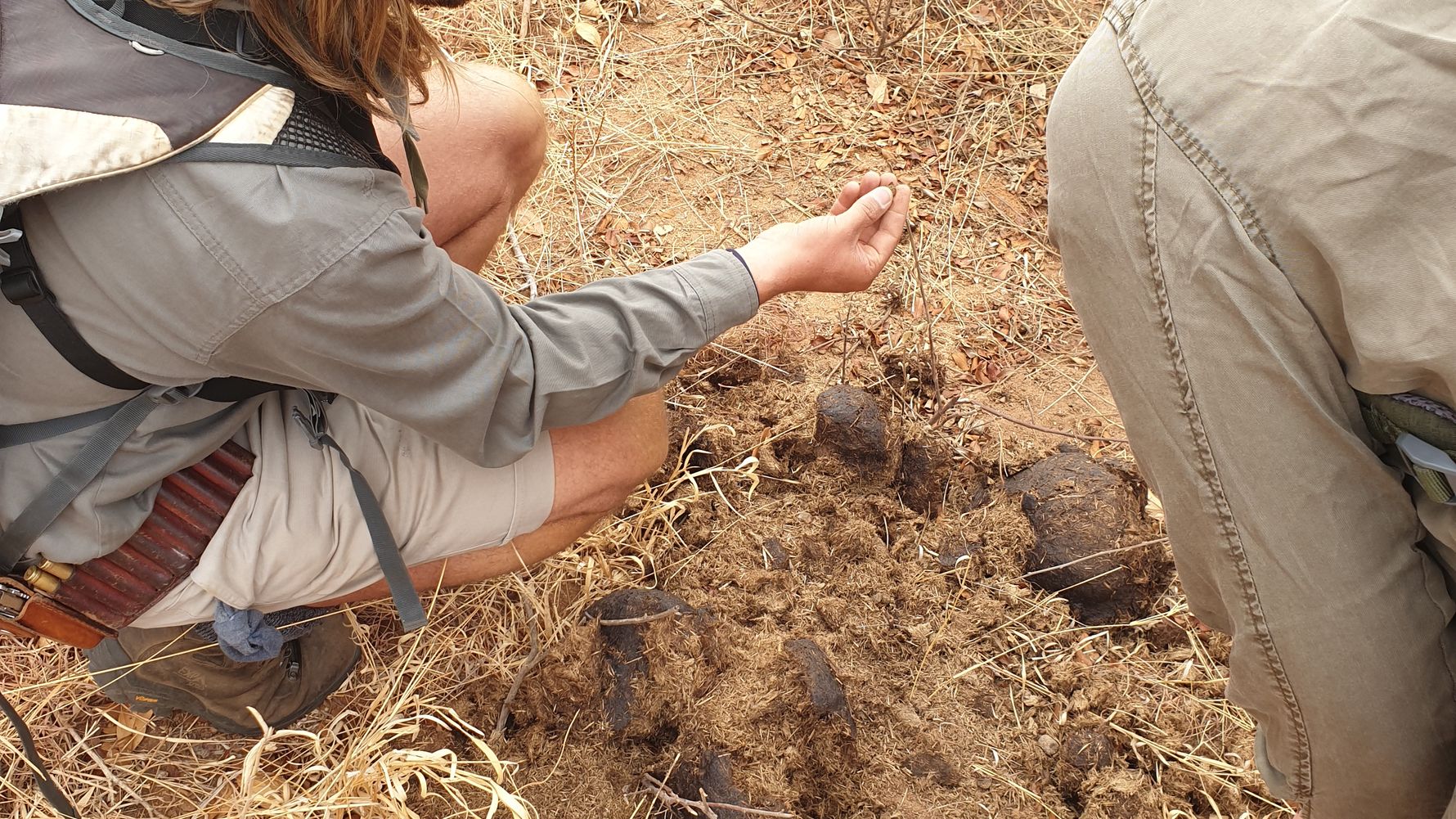 Joy and happiness
All camps are located in the middle of a nature reserve and are not fenced in. Therefore, the animals have free access to our base. Later I learned that these are the moments when I feel most alive – when you hear the calls of hyaenas at night or the branches cracking when an elephant nibbles on the tree in front of your tent. Or the next morning, when you can see leopard tracks in the sand – so close to camp! Watching animals is incredibly calming and grounding. Reading their tracks and following them is more exciting than any Sunday evening crime thriller.
Adventure ahead
Upon arrival at camp, we are welcomed warmly, divided into teams of two (for the tents) and given an insight into how the next two months will look like. We visit the lecture hall and the study decks where we will sweat over the books for a few more hours and where you will also find the library with all the reading material about our area of operation. There's even a bush fym where some of us will be doing half an hour of bush training every day for the next two months. Furthermore, an open-air shower and the fireplace are my personal highlights.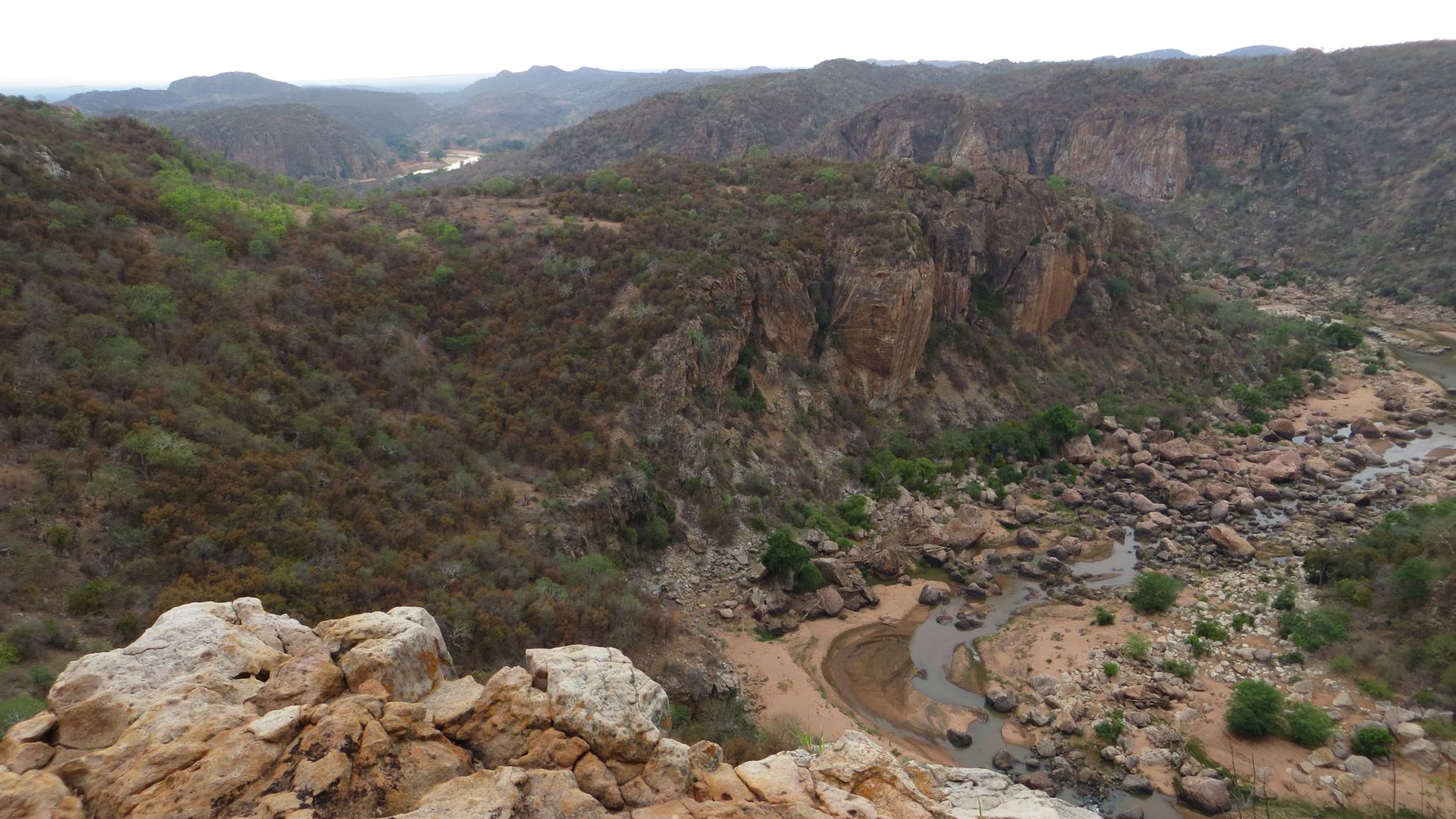 Camp life
The day begins with rising sun, at about 4:30 AM. After a quick breakfast, we'll be off into the bush at 5:30 AM. We are 19 people and are divided into three groups. While two groups go on a game drive, the other group is doing a bush walk. And what at first seemed so barren and hostile to life is actually full of large and small creatures, each of which has adapted in its own way to the harsh life in the bush. What I immediately love about this course is that it is not only about the big ones, the Big Five, but also about the very small animals, such as centipedes, frogs, dung beetles, countless birds with their different songs and a world that only opens up to me here: trees.
Living in the wild
The trees and I have a difficult start. We arrive at a time when only few of them have leaves. For our assessment we are supposed to know about 30 trees. Thanks to the tireless repetitions of our trainers and the enthusiasm for plants, I am actually learning to distinguish them – even without leaves. To my mind, the cultural customs of the trees (in fact, a herb has grown against everything) and the stories and myths that there are to tell about the different trees are particularly interesting. Can you imagine what a baobab which has stood in its place for hundreds of years, must have experienced and seen?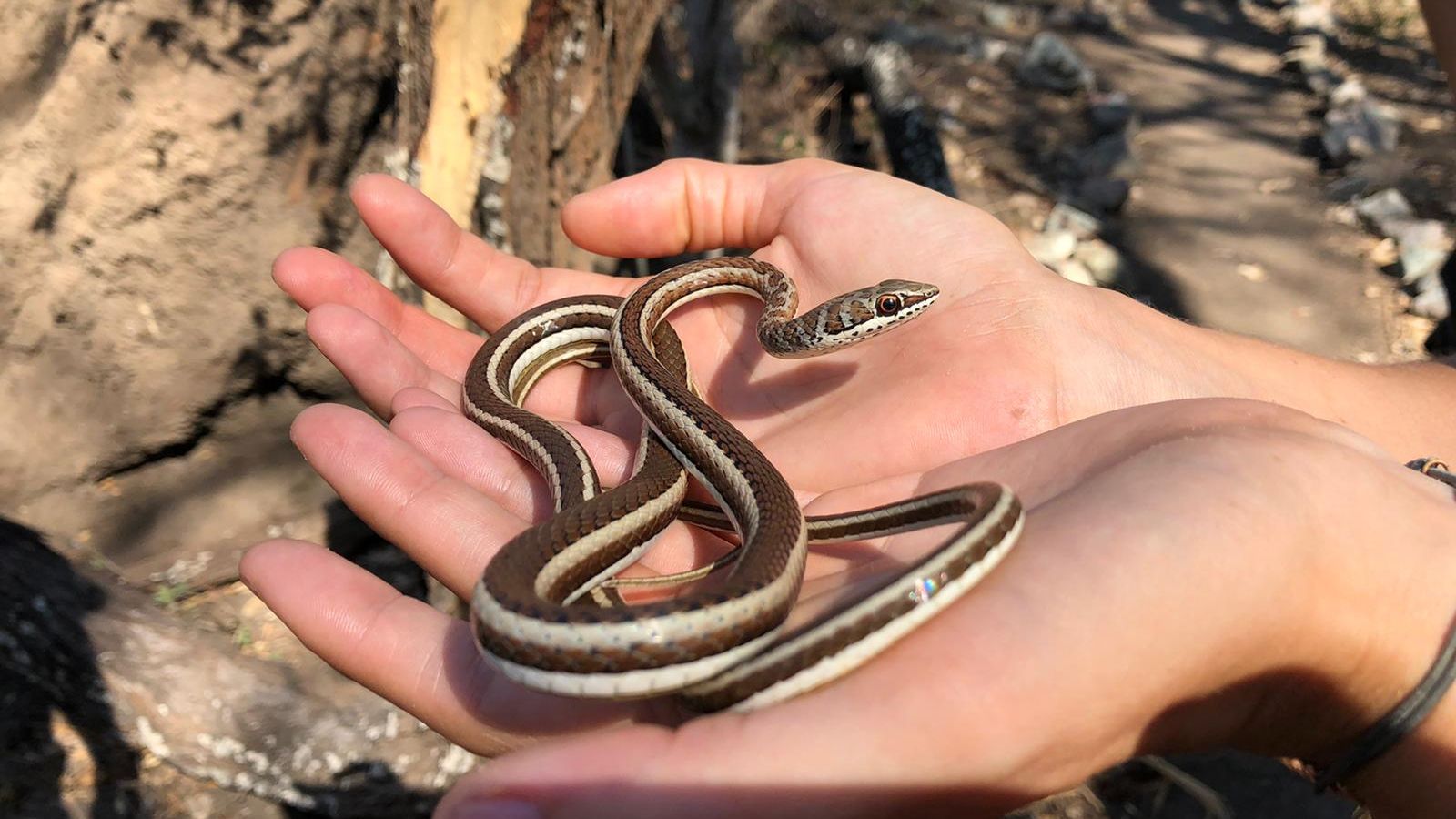 Circle of life
Plants are the basic prerequisite for all further life on earth. Without plants no herbivores, without herbivores no carnivores. In nature, nothing is there for nothing, everything has its purpose and its right to exist. However, this is a very sensitive construct – if one component is out of balance, the whole system is shaken. The lectures also deal with our responsibility to maintain this balance in nature reserves. As soon as humans fence in an area, they must ensure that the ecosystem in it continues to function. For example, water points must be opened and closed elsewhere, or grass areas must be cleared. I think this interconnectedness is beyond exciting.
Getting tested
I was overwhelmed by the amount of knowledge that we are supposed to acquire during the course. Being surrounded by all these things and receiving daily practice helps a lot and we are soon on our way to becoming nature experts. In addition to the final theoretical test, we write short tests for each module and take so-called Field Obs where you go out and identify tracks, signs and trees. Thus, you quickly find out on which level you are and which area needs a bit more practice. We also practice guiding because the aim of the course is to be able to lead a safari.
Routine? No routine
After a few days you get used to camp life and temperatures. Getting up early in the morning and off to the four-hour morning activity, breakfast at 10am, followed by aclassroom unit and study time. Bushfit or a powernap and after lunch off to the afternoon activity. At about 07:00 PM everybody meets again back in camp. After dinner you can end the day around the campfire. Despite the routine, no day is like the other and I am mostly overwhelmed by impressions and experiences. And so happy. I also decided against buying a South African Sim card. So not staring at the mobile phone in bed at night. Game ranger training including a digital detox.
Birds, Birds, Birds
You don't even need the mobile phone as an alarm clock. In the rotating system, the so-called duty team not only helps the kitchen staff to serve the food but is also responsible for waking the others. The only time I pull out my cell phone is when I'm around birds. There's a special app that can be used to identify species, play their songs and retrieve all information. It is amazing when you start to hear individual animals out of the whole chirping: Oh, there warbles a gorgeous bushrike and there an African Paradise Flycatcher. At the end of the course we will come across about 140 different species of birds that we have either seen or heard.
Paperwork
We keep a logbook - as a reference for yourself, but also to show hours in the bush and certain skills. Every activity in which we participate, what we have seen and, very important, what we have learned from it, is recorded in this book. At the beginning of the course the pages almost burst, so many new things, so many educational moments. To consolidate all the knowledge from the lectures and to get prepared for the exam, there is a section in the workbook for each module which we fill out in our study time.
Dexterity
Besides all the interesting facts about nature and animals in the South African bush, you need empathy and a knack for dealing with people as a field guide. You have to interact with many different nationalities, their peculiarities and needs. We learn how to position the car perfectly so that every guest as a good view, we learn how we have to turn, so that the guests can hear us well despite the driving noise and we learn how to change tyres.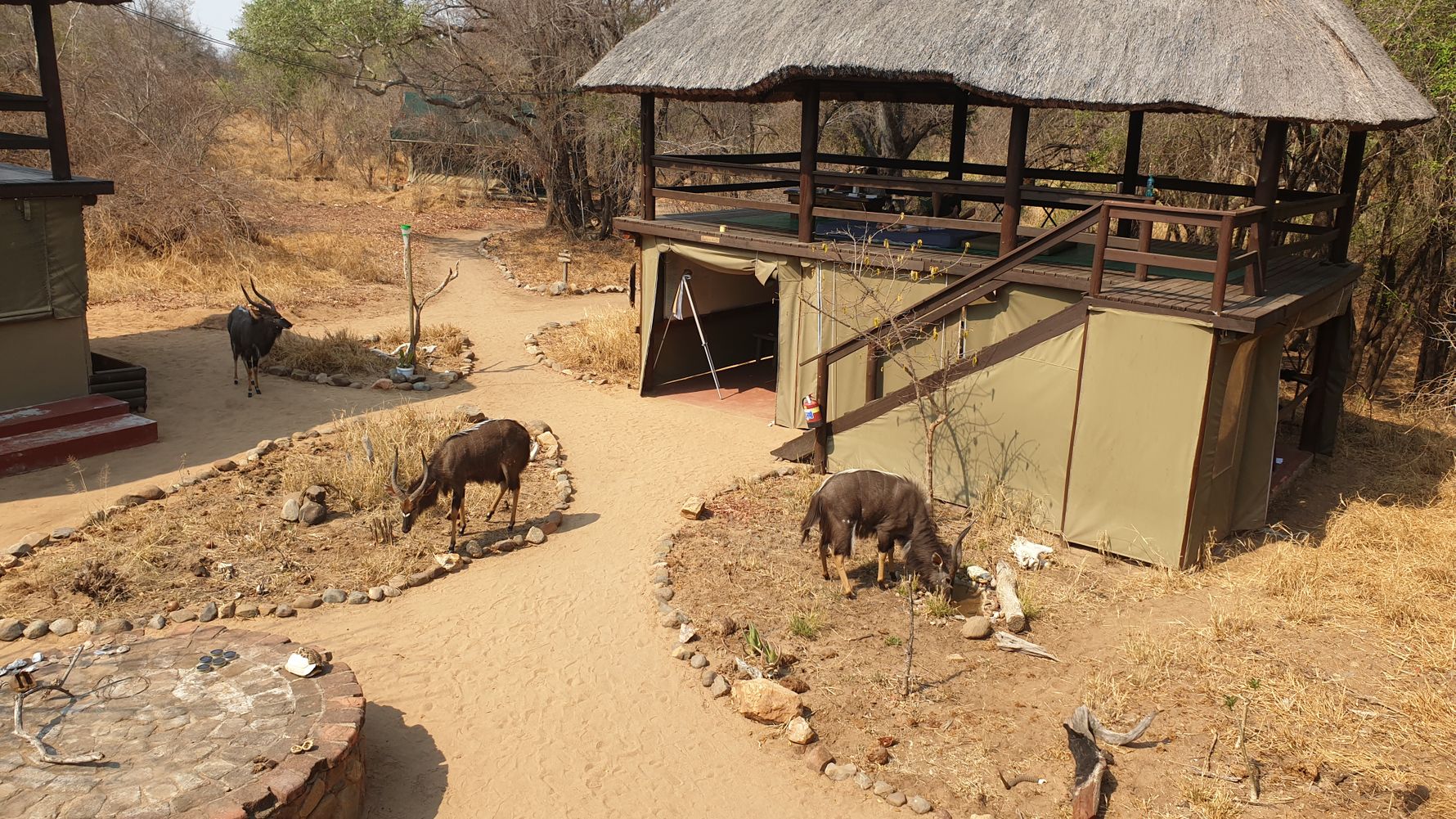 Don't rush in the Bush
The weeks go by far way too fast. Every day we discover something new, the instructors bring up more and more facts and the animals know how to surprise us. I love the walks. Equipped with sufficient water, sun protection and camouflage colours we march cross-country to a waterhole, into a forest or along a river. Each time it is exciting – who will we meet today? Even more than in a Land Rover you can enjoy the silence on foot, you are somehow even more at one with nature. Although we come very close to elephants, buffalos, hippos and even lions, I never feel insecure at any time. Guide and backup know exactly what they are doing.
The wilderness at night
When being out on a bush walk, you will be back in camp before sunset. On the drives we can watch gigantic sunsets and drive back in the dark. A student is allowed to sit on the tracker seat and use the spotlight to scan the surroundings for nocturnal animals. Even from a distance you can see their eyes reflecting. Owls and bush babies sit in the trees; we meet wild cats, hyaenas, honey badgers, scorpions and a porcupine. The best moments: when the animals don't feel disturbed and just carry on with what they are doing. Drinking, cleaning, hunting. The minutes after sunset, when there is still some light left, when the warm wind blows around your ears and the creatures of the night come out of their hiding places, are among my favourite ones.
Is the lion asleep tonight?
Once or twice during the course an overnight stay outside the camp is planned. At a place that offers enough protection, on a flat granite rock, we set up camp: Mattress and sleeping bag. We spend the night under the starry sky in the middle of the wilderness. From dusk on we keep watch around the campfire for half an hour. For me it is an incredible feeling to be the only one awake. Responsible for keeping the fire going and for waking the others in case anything comes near us in the dark. You experience everything much more intensely and although your eyes get used to the darkness, your hearing takes the leading role. A moment in which I am simply grateful for getting the chance to experience all this.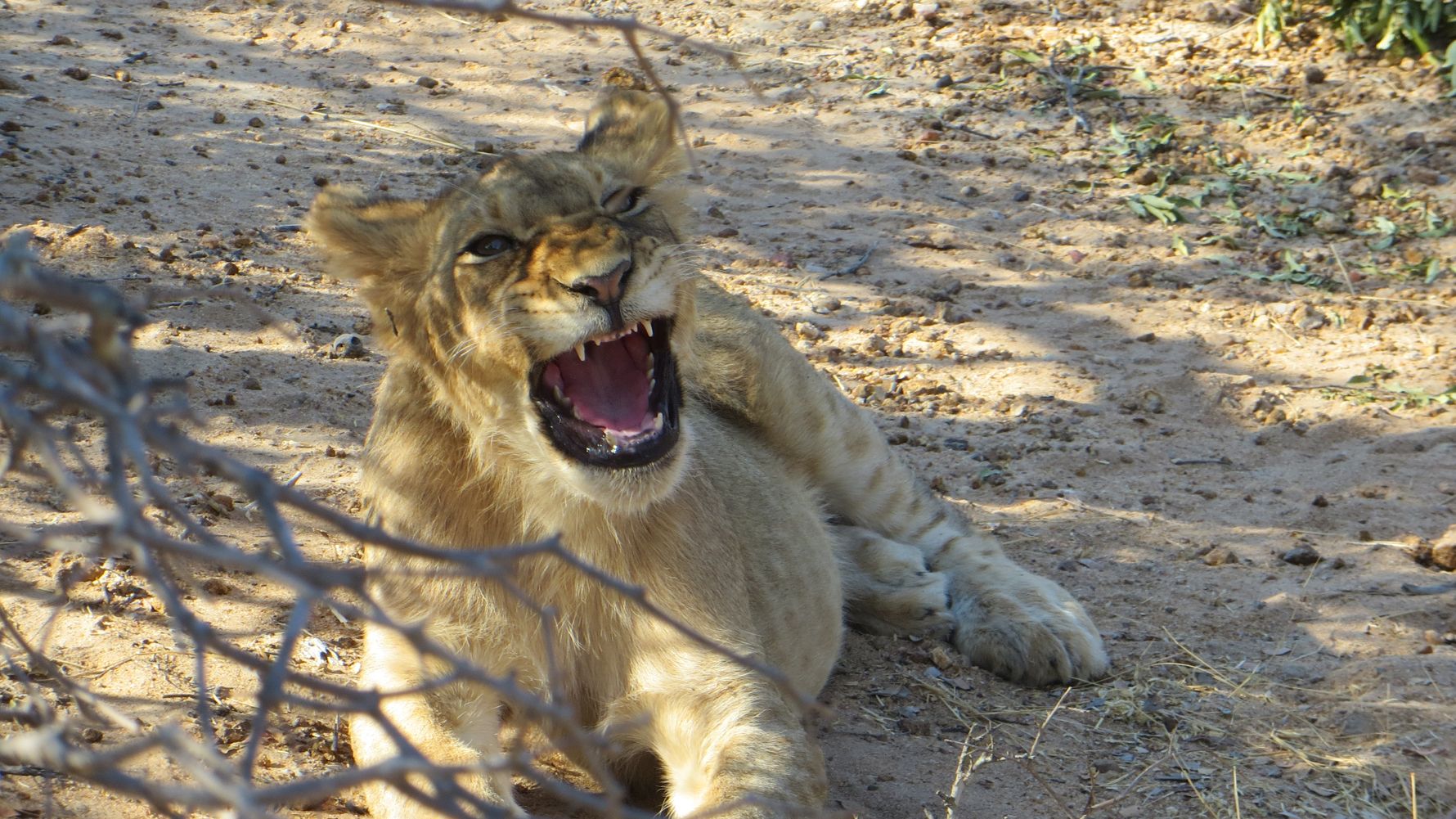 Final days & Farewell
Before the final exam we have one day off to study. Somehow we manage to get the stuff into our heads. Probably because we all have a passion for nature, and for some of us because they really want to do something with this qualification later on. Many of us, like me, do this course more or less just for fun. But who knows, maybe I can use the qualification one day. All of us pass, including the practical tests and the Assessment Drives. A new generation of field guides says goodbye to the instructors one day later in Makuleke at Pafuri Gate and a few tears cannot be held back.
Africa, see you soon!
These two months in South Africa's bush are among the best of my life. My heart rises when I think about the time I spent there. We can learn so much from the animals whose existence we put at risk. I would like to inspire more people for this endangered beauty so that even more people are committed to its preservation and protection. The EcoTraining course awakens the connection to our origins which is still hidden somewhere in each of us.
I have not even processed all the fantastic impressions ... and I am already drawn back into the bush.
Many thanks to Natucate and the team of EcoTraining!