Natucate
Safari Zambia: Flatdogs Camp
The charming Flatdogs Camp is situated right at the banks of the Luangwa River, just a short drive from Zambia's mighty South Luangwa National Park. In the following blog reveals further accommodation details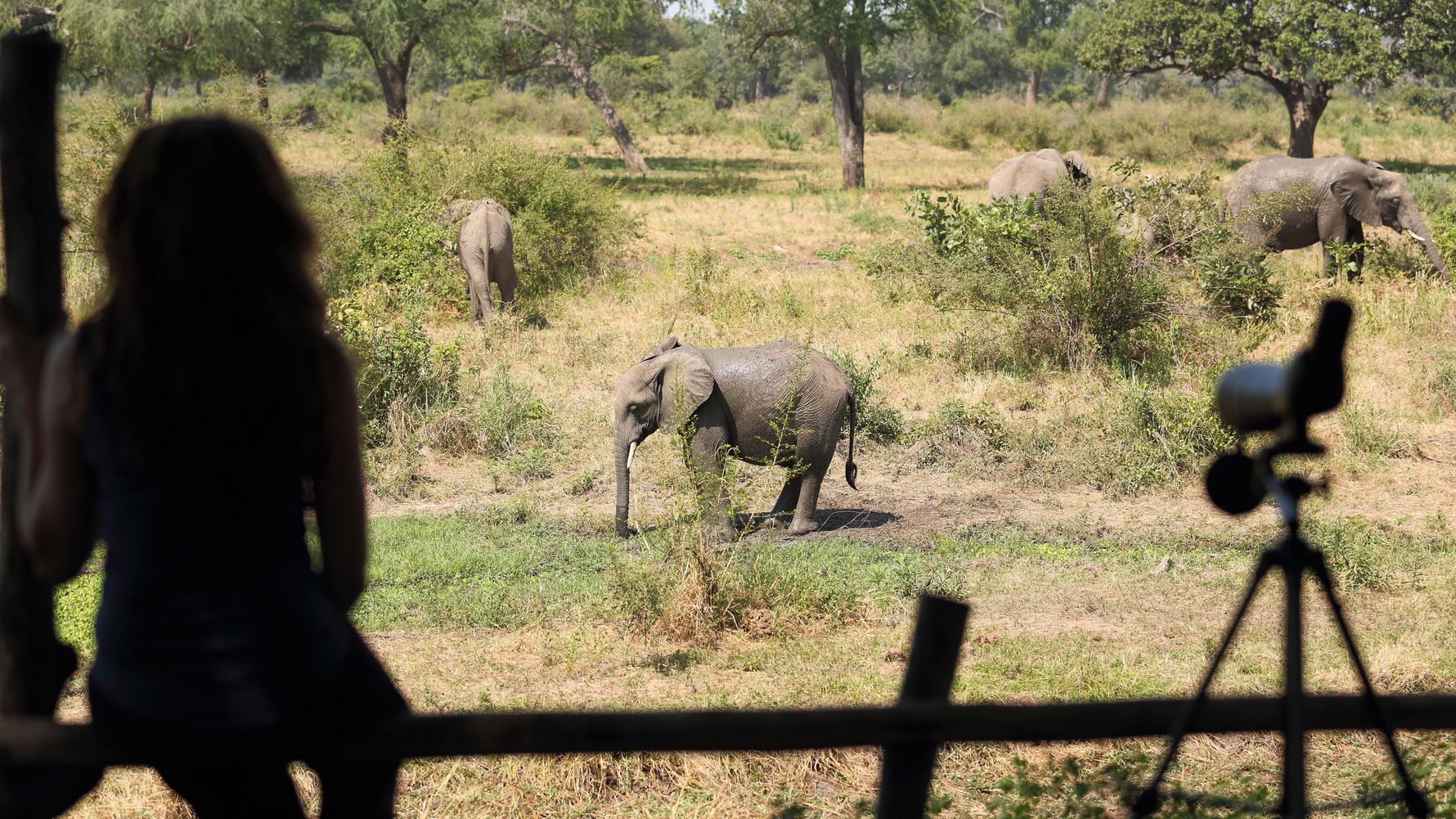 The rustic Flatdogs Camp is located in an idyllic location on the banks of the Luangwa River, only a short drive from Zambia's South Luangwa National Park. Guests are accommodated in spacious chalets, safari tents or a tree house, each with its own bathroom. Wildlife visits to the entire camp area, especially by elephants, are not uncommon.
As part of their Zambia safari, guests of Flatdogs Camp can participate in daily game drives and walks into the green depths of the South Luangwa National Park to admire the biodiversity and picturesque scenery of this natural paradise up close.
Profile
Name
Flatdogs Camp
Location
At the Luangwa River, at the border to the central area of South Luangwa National Park
Guest accommodation
20 accommodations: 12 safari tents, 6 chalets, 1 family house, 1 tree house – all with en-suite bathrooms
Max. number of guests
Up to 44 guests in 20 accommodations
Activities
Game drives day and night, bush walks, cultural day trips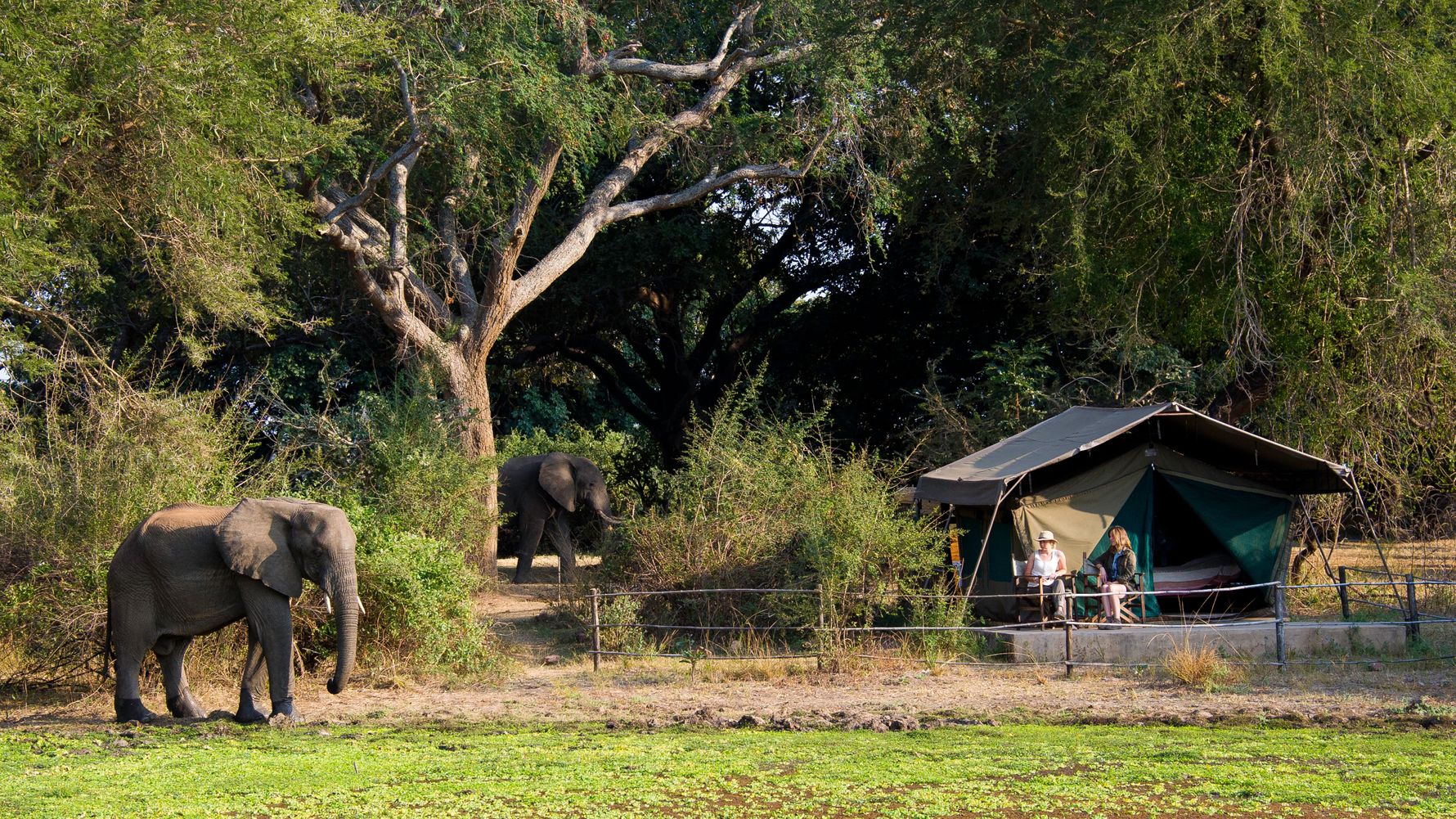 Highlights
Individual safari wishes can be accommodated – from price-conscious to luxurious • the camp is superbly located and offers quick access to South Luangwa National Park • wildlife visits to the camp are not uncommon, including herds of elephants
Animals
elephants, lions, leopards, hyenas, wild dogs, hippos, various antelopes, giraffes, zebras, warthogs, various species of monkeys, numerous birds
Staying at Flatdogs Camp
Location
Flatdogs Camp is beautifully situated on the banks of the Luangwa River. The entrance to the central area of Zambia's mighty South Luangwa National Park is just a short drive away.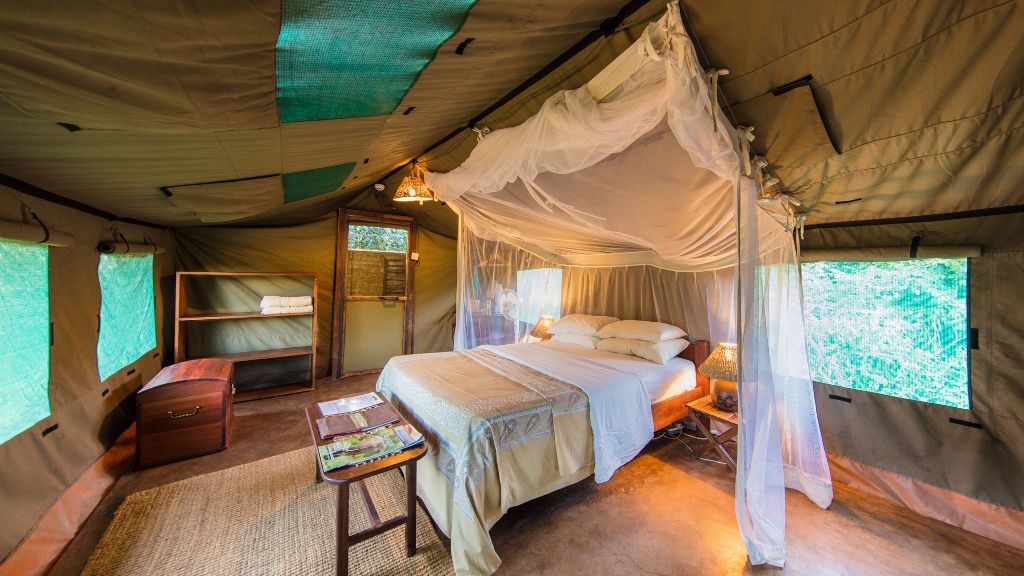 The Camp
Guest accommodation
20 comfortable guest accommodations for a maximum of 44 guests are available in Flatdogs. There are 20 standard and luxury safari tents, 6 chalets, a family house and a "tree house" - the Jackalberry Tree House. All accommodations have their own bathroom, electricity and mostly mosquito nets. In the chalets, in the tree house and in the family house there is also a kind of small "kitchenette" available for the guests. Children aged 10 and over are welcome at Flatdogs Camp.
Central facilities
The main area of Flatdogs consists of an à-la-carte restaurant, a bar and a swimming pool. Guest accommodation is arranged around this central area. There is also mobile phone network and internet reception.
Activities
Flatdogs Camp offers both game drives and bush walks to allow guests to experience the biodiversity of the South Luangwa National Park up close. In order to be able to spot the nocturnal representatives of the African animal world, game drives are also carried out after sunset. Experienced guides are always there to introduce the guests to the secrets of the local flora and fauna. If you are particularly interested in culture and local life, you can also take a trip to the nearby village of Mfuwe to gain an insight into the everyday life of the villagers.
Highlights
Flatdogs Camp can accommodate the most individual accommodation requirements of its guests and offers both price-conscious and luxurious accommodation options. The camp also boasts an excellent location directly on the banks of the Luangwa River and offers quick access to the main gate of the central area of the South Luangwa National Park. Fascinating wildlife sightings can not only take place in the park – the camp itself is also occasionally visited by wild animals. Camp visits by a small herd of elephants, for example, are not uncommon.
Animals
The neighbouring South Luangwa National Park has an enormous animal wealth. With a little luck, lions, leopards, elephants, wild dogs, hyaenas, hippos, giraffes, zebras, warthogs, various types of antelopes and monkeys can be observed on the game drives and game walks offered by Flatdogs Camp, which are excellently guided. With more than 400 bird species, South Luangwa is also an extremely attractive destination for bird lovers.