Natucate
Project visit Sri Lanka: Protecting the Asian Elephant
Natucate on Tour: In this review you can learn more about the impressions that Natucate ambassador Katharina gained of our conservation project in Sri Lanka during her visit in 2018.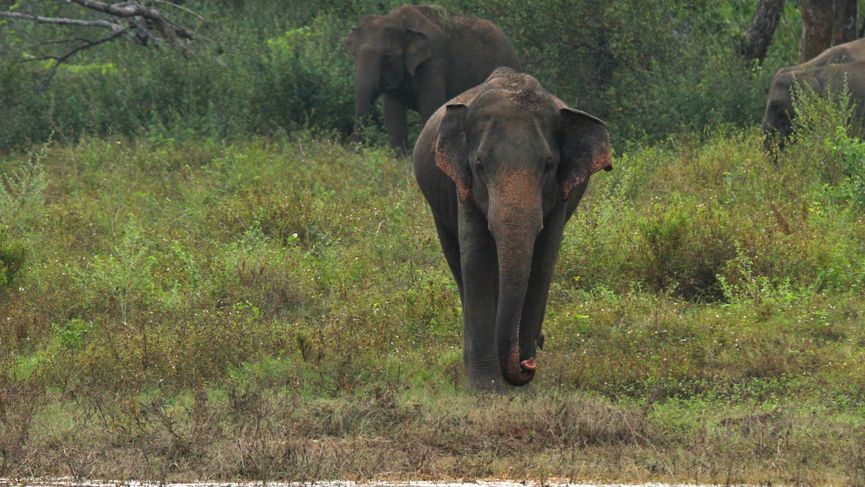 Tropical beaches, lush green highlands, numerous wild animals and a fascinating cultural heritage – Sri Lanka impresses with a spectacular mixture of culture, natural landscapes and wildlife. But this wildlife exceedingly collides with the country's local population so that Sri Lanka is facing a serious challenge by dealing with this Human Wildlife Conflict. The consequence: the already endangered population of the Asian elephant decreases even more. Our species conservation project in Asia which unfolds its work close to the Wasgamuwa National Park, located in the heart of Sri Lanka, aims at sustainably protecting these impressive animals. In spring 2018 Natucate ambassador Katharina traveled to South Asia to get a picture of the project and its work.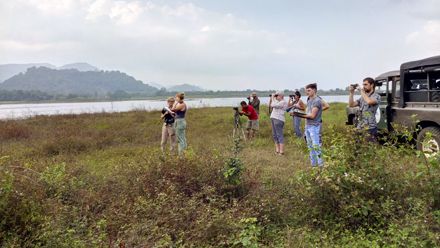 Review
Arrival
After her arrival at Colombo International Airport Katharina made her way to the volunteer camp via self-drive. Her way led her along serpentine roads, past small rural communities and through mountainous landscapes. "The country's landscape is just beautiful! After passing Hasakala it feels like immersing into the real Sri Lanka. Lots of rice fields, traditional villages and numerous rivers and lakes – a lovely route! But keep it mind: in Sri Lanka you need to drive on the left."
The camp itself is situated on a hilltop close to a small village. The hill offers a magnificent view over a water tank, just a short distance away. Upon arrival Katharina met the staff members and the international volunteer team: Young people from England, New Zealand, Australia and the Netherlands came to Sri Lanka to support the project. After lunch and a short siesta Katharina joined her first activity in the afternoon.
Accommodation
The field house is located about 4 km away from Wasgamuwa National Park. It is a very basic accommodation but offers everything you need. It is an open house and contains same-sex toilets and showers as well as two dormitories that are also separated by sex. Each bed has its own mosquito net. Everyday participants are provided with breakfast, lunch and dinner. Drinking water, coffee and tea are available all day long. There is also a fridge volunteers can use anytime. As this project aims at providing volunteers with a deep learning experience, alcohol (beer) can only be consumed on the weekend.
"Everyone who would like to be part of this project needs to expect very basic accommodation standards. You'll find all necessary equipment, though. But what really amazed me was the view over the nearby water tank – including the diverse bird life!"
The project
The first day in the project usually starts with a short introduction for the new volunteers: They get to know the project's tasks and goals as well as the rules in camp. The briefing is followed by the actual field work. The activity is dependent on the day. On her first afternoon in the project, Katharina helped the team with some "Elephant Observation". "Together with several staff members we went to a large water tank, about a 20-minute drive from camp. Only a few minutes had passed until we actually saw some elephants. First of all, we observed them on our own. After a while we were handed pencils and sheets so we could note down the animals' current state and behaviour. After the elephants disappeared in the bush and other animals couldn't be spotted we went back to camp."
A "Fence Patrol" was scheduled for the following morning. Katharina and the team drove to a small papaya farm which was encircled by a fence to make sure that elephants could not enter the area. After our arrival we began slowly walking by the fence and noting down all possible damages. "After we had checked the fence very carefully, we made our way back to the field house. Damages could not be found." Back at camp the team had lunch and enjoyed a short siesta before heading back into the field for another Elephant Observation.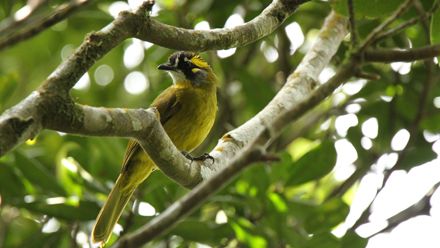 The next morning it was Katharina's last day in the project. Her last activity: birding. One more time they went to the papaya farm and started documenting all birds which could be seen near the plantations. "You start in one spot, stay there for 15 minutes and note down all the birds you can see or hear. Afterwards you move on to the next spot, about 100-200 metres away, and repeat the procedure. Eight spots and a multitude of birds later you finish the task and go back to the field house."
As the project unfolds its work near Wasgamuwa Nationalpark, activities partly take place in the park – one park visit per volunteer is included. On the weekend the project usually pauses its work and the volunteers can use this time for their own activities.
Katharina's conclusion
"The project is really dedicated to protecting the Asian Elephant. Everybody who joins the project can look forward to beautiful landscapes, daily excursions and very friendly staff members. At the same time you need to expect to be living in very basic conditions and mustering up a lot of patience during certain tasks. As a short-time participant I also noticed, that the climate can be quite strenuous: Even though, physical work is limited, the region's heat and air humidity can be physically demanding.
If you are interested in visiting the project you should also keep in mind that leisure time opportunities are quite narrow due to the field house's secluded location. Many volunteers spend their off-time reading a book or playing card or board games with their team members. All in all, the project promises a life-enhancing time and a true nature experience."