Natucate
Volun­teering Seychelles North Island – Melanie
Melanie spent a wonderful time in the Seychelles where she helped protect pristine natural areas and endangered sea turtles as a volunteer on North Island. Learn more in the following feedback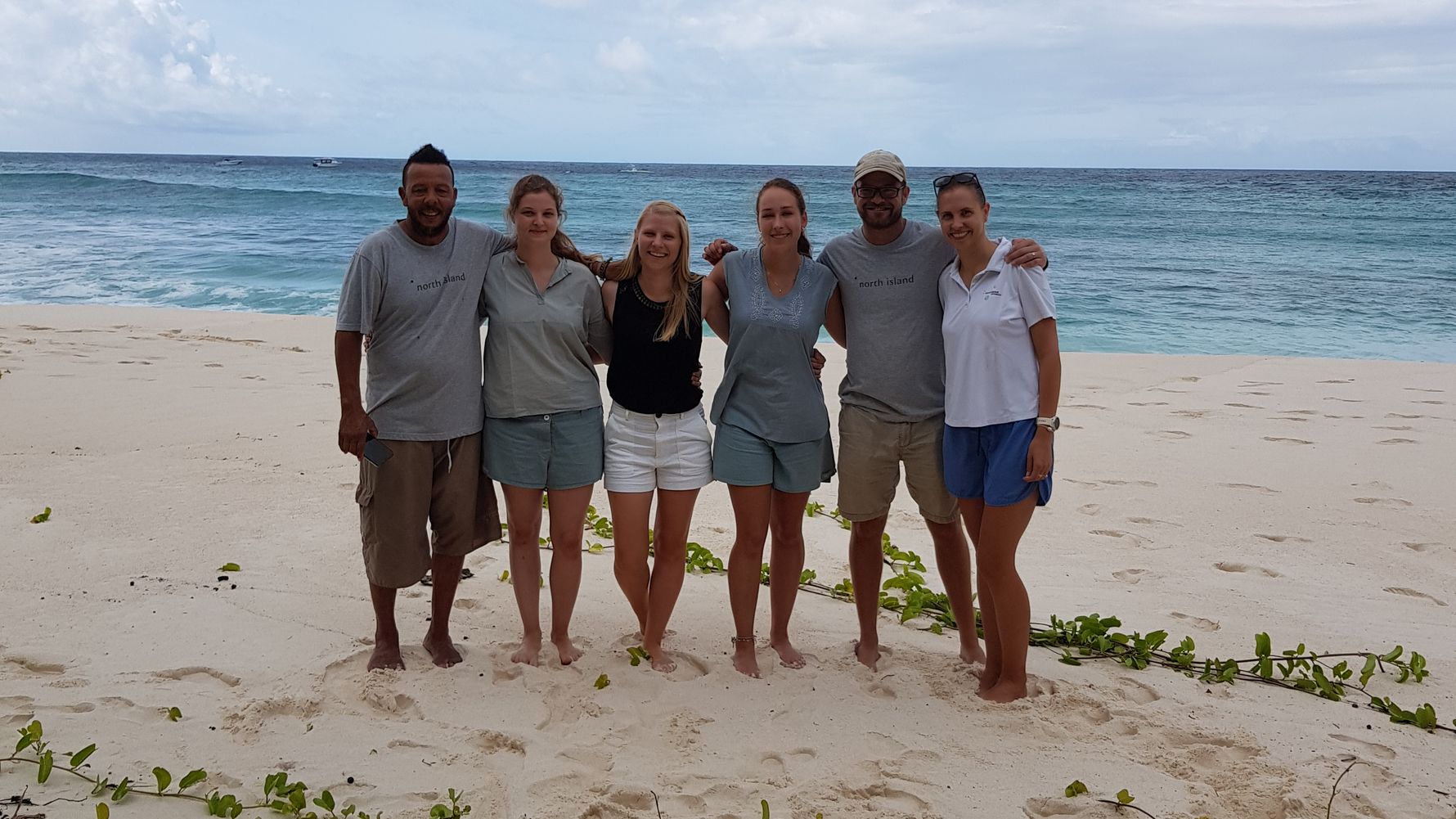 Profile
Name: Melanie
Age: 27
Project: Species Conservation on North Island/Seychelles
Location: North Island
Duration: Mid-June until mid-July 2019 – 4 weeks
Rating
Support from the Natucate team:
Arrival:
Project partner:
Accommodation:
Volunteering in the Seychelles – Feedback: Eight questions for Melanie
1) Could you give us a short overview of your tasks in the project?
Beach patrol: Every day volunteers walk the beaches on the island to check whether sea turtles have laid eggs (these nests will then be marked) or whether babies have hatched. Meanwhile, beach garbage is collected, and later on analysed, weighed and entered into a database. If the eggs have been laid in a disadvantageous place – e.g. on the vegetation line meaning that the flood might wash away the eggs – the nest is moved to a safe place. Another task is to fetch food and feed the baby land turtles. Trees and plants are planted or repotted and you help remove coconuts from the island. The habits and locations of the tortoises are recorded by GPS. During snorkelling trips pictures are taken which can be used to identify the various fish and underwater animals. Finally, the collected data and images (e.g. from snorkelling) are entered into various databases.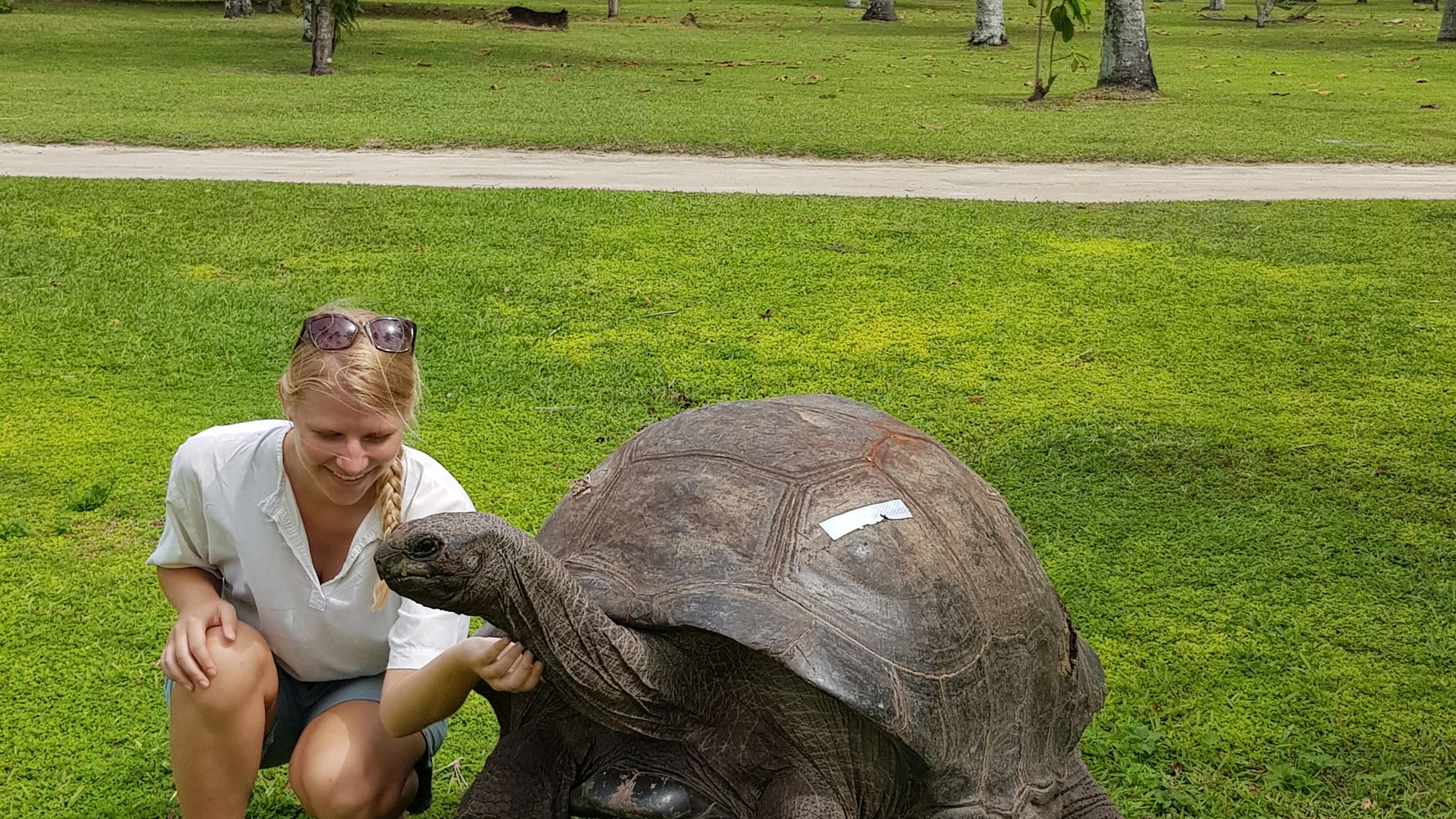 2) What were the biggest challenges for you during the project?
Due to the two-week change of volunteers there has always been an experienced contact person for questions, so I never felt overwhelmed.
3) Was there something you liked most? Or something you remember particularly negatively?
To my mind, the entire project was a highlight. I love the variety of tasks. During my time as a volunteer I have seen more than 10 nests of sea turtles hatch. Watching the baby sea turtles on their way into the sea was an unbelievable pleasure every time. While snorkelling I was lucky to see a small reef shark, many different kinds of rays and, of course, turtles and fish. I was very happy that I was able to make a dive and get to know the reef from a different perspective. Having dinner at the Westbeach and watching the sunset which looks different every day is also great. I also enjoyed the night patrols: on the one hand to see the awe-inspiring starry sky, on the other hand to watch the Green Turtles laying eggs. The staff on the island are incredibly nice and you have a lot of fun together. I didn't find anything negative. Only for vegetarians the food could have been a bit more diversified.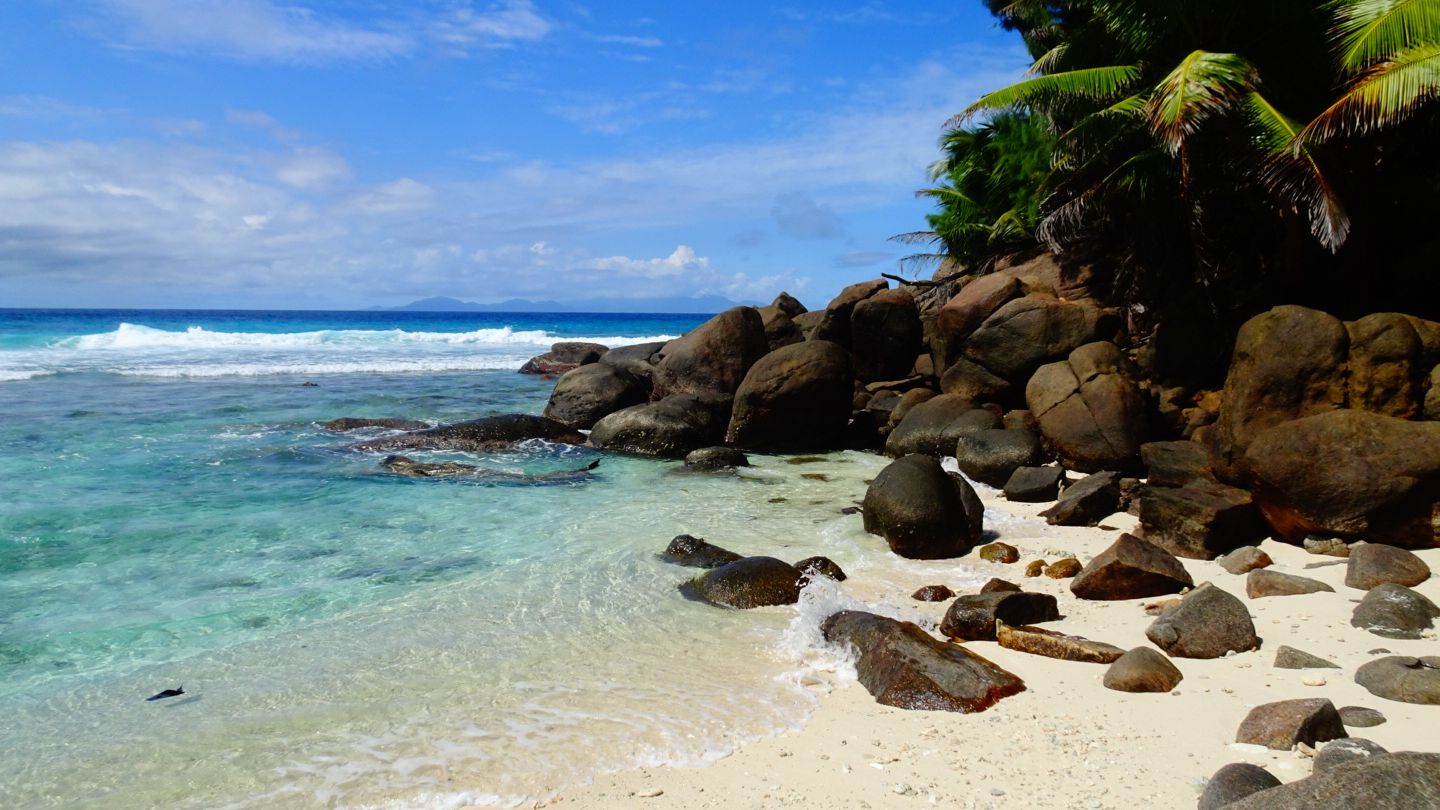 4) Did you have certain expectations before travelling to the project?
My goal was to have a good time and work with animals. My expectations were definitely exceeded. When it comes to spotting turtles and other animals you need to be lucky and be in the right place at the right time to see them and experience incredible wildlife situations. I've been lucky that way several times. :)
5) Have you done anything in your free time that you can recommend to future participants?
I absolutely recommend the three hiking trails on the island. They allow you to see North Island from completely different perspectives. The sunset at Westbeach is something that you can't watch often enough. The island's diving centre also has great offers that you should take advantage of, such as kayaking or diving.
6) What recommendations would you give to other participants?
You really don't need a lot of clothes but you should rather pack a little more mosquito spray (although each bed has its own mosquito net). However, I would recommend bringing your own shorts for safety, as some volunteers did not fit the pants of the uniform. Otherwise, Natucate will prepare you very well for the trip and the packing list will give you information on everything you need.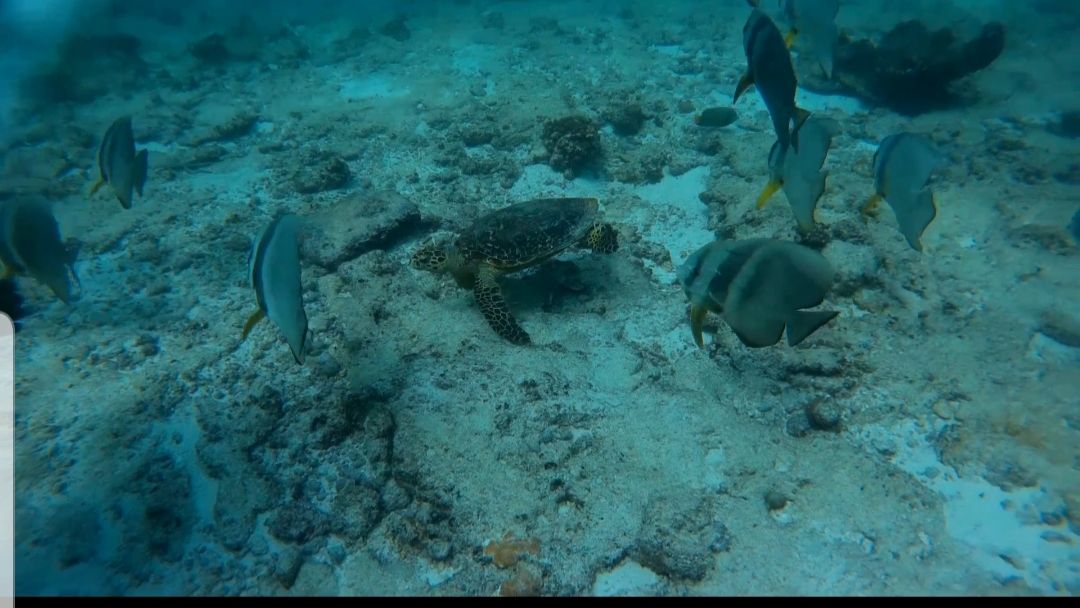 7) Can you guess how many additional costs you had on site?
I almost had no expenses at all. Sometimes I bought something from the employee shop to eat or drink. However, I had some snacks with me, as I was told in advance that there was not too much choice for vegetarians. In the island shop itself they also have great snacks on offer at reasonable prices. I spent about 20 Euro there, otherwise I had no further expenses on the island.
8) Here is still room for other suggestions or stories from you:
It's an incredibly great project, I am and was completely thrilled. You take home so many memories that I don't want to miss.