Natucate
Volun­teering: Conser­va­tion work in the Seychelles
Doing voluntary work in the Seychelles on North Island and conserving the island's pristine nature – learn more in our blog article.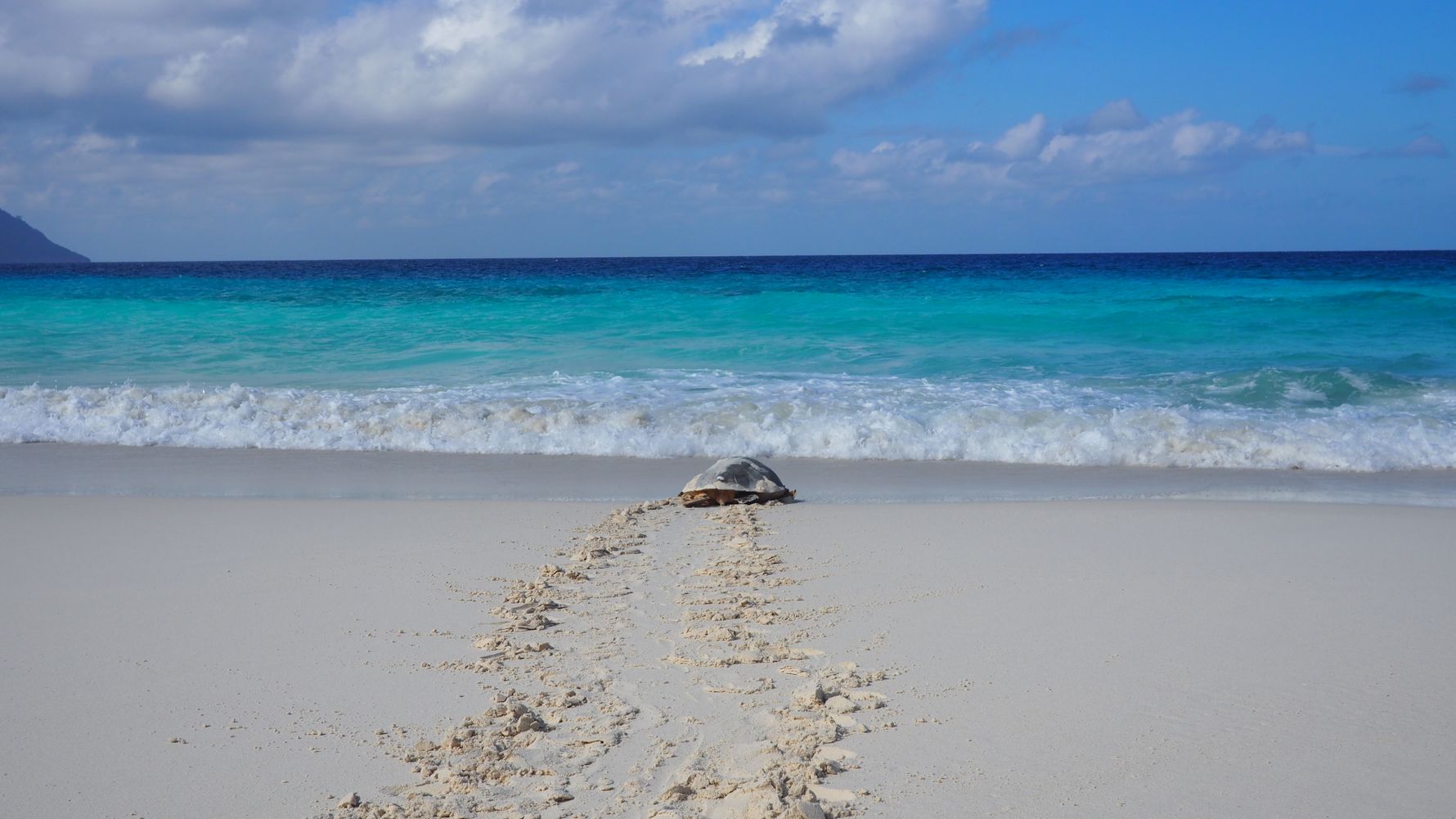 North Island – part of the Seychelles – is a tropical island paradise; a rare haven for those who are searching for a magnificent and untouched place. But more important: the island seems to be a Noah's ark and a haven in which nature is rehabilitated to rebuild domestic flora and fauna and give it space to regenerate.
On North Island one of the most ambitious conserving projects is set which was ever done on a single island of the Seychelles. Getting the opportunity to have a positive influence on a special area, its wildlife and its surrounding nature happens to be really rare.
Become a volunteer on the Seychelles and be part of a dedicated conservation and science team in a private island paradise.
Voluntary workers live and help on exclusive North Island which is considered to be one of the most beautiful archipelagos in the world with its shimmering and bright white beaches, granite rocks and the azure blue ocean. Our voluntary work project in the Seychelles focuses on three aspects: watching endangered species, aquatic conservation and rebuilding the ecosystem.
History of the Seychelles: the short version
After North Island had been abandoned as a plantation in the 1970s due to the collapsing coconut industry, various plant and animal species were left on the island: coconut trees, casuarinas, cows, rats, pigs, common myna, cats, barn-owls and especially wild-sage, a very invasive weed.
After well-known ecologists had set off the alarm bells, safaris in the wild did not only have the task to reverse decay of the island but also long-term tasks like rebuilding the island's old beauty. A milestone was the Noah's ark concept in which turtles and certain birds were reintroduced to the island besides domestic trees like the tacamahac-tree, the tropical-almond and the legendary sea coconut. The ongoing process of conservation in the Seychelles is a focus of North Island's philosophy.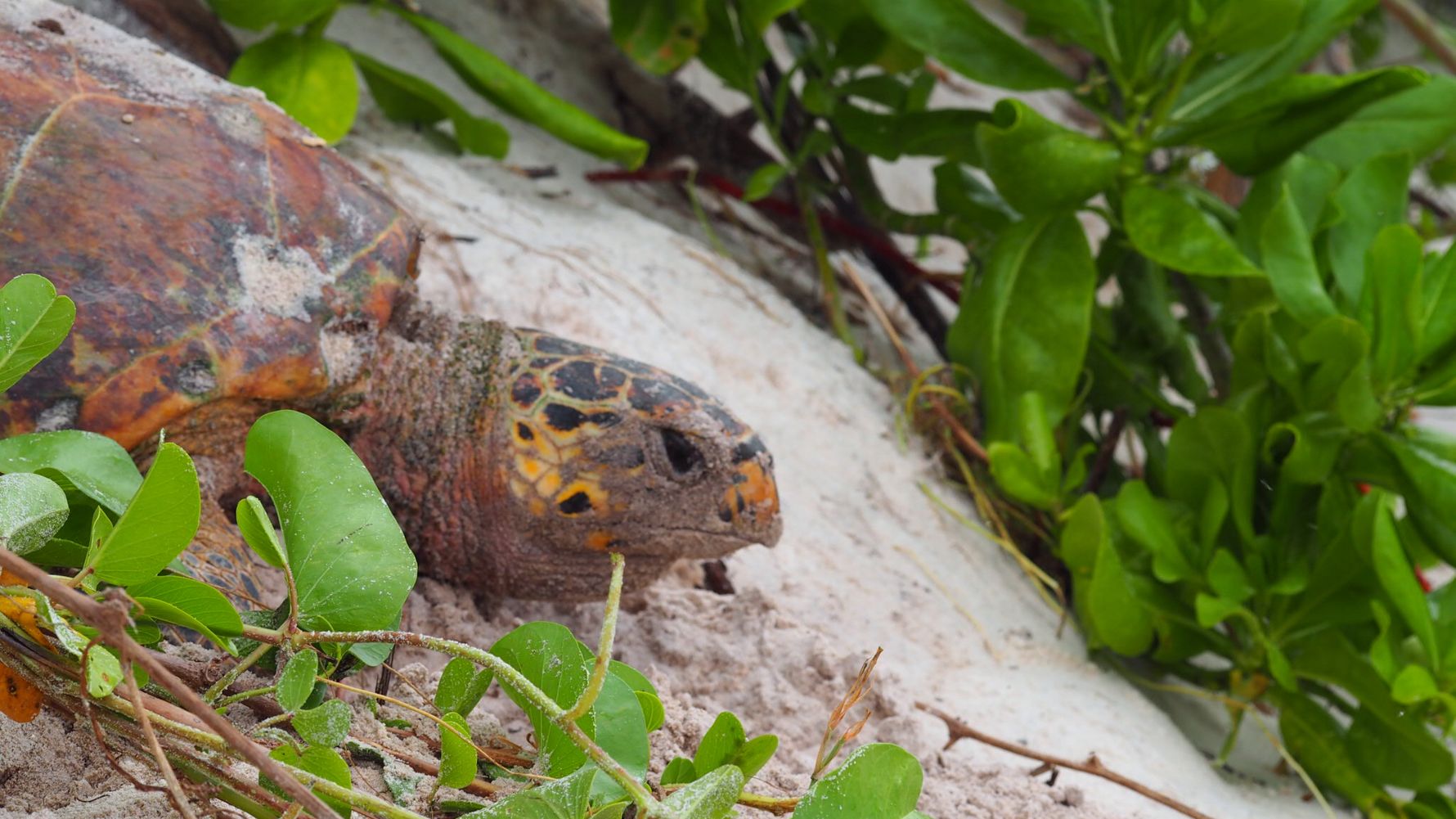 Voluntary work
Overview of the voluntary stay the Seychelles
Voluntary work on North Island means to be part of a series of projects which contribute to conserving the island's diversity and which take place in the terrestrial and the aquatic sector. Voluntary workers are included in all activities of the environmental department – from fieldwork to data collection registration. The most important volunteer task is watching sea turtles, relocating nests and watching white-eyes and Aldebaran giant turtles. In addition to that volunteers pay attention to caring for young turtles, exploring land turtles, controlling strange vegetation and birds and documenting coral and fish amounts by taking photos. For this purpose volunteers snorkel in certain surveillance areas.
Volunteers in the Seychelles live in a basic, separated accommodation and get the chance to spend time with fellows after work. Participants should expect modest surroundings instead of luxury hotel rooms. The beach for employees nearby can be used to swim, snorkel or to enjoy a beer after work. At the project location participants can rent regular surfboards and surfboards for Stand-Up Paddling as well as kayaks every day at 4PM – so there are many fun activities to do!
Volunteers participating in that project can expect to work six days a week and will have Sunday as spare time. It is up to you whether you want to spend your free day on North Island, at the employee beach or on the main island Mahé Saturday afternoon and returning Monday morning. As a volunteer you have the opportunity to explore this gorgeous island during your whole stay.
What am I going to do?
We are looking for volunteers in the sections of conservation with a large interest in protecting a tropical island and its ecology. Volunteers participating in our project on North Island should be quick learners and they should be able to work alone a few days after being introduced. In certain times of the year you should expect temperatures ranging from 28°C to 32°C and working in high humidity. You should be able to work with others, be a good observer and you should have good physical fitness in order to walk up to 5 kilometers per day in deep sand and hilly terrain. Also, participants should be self-disciplined, responsible, very enthusiastic and patient.
Project goals
Watching sea turtles (green sea turtle, hawksbill sea turtle)
Watching population of the Aldebaran giant turtle
Rehabilitation of common vegetation of North Island with a special focus on takamaka woods of the island
Rehabilitation of vegetation (very big part of the project)
Catching, marking and recollecting Pelusios subniger parientalis which belong to the East African black mud turtle to estimate population size
Watching seabird population, especially the puffinus and the white-tailed tropicbird
Snorkeling along specific coral reefs, to build a photographic database about corals and change of their conditions and fishes around the island
Watching changes of the three beaches on the island by photographic documentation and deviation measurement