Natucate
Basic Field Guide Training Botswana – Rebekka
Rebekka spent four weeks in Botswana to enjoy an incomparable field guide training and now looks back on an incredible time. Learn more in the following review.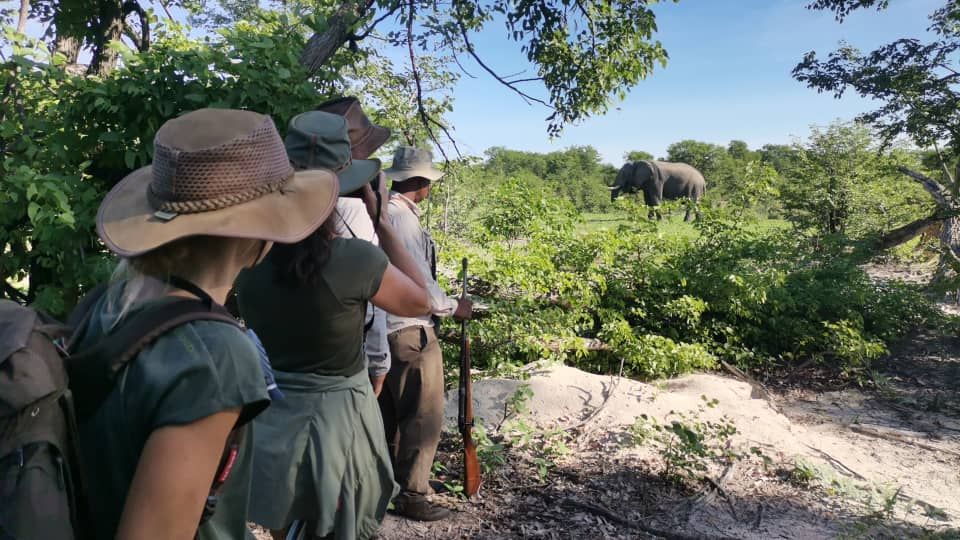 When dreams finally come true
How do I put into words what I experienced during the most inspiring five and a half weeks of my life in the Okavango Delta in Botswana? Actually, it's impossible, because there is only one way to really understand it: take the first step and go out into the wilderness yourself.
Like I did when I boarded the plane from Zurich to Johannesburg in mid-November 2021, arrived in Maun a short time later and embarked on the biggest adventure of my life so far.
To be honest, the whole thing started in the summer. Back then, when I noticed that I felt totally unhappy in my job and had lost all my energy. I was thinking about taking some time off, far away from everything, so that I could recharge my batteries and come up with new ideas. At that moment I remembered my first stay in South Africa more than ten years ago and how I said then that I wanted to do a guide training one day. The Africa bug had already bitten me back then.
So I did some research on the internet, came across Natucate, had a super friendly web call with Daniel and booked the 4-week basic field guide training in the Okavango Delta. The next day I quit my job and my adventure began.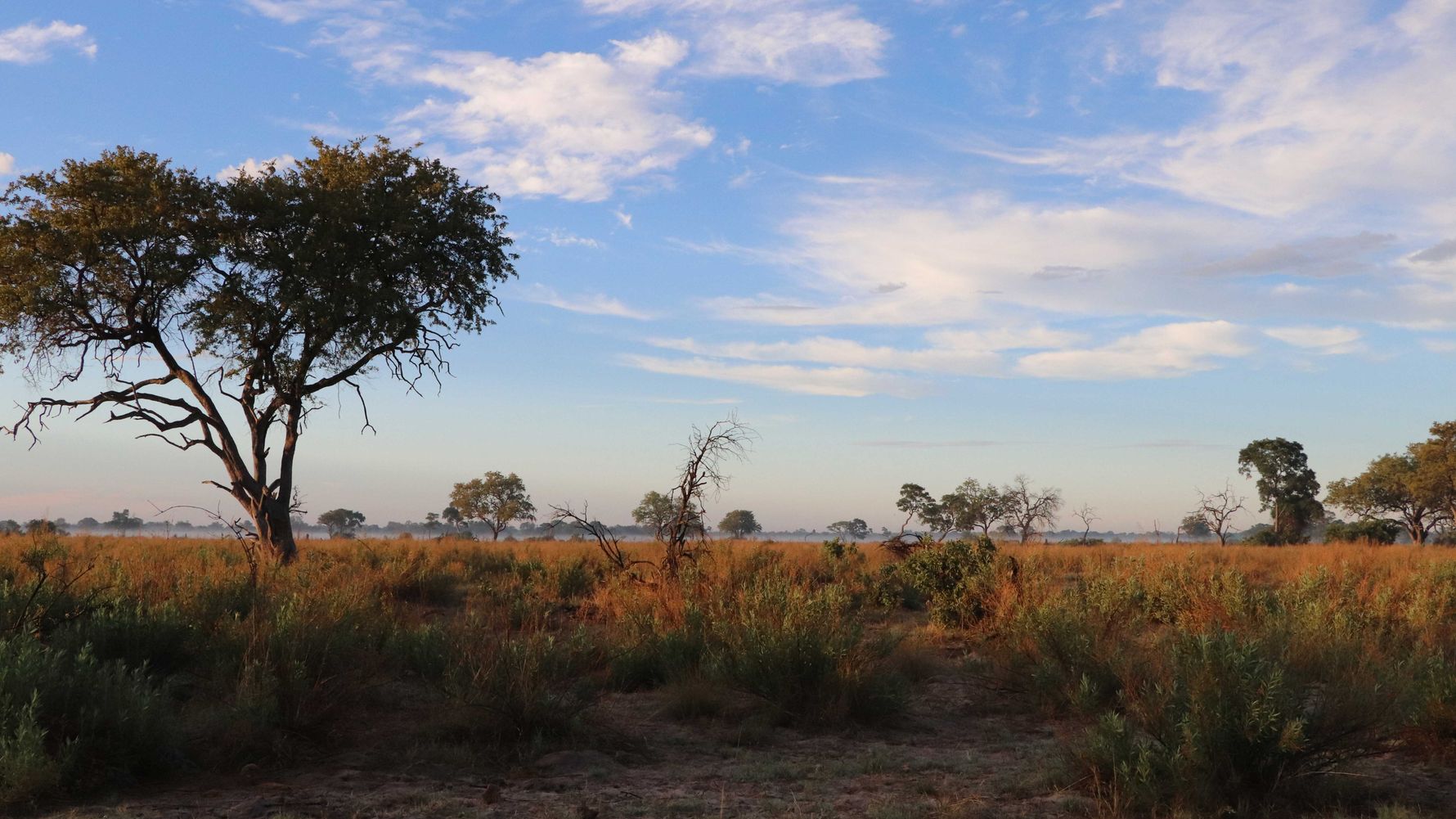 The short version of this adventure: For four weeks I was at Kwapa Camp for basic field guide training, learning new things about life, animals, and plants in the bush from our passionate trainers day after day. After that, I treated myself to a few Christmas days with a touch of luxury at Camp Okavango, where daily mokoro rides, boat, and walking safaris were on the agenda. And finally, I was allowed to explore the Delta around Moremi for five days on foot and by 4x4 with Okwa, one of the best local guides.
Of course, this short version does not do justice to everything I was able to experience and how life in the bush is like. Nevertheless, in order to give a small impression, I have decided to simply share a few selected experiences – without any claim to completeness.
Life at Kwapa Camp
The days in the camp were actually quite similar and well-paced, although time in the bush is rather relative and even fixed times can (almost) always be adjusted – especially when something special suddenly appears. In addition, every day holds new surprises and special encounters.
That's what fascinates me about nature: you can walk or drive the same route every day, you always discover something new or meet a different animal. It never gets boring and you never stop learning. On the contrary: the more you are allowed to learn, the more you realise how everything is connected and how much you still don't know. I, for one, felt like a little child again, discovering and learning new things every day and never ceasing to be amazed.
But now back to a normal day in Camp Kwapa. In my case, it looked something like this: I had to get up at 4:45 AM which was not difficult on any day. Over time, I even got so used to the ubiquitous "Bird Calls" that I knew exactly when it was time to get up when I heard the "Ring-necked Dove" – a bit nerdy, I know...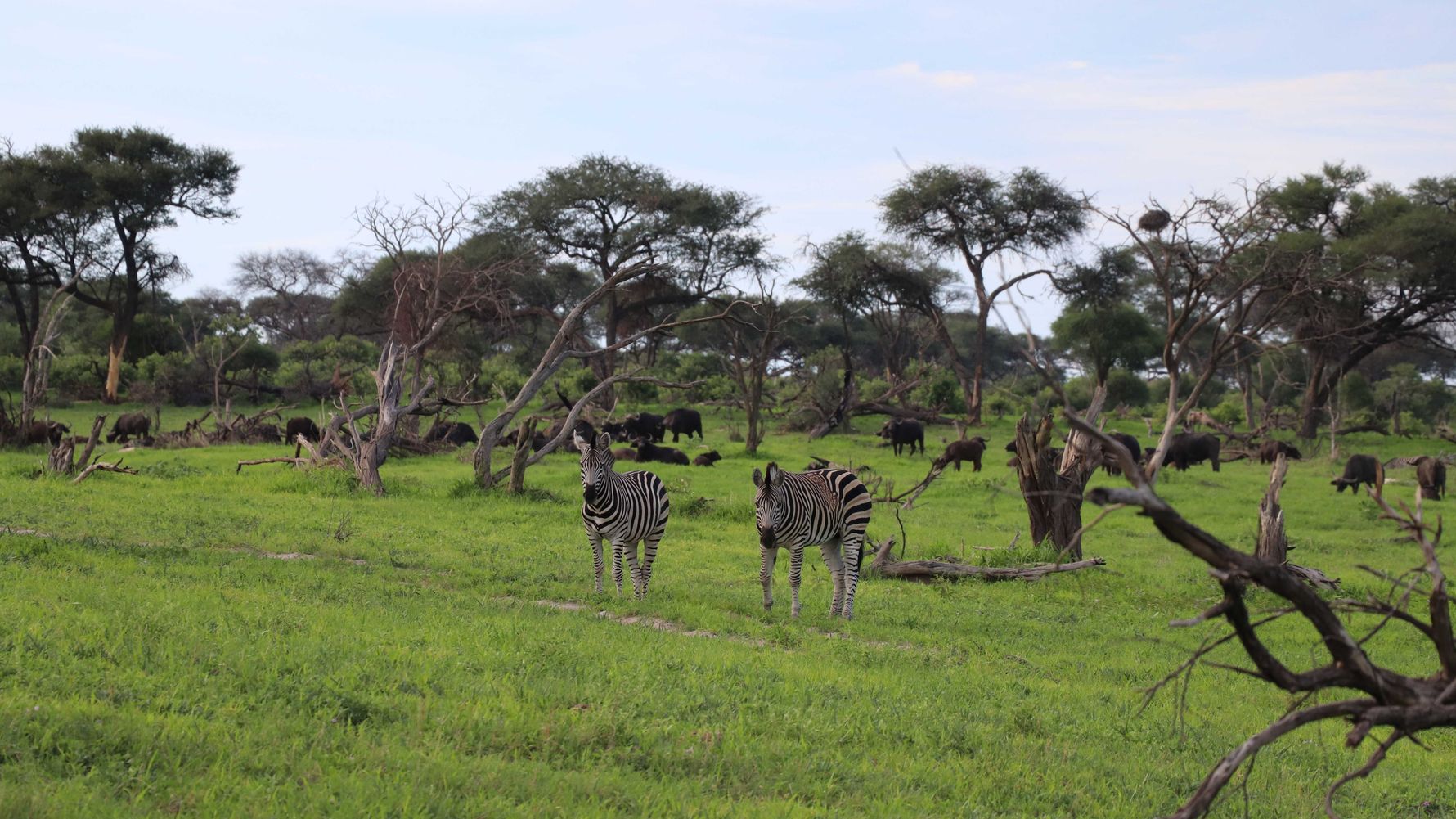 From 05:15 AM onwards, coffee, tea, hot chocolate, and rusks, the traditional dry biscuits that, like gin and tonic, are part of southern Africa, were served on the viewing platform. From 05:30 to around 09:30 AM, "Morning Activity" was the order of the day: either a "Game Drive" or "Walk" including bush breakfast. The best part for me was that we could take as much time as we wanted for the observations. We didn't have to return home after three days and see the "Big Five" by then. This allowed us to really immerse ourselves in nature and observe the animals for a long time without being disturbed. Back at the camp, we had freshly baked bread at 10:00 AM, which came straight from the oven and was usually still warm – yummy... So you really can't starve in Kwapa.
From 11:00 AM to 01:00 PM we had theory lessons in the outdoor classroom. From geology and astronomy to plants, animals, climate and weather, we learned everything that is important in the bush. At 01:00 PM we had lunch, which was always super tasty, varied and balanced. Then we had a break. I used this either for studying, for a short siesta or for sports. From 04:30 to 07:30 PM we had the "Evening Activity" with the obligatory sundowner, followed by dinner at 08:00 PM under the stars. After dinner, we moved to the campfire and ended the day with a cold beer or gin and tonic and deep conversations or bush stories from our trainers.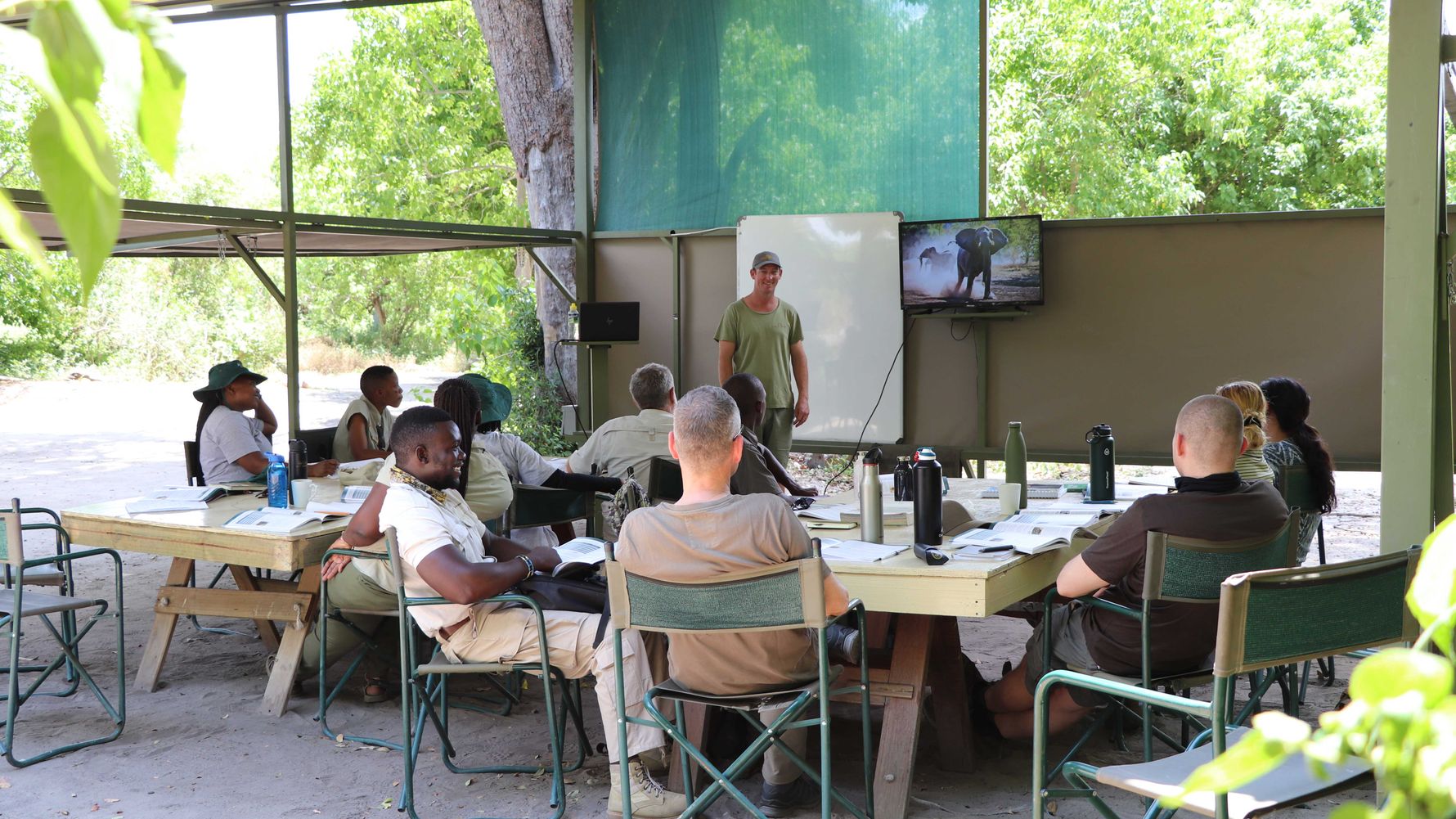 Every now and then we went out again for a "night drive", which was always a highlight for me personally. Because at night there are completely different animals on the move: African wild cats, bush babies, spring hares, genet cats, porcupines, honey badgers, and jackals, to name but a few. We even found snakes and chameleons – how Julien, our trainer, spots them while driving and in the dark is still a mystery to me...
The starry sky was also always magical for me. And I will never forget the night when we stopped in the middle of the wilderness, all climbed onto the roof of the car and without saying a word just admired the sky for an hour. Even today I get goosebumps when I think about it.
When strangers become family
In the first two weeks, my group consisted of three Germans, an Indian woman, two local boys from Maun, and a South African who has been living in Botswana for a very long time, as well as our local trainer Evans. One German participant and the Indian girl were only at the camp for a fortnight and Julien was our trainer for the last two weeks. At the same time, there was another course with five local ladies who were taught by Jono, the head trainer. So it was quite a mixed group of female and male as well as local and international participants.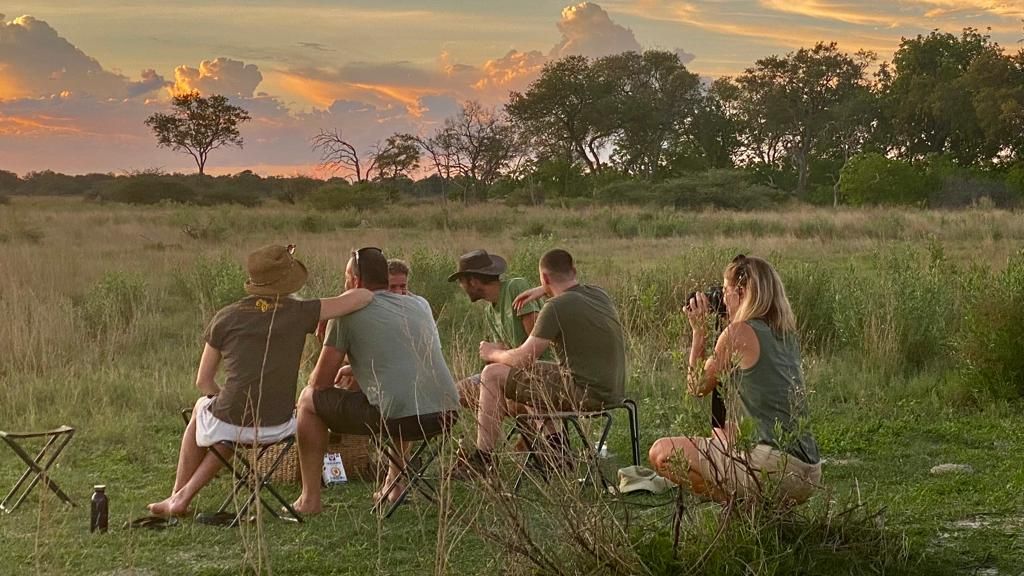 To be honest, the first few days in Kwapa were anything but easy, for they were overshadowed by the then new Omikron variant, which supposedly came from South Africa. Already on the second day after our arrival, all flights from Europe were suspended. We were safer in Kwapa than anywhere else, but not knowing if, when and how to get home again is not such a pleasant feeling.
However, Daniel, our two trainers as well as Grant from the African Guide Academy were always at our side, supported us and constantly monitored the situation. So we always felt in good hands and absolutely safe. Together we decided that we would go through with it despite everything, keep Covid out of sight as much as possible and find a solution to get back home in due course – if necessary by cargo ship. The whole situation certainly brought us closer together as a group than might otherwise be the case. The bond and the atmosphere were really special. We laughed a lot together, talked, even cooked together and were always there for each other.
This was also the case on the aforementioned "Chameleon Day". On this day, Julien discovered a chameleon and we were surprised to find that Edwin, one of the local boys, could hardly look at the little animal. Hard to believe: spiders, lions, leopards, bull elephants – all of this was no problem for him, but the little chameleon made his blood run cold. He was really scared. Understandable, considering that Botswanans believe that these animals are cursed. Now it was up to us to make him understand that if he wanted to work as a guide in the future, he had to overcome his fear. Because tourists love chameleons.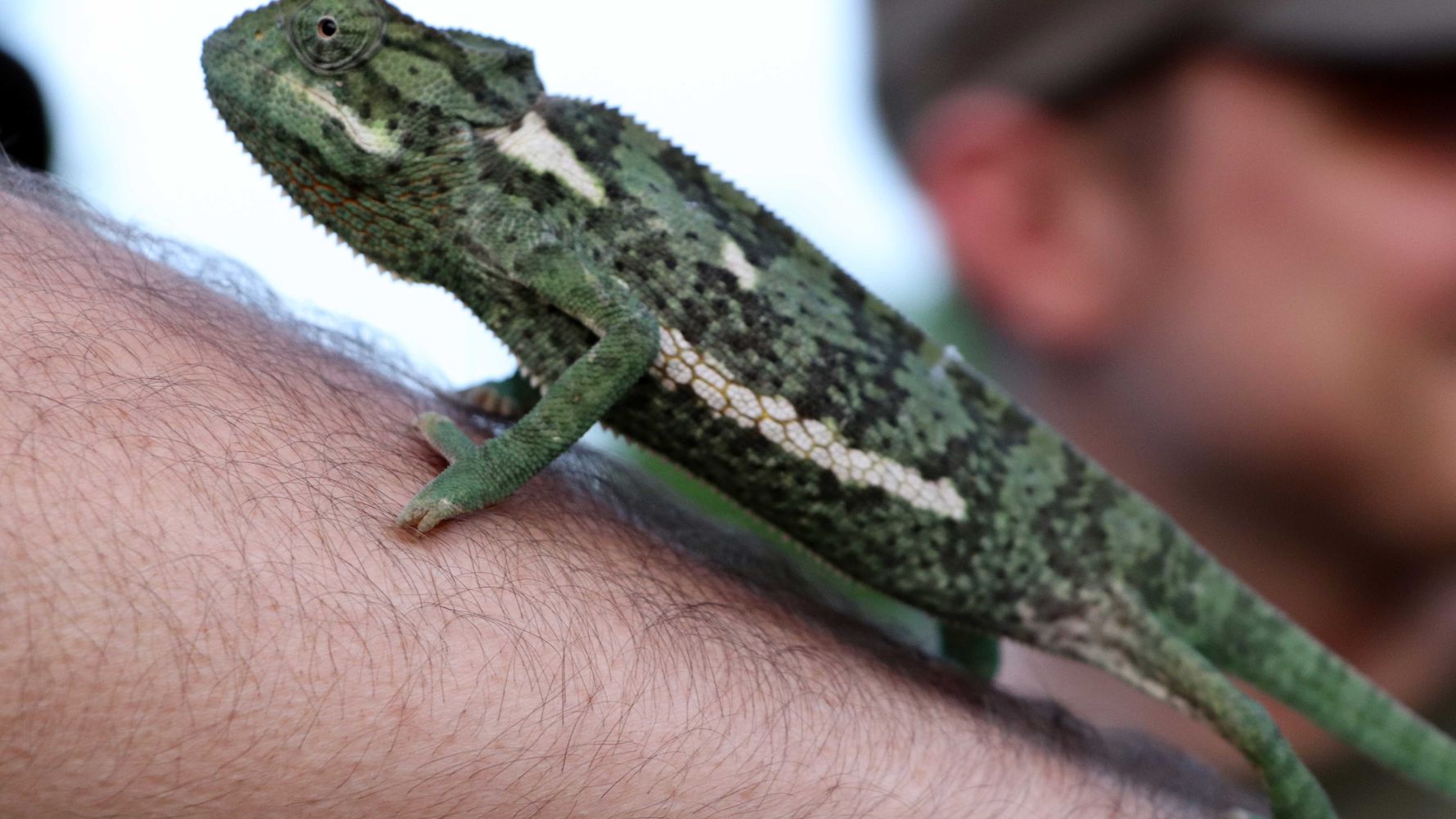 Slowly and very carefully, we helped him to let the chameleon onto his arm. It took all his courage, but in the end he overcame his biggest fear. In the evening he even said that this had been one of his best days in camp. And I believe him, because it was Edwin who jumped out of the car first when we discovered another chameleon on our very last day. He didn't hesitate for a second and immediately took it in his hand. We just stood there touched.
In the end, it is always the encounters with other people that make a journey an experience. And what could be better than experiencing an adventure together, overcoming fears, sharing special moments, admiring sunsets and helping each other move forward? I have taken every single person on my journey firmly into my heart, learned something from each of them that I will take with me on my further journey and am already looking forward to seeing them again.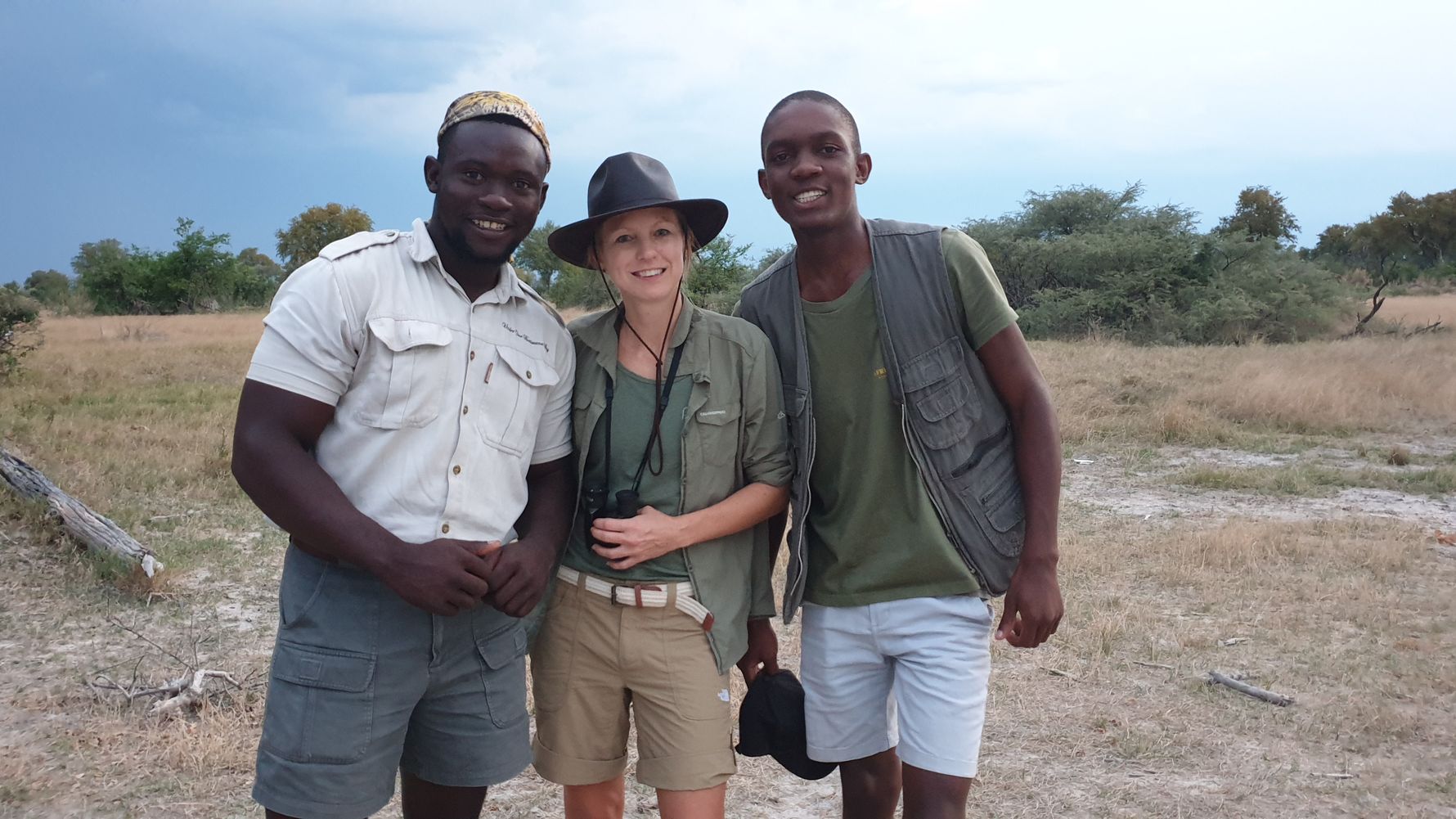 The small and unexpected things that blow your mind
When you spend more time in the bush, you automatically start to notice – and appreciate – the little things that may seem inconspicuous at first glance. At least, that's how it happened to me. Sure, I'm still blown away when I encounter an elephant, lion, or leopard, but in Kwapa I also learned how fascinating grasses, flowers, or mushrooms are and that without them there would be no big animals at all.
One of the biggest highlights of our group was not an animal sighting. On an "Evening Game Drive" we discovered a plant that we had not seen before. We immediately stopped, jumped out – after our trainer had given the OK, of course – and ran towards it. As we were moving towards the plant from the west towards the east, we cast a shadow on it. Suddenly, the plant started to open. We couldn't believe our eyes and I noticed that we all looked at each other for a very brief moment, doubting whether we hadn't already had a beer or two. This was not (yet) the case, by the way.
So we kept approaching and the plant opened up more and more. But as soon as we stepped out of the shade, it started to close. It was indescribable. We immediately identified the plant with the help of our books and for a moment we were all speechless: it was a white spider lily. The spider lily blooms only once in its life and for only one night: this night, right here and now – and we were there.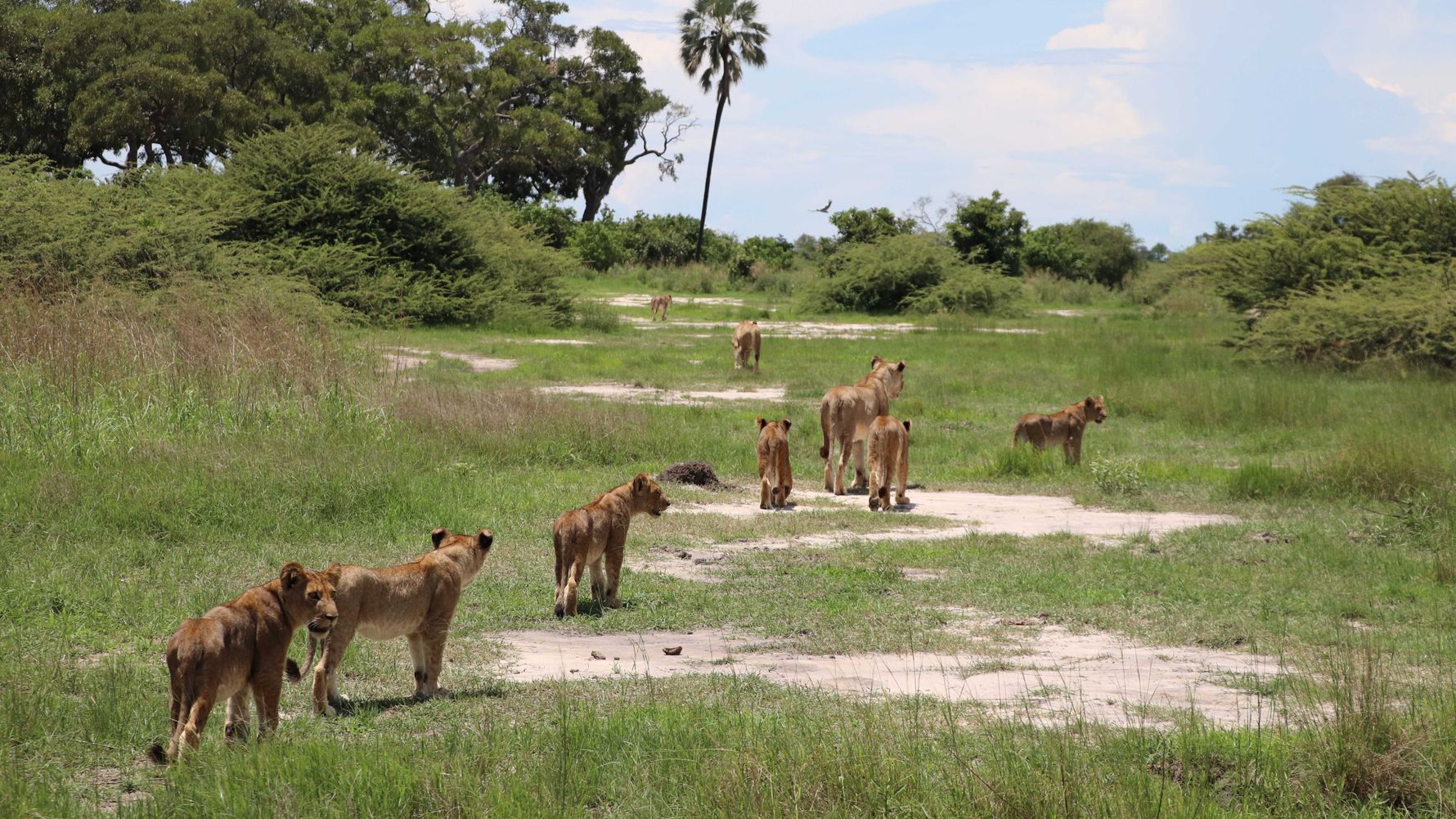 Of course, I also experienced countless animal highlights. There was the mother leopard only a few metres away from us with her cub on a tree trunk. The pack of African wild dogs that had killed a kudu not far from the camp. The herd of elephants that surprised us at breakfast in the bush. The five lions with their cub that enjoyed our closeness right next to us at the campfire in the evening. The three hyenas that we sneaked up on on foot. The herd full of buffalo as far as our eyes could see. The one puff adder and the many frogs and toads in camp. And the giraffes, zebras, impalas, kudus, steenboks and (predatory) birds, which we didn't even have to see after a while because we could identify them by their calls. In the end, we had over 140 different bird species on our list. In addition, there were countless trees, shrubs, grasses, mushrooms, flowers and reptiles.
If there's one thing I've learned, it's that in the wilderness, if you keep your eyes open and don't just focus on the obvious and the big, there's something to discover around every corner.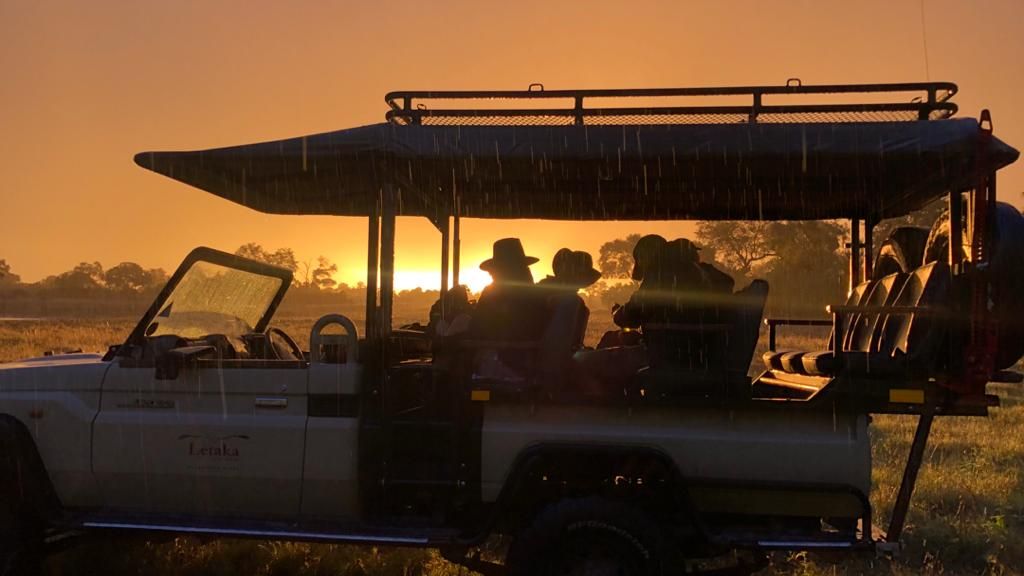 My follow-up programme: Manifold and full of contrasts
From the very beginning, it was clear to me that when flying to Botswana and doing a course, I would also like to stay a little longer. Daniel also advised me individually and competently on the follow-up programme. For example, he recommended a few days of luxury at Camp Okavango over Christmas – with a shower with running hot water.
Even the flight there in a small plane was a highlight: after the other two guests who shared the plane with me had got off in Moremi, I was allowed to sit in the front next to the pilot and thus fly into the lodge. The landscape was completely different from that in Kwapa. There was water everywhere. Everything was greener. There were different trees and birds. There were no 4x4 activities either. We moved around exclusively on foot, by boat or by mokoro – a completely new experience. The guides really knew a lot and they obviously enjoyed learning from me as well.
So we had fun challenging each other. My breath was taken away when we encountered a lion and 16 giraffes on foot. At first, I was a bit worried about what it would be like to spend Christmas with complete strangers in a lodge far away from my family. My worries were completely unfounded: I met wonderful people, had inspiring, profound conversations that only a campfire can provide, and I know for sure that we will meet again over a coffee or gin and tonic back in Switzerland.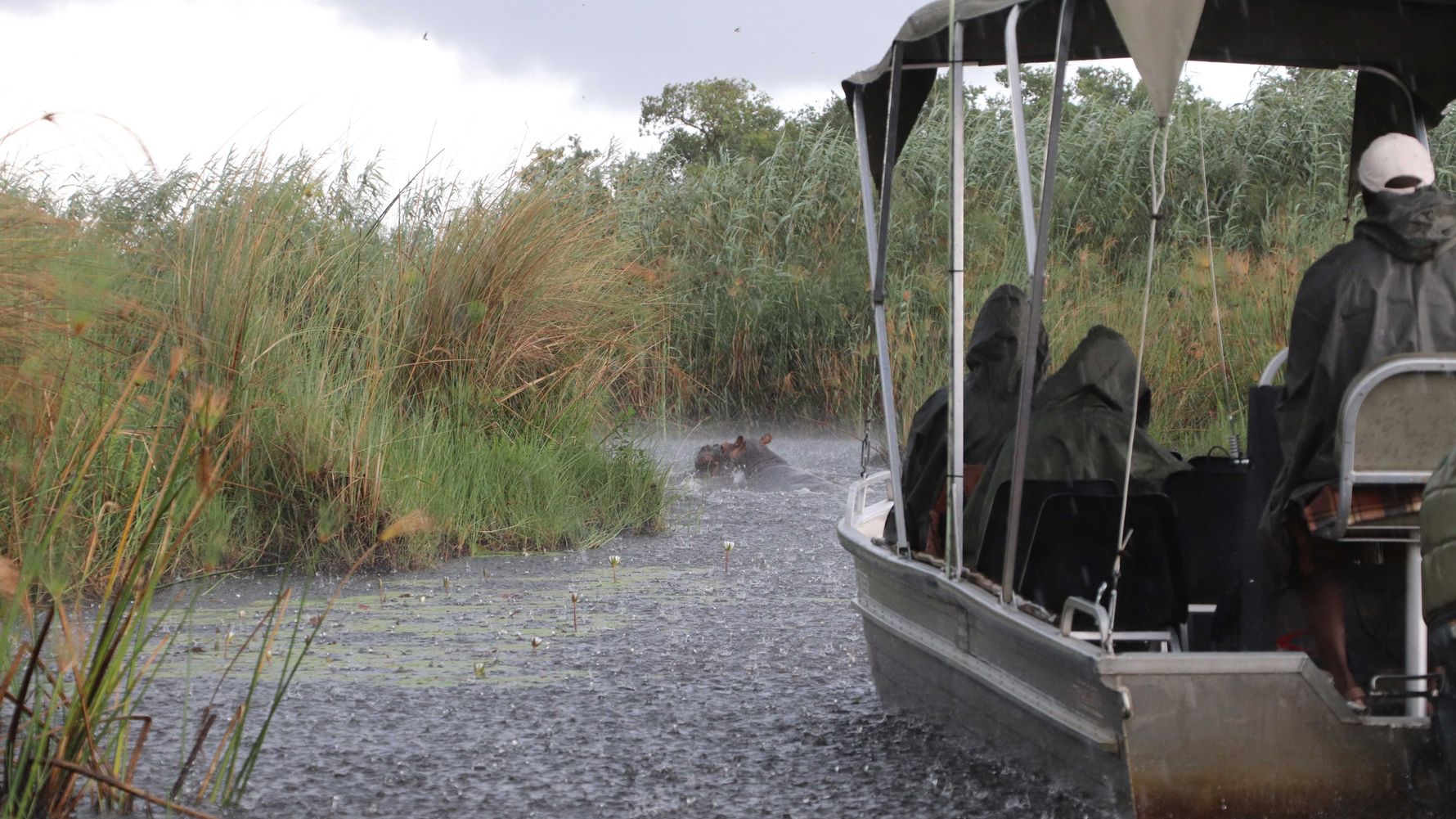 The grand finale of my time in Botswana was a five-day tented safari with Okwa near Moremi Game Reserve. Okwa is not only a local guide with over twenty years of experience but also a former trainer and a legend in Maun. He learned to steer a mokoro at the age of eight. His passion for nature, his knowledge, and his guiding skills are simply extraordinary. He loves nature, literally melts into it. A walking safari with him is a unique experience.
The moment when we encountered a bull elephant on foot and I came face to face with it is forever etched in my heart. And I still miss the freshly brewed coffee, the warm porridge from the fire in the morning and the many stories from Okwa. Okwa has become a good friend of Daniel's, so I was pretty sure that the safari with him would be good.
But really, Okwa exceeded all my expectations and I feel honoured to have been able to spend time with him in the wilderness, his home. He is one of those people you immediately take to your heart, simply admire and certainly never forget.
Ke a leboga: Thank you, from the bottom of my heart!
In the end, I have no choice but to say thank you from the bottom of my heart to Daniel and the Natucate team.
Thank you for the personal advice and the many valuable recommendations and tricks before, during, and after my trip. Thank you for the individually tailored programme to my wishes and needs. Thank you for the support on site, no matter where and at what time. Thank you for the special encounters with all these extraordinary people, which were only made possible by the Natucate network. Thank you for this unique experience far away from any civilisation in the midst of and in harmony with nature. Thank you for the most inspiring weeks of my life!
Many providers can organise trips. But Daniel and his team succeed in making these unique, unforgettable moments possible, which only happen when the right people come together in the right place at the right time. And this is what makes Natucate unique. I don't want to miss a single day in Botswana and I already know that this was not my last adventure with Natucate.