Natucate
Project visit South Africa: Protecting endan­gered wildlife in Zululand
Natucate on Tour in South Africa: In this review Daniel shares his impressions of his visit to our volunteer project in South African Zululand which is dedicated to protecting endangered wildlife.
Wide savannah landscapes, softly curved hills, little river bends, and a variety of wildlife – the South African Zululand, district in the province Kwazulu Natal, has a lot to offer. Its flora and fauna is what Daniel also wanted to experience – in 2015 he made his way to South Africa to visit our species conservation project that is dedicated to the protection and research of endangered animals.
Review
Arrival
Daniel's journey started at Frankfurt airport and eventually led him, after a stop in Johannesburg, to Richards Bay. He was already expected by a member of the staff who brought him and other project participants to the first camp. "The arrival was very uncomplicated, especially because everything was well organized from the arrival in Richards Bay onwards.
However, in retrospect, my flight was quite special: I got to meet our later Professional Field Guide participant Anna-Katharina on the plane. Our paths have been crossing ever since." After arriving in the camp, Daniel and the other participants got an introduction into the tasks and aims of the project, important notes on safety in the bush as well as an overview of the daily routine.
Accommodation
All five project camps, of which Daniel got to visit four during his time in South Africa, are in different locations in or near Zululand and consist of several small buildings. The participants sleep in a double room and share a larger bathroom. Volunteers take turns with preparing meals in the camp's kitchen that are eaten together in the shared area. In the evening you can gather around the campfire and review your day under the unique night sky of South Africa.
The project
In order to get insights into the structure and the functioning of an ecosystem and to recognise changes, the project is first of all dedicated to the monitoring of endangered wild animals. You track, monitor, and observe e.g. lions, rhinos, and elephants, although the focus lies on wild dogs. Sometimes relocations of animals have to be carried out. "All in all, this is a very interesting field of activity. Monitoring gives important insights in the estimation of animal populations which is indispensable for useful wildlife management and conservation", remarks Daniel.
This already starts before sunrise: The participants take the rear seats of a pick-up truck and set off in the wilderness together with an experienced guide. This guide functions as a so-called wildlife monitor and shows them how to locate different species with the help of telemetric devices, how attentive wildlife observation looks like, and how professional data recording works. "The group spends at least one day a week analysing and evaluating the recorded data – this is how you can develop strategies for an appropriate, location-specific wildlife management." Around noon the team returns to the camp to have lunch together and get a little rest. A second drive starts early afternoon when the whole group sets off for more monitoring activities. The day ends with a shared dinner and a cosy gathering around the campfire.
After every two weeks, you switch camp and reserve so that you have the chance to get to know each region's flora and fauna.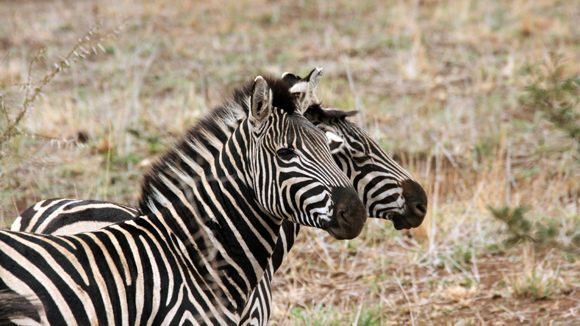 Daniel's conclusion
Daniel's conclusion sounds promising: "The project is really great and does incredible work. As a participant you not only acquire valuable knowledge about species conservation but you also might see various animals. Endangered species like wild dogs, lions, rhinos, but also zebras, giraffes, and impalas – during my visit I had a lot of impressive animal encounters. What should be considered, however: in the bush, every day is different! While you have countless wildlife sightings on one day, you might not see a single animal the other day.
Furthermore, everyone who is interested should be aware that by participating in this project you cannot expect a romantic safari but rather important work with serious tasks – all of this while you are surrounded by Africa's wild nature. On the other hand you get incredible landscapes, impressive species diversity, and an authentic insight into sustainable species conservation."